Sedition law has no place in a democratic India: Professor Upendra Baxi on JNU row and murky politics
In a freewheeling chat with Firstpost, Professor Baxi shared his views on issues ranging from article 356, sedition law to student politics in University campuses.
Eminent Constitutional expert, Professor Upendra Baxi is currently Emeritus Professor of Law in Development, University of Warwick. He has also served as Vice-Chancellor of University of Delhi during the most tumultuous time of Mandal agitation. In a freewheeling chat with Firstpost, Professor Baxi shared his views on issues ranging from article 356, sedition law to student politics in University campuses. Below is the excerpt of the interview.
Q. Article 356 has been subject of fierce debate. The fact that it has been used more than 100 times since independence, speaks at length of its misuse. However, after SR Bommai judgement it was thought that its arbitrary use will end. But the trend has continued. How do you see the current crisis in Uttarakhand which has once again ignited the debate?
During the Constituent assembly debate Dr BR Ambedkar referred to the article as a 'dead letter'. He said that "I share the sentiments that such articles will never be called into operation and they would remain a dead letter". This was something which was quoted in Bommai judgment too.
And why did he call it as a dead letter? It was because he felt that it will be used in rare cases. It is not a normal tool of governance. The Sarkaria commission which laid down several guidelines and grounds which should be considered while imposing the president's rule also echoed the same views.
Dr Ambedkar insisted that it is a dead provision which should be seldom used, like we say that capital punishment should be awarded in rarest of the rare cases. But the history of the misuse of article is evident. Till the Bommai case there was extraordinary use of this provision. Bommai had number of cases of president's rule proclamations to consider. The judges gave judgment according to merit of each case. But in general it was held that president's rule should become rare. While there is no manageable judicial standard to scrutinise the satisfaction of the president the fact is that it should not be ultra vires.
It is the Constitutional provision that president should be satisfied that condition existed for the imposition of article 356 on the report of the governor or any other material. However, the Supreme Court in Bommai made it clear that satisfaction of the president should be reasonable.
Here we have to understand that whether the Presidential proclamation was reasonable or not is for the court to decide. But Bommai led to a major development as it introduced what is known as the floor test. In essence this idea of floor test was a key aspect of the judgment. It was the central idea of the judgment.
Q. At inter-state council in Srinagar an agreement was reached to incorporate it in Constitution through a Constitutional amendment. Do you think it is possible and desirable?
If they include it, that would be nice. But it is nevertheless the law of the land. It is a judgment pronounced by the Supreme Court hence it is as important as an article in the Constitution.
Q. But it has been ignored so many times. Why do you think that is?
Yes, but whenever it was or will be violated it will come to the high court or the Supreme Court for the scrutiny — like in the present case of Uttarakhand. But nobody will say that because it is not incorporated in the Constitution therefore it is not applicable and the Bommai case doesn't hold ground.
Floor test is the basis of discerning who shall govern that state. Mr Arun Jaitley is a Supreme Court lawyer known for many Constitutional cases. In respect of Uttarakhand , he said that it was a "textbook example of breakdown of governance." I don't have access to paper-books and details of the arguments made in the court but I am intrigued by what Mr Jaitley is reported to have said.
I am not aware of the politics involved in this but from the legal perspective one question is whether the state budget was supposed to be passed or that if it could not be passed, is floor test the best way ahead?
The other ground can be that in certain situations floor test is not required; that Bommai did not lay down the rule of floor-test without exception. Certain situations are so striking that they may arguably lead to the conclusion that no floor test is necessary. I don't know what exactly the argument is.
If the question now is that did Bommai laid down floor test in such cases, I will say yes. Did Bommai ask for floor test in all cases, it is for the court to decide; to see if there can be any exception. From outside view the politics in both cases (Arunachal Pradesh and Uttarakhand) is very murky.
Can there be a situation that the lack of confidence in the ruling party is so manifest that no floor test is necessary and whether the present case falls in this category is a question that is now being raised.
In the Bommai case it was made very clear that there should be a floor test. Nobody can say Supreme Court judgment was unreasoned. If the question is whether Uttarakhand warranted that exception, my answer would be that I don't see any exceptional situation. I have high respect for Mr Jaitley's Constitutional acumen; he might have seen something by way of support as Constitutional lawyer and party person. I am not concerned with any party's political considerations. Let us say that if the matter goes to the Supreme Court, then the Parties have to justify/de-justify the nature of the claimed exception.
Q. Having served as the head of two prestigious universities how do you analyse what happened at JNU?
I have said that people have the right to dissent, the right to criticise. The idea of freedom of speech is (to use an odious expression during the Cultural Revolution in China) 'let hundred flowers bloom'. Campuses are places where free thought must be practiced. About the use of sedition, one must understand that Section 124 A of the IPC itself recognises two exceptions namely — the criticism of government and bureaucracy.
Even colonial powers recognised it to some extent. However, nobody should raise disgraceful slogans which affect the sovereignty and integrity of India. There should be a special law — if you need one - to deal with such acts. This particular section has no place in democratic India.
It does not mean that everything goes. If anyone feels that integrity and sovereignty of the nation is put to risk by certain people then let's make it a separate offence. Let's not call it sedition — sedition is disaffection towards lawfully established governments. Colonial governance wanted to produce loyal subjects. But citizens are beings with rights and dissent and disagreement are the lifeblood of a democratic political and social orderings.
Mahatma Gandhi once remarked that law cannot manufacture affection. It is a colonial law and it should go. It has a chilling effect on freedom of speech. It is bad and sad that people begin to self-censor themselves in the lengthening shadow of the law and they tend to become subjects and not citizens. It is extremely unfortunate that some people take the monopoly of patriotism and even recourse to violence as a form of desh-bhakti (the worship of the country).
If someone thinks there is a need of the law to deal with such acts then you can make a tightly-controlled law which does not affect and damage the foundation of freedom of speech and expression.
Q. General perception is that the campuses are getting too much political of late. Do you see it as a recent phenomenon or has it been there always?
Campuses in the national struggle were used by incipient nationalist leaders for politics, instigating students to join the struggle and the legacy continues, although there is no alien rule.
BJP, Congress and other political parties are all present on the campuses. Some do ideological politics while other do party politics. Students are free to do so. So are karmchari unions, teacher's union divided on party lines in all the campuses. So let's take it as a fact of politics in Indian democracy that not just ideological, but party politics is inevitable.
I was serving at Delhi University at the time when political sentiment of Mandal and Kamandal both were guiding the student youth and teachers and karmcharis. As a head of the university I made it clear that students and all others were free to express themselves, their views in the way they want but there should be no incitement to violence. They were free to take any position they wanted.

Politics have always been part of education in campuses. Educational leadership consist in preserving freedom of students to express themselves within the limits of law and the Constitution. And the educational system will always see that the matter is confined within the boundaries of the campuses. But then there are certain matters that will spill over outside the campuses also. You cannot avoid it. So it is in the hands of students, teachers and karmachari politicians and their masters outside to draw limits. But freedom comes with responsibility, restraints, and respect (the three R's are embedded for all citizens in our Constitution).
The current unrest in different campuses have different contexts. There cannot be an overarching explanation for all of it. Some issues raised are new and new equations are being forged between the campuses and the outside world. But politics in campuses is an age old fact.
Q. You have talked about the two most important A's required to govern universities that is 'Autonomy and Accountability'. How can it be ensured with post of VCs being appointed by political executive based on considerations other then merit?
Accountability is not possible without autonomy. You cannot separate the two. There are freak appointments and then there are appointments that are politically patronising. Then there are many vice chancellors who are in between the two; they have some political patronage but they do their work diligently.
The point is that it has to be ensured that the head of the institution is a person of proven integrity and academic excellence.
That has to be ensured at all costs. The Fundamental duties in our Constitution (Part IV-A) call for ensuring excellence in all walks of life. The enemy of excellence is mediocrity so ensuring excellence is a Constitutional duty and so one has to avoid mediocrity in thinking, teaching, learning, curricular development, evaluation, and examinations.
Q. Do you feel that too much of politics and activism can hamper academics in universities?
Campuses should not have party politics. In campuses students are students and teachers are teachers; the relationship is that of mutual learning: academic freedom entails both the freedom to teach and freedom to learn.
There is no preceptor without a learner and vice versa. I don't think party politics should enter in classrooms and libraries. You cannot produce space scientists or teachers of philosophy or languages or literature, to take some large examples, if you are involved in party politics. Politics does not produce knowledge; it produces power. Our duty is to develop excellence, to produce and consolidate knowledge. Our job is to produce more Constitutionally sincere Part IV A citizens (who ponder their fundamental duties as citizens under Part IV-A) and not just part III citizens (who specialize in claiming their fundamental rights as citizens to the detriment of suffering others).
Teachers also should distinguish their role as teachers and as party workers. They cannot do party politics in classrooms. Once, the renowned anthropologist Margaret Mead told me that if you want money with M capital don't go to university, go to business or industry; if you want power with P capital don't waste time in a university but if you want knowledge only then come to university. I still tell my students this thing.
Sports
The last date to apply for re-evaluation of Class 10 and Class 12 Board papers is 30 April while students can apply for xerox till 26 April.
World
The report also said that although a general war between India and Pakistan is unlikely, crises between the two are likely to become more intense, risking an escalatory cycle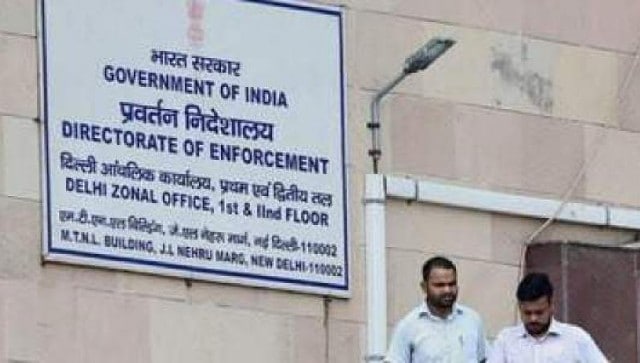 India
The ED wants to question Nazir in her seventies over a few lakh of rupees that were allegedly transferred to her account from the chief minister's discretionary fund