Security on high alert in Jammu and Kashmir amid Hizbul Mujahideen threat to Independence Day functions
The Hizbul Mujahideen has warned parents in Jammu and Kashmir against sending their children for Independence Day celebrations, raising a security threat.
Srinagar: Security personnel are on high alert in Jammu and Kashmir ahead of India's 72nd Independence Day. Forces have been asked to stay vigil since militants escaped a cordon in Srinagar on Sunday and also because the Hizbul Mujahideen has warned parents against sending their children for 15 August celebrations at schools.
"School or college heads forcing our brothers and sisters to participate in such events must know that they have to answer the people who have sacrificed everything for this pious cause," read a poster issued by the Hizbul Mujahideen.
The posters, which have been circulated on WhatsApp groups and put up at a number of places in Srinagar, have been signed by the militant group's district commander for Srinagar Abu Irfan.
"We cannot tolerate anything that goes against the spirit of freedom and Islam," it read. "Therefore, we are providing a last chance to all these people to refrain from doing this and seek forgiveness. Else we, too, have our own ways to deal with all this. Don't we owe any respect to all those students who were showered with bullets and pellets by Indian forces? Think well and then pick a side."
Troops are also on alert as separatists have called for a complete shutdown on Wednesday. They wished people on Pakistan's Independence Day on Tuesday, while videos of youth shouting slogans calling for freedom in various parts of Jammu and Kashmir and celebrating Pakistan's Independence Day went viral on social media.
Hurriyat Conference (G) chairman Syed Ali Shah Geelni tweeted: "The Kashmiri nation is highly grateful to the Islamic Republic of Pakistan for extending whole-hearted moral, political and diplomatic support to our just cause and struggle since 1947... Hum Pakistani hain, Pakistan humara hain (we are Pakistan's, and Pakistan is ours).
With these threats days after militants struck the heart of Srinagar — barely a few kilometres from the main venue of the 15 August celebrations at the Sher-i-Kashmir Cricket Stadium — heightened security comes as no surprise. Checks have been intensified in Srinagar, and the number of troops patrolling the roads has multiplied.
After the Hizbul issued the threat though its posters, Srinagar's senior superintendent of police Imtiyaz Ismael Parraey said they were assessing the situation .
The secretary of the youth services and sports department, Sarmad Hafeez, said deputy commissioners will oversee the process of sending children to the Independence Day functions, and that several other departments had been asked to help with the task.
Besides government-run schools, private institutes in Srinagar have also prepared its students for cultural shows for the main function at Srinagar's Sher-i-Kashmir Cricket Stadium.
Despite the threats, Chief Education Officer (Srinagar) MK Fazli said that the instruction to schools heads to send students to Independence Day functions still stands. However, parents have not taken well to the order, saying "children should be spared from attending the functions". The coordinator of the Parents' Association of Privately Administered Schools, Mohsin Iqbal Goni, said there was no need for school managements to "politicise education", and that "the lives of children shouldn't be risked when separatists have given a shutdown call".
At present, security is even more of a challenge than usual in Jammu and Kashmir as the government has directed all its employees to attend the 15 August celebrations. "It is the duty of every government servant to attend the function commemorating an important turning point in the history of our nation," read the circular issued recently by the state general administration department. "All officers and officials of the state government stationed in Srinagar/Jammu are, therefore, enjoined to attend the main Independence Day function at the Sher-i- Kashmir Cricket Stadium in Sonawar, Srinagar, and at Parade Ground in Jammu as a part of their official duty."
The department has also asked administrative secretaries, heads of departments, managing directors and chief executives of public sector undertakings to ensure that "all officers/officials working under their administrative control and stationed in Srinagar/Jammu attend the function at their respective places".
The commissioner secretary of the department, Hilal Ahmad Parray, said all government officials have to attend the 15 August Celebrations. "It is a national function that the employees have to attend," Parray said. "Everyone must comply with the order. There is an order for all employees working with the state, and action will be taken against the employees later in case of non-compliance."
Such orders were issued earlier, as well, but in Jammu and Kashmir, it is largely the top-rung bureaucrats who attend the functions; government staff usually choose to take part in the separatists' strike, defying instructions.
India
The board will shortlist candidates on the basis of merit and a schedule of document verification will be released shortly
India
The application form will only be considered complete when it is filled completely, payment is done correctly and relevant documents are uploaded to the official website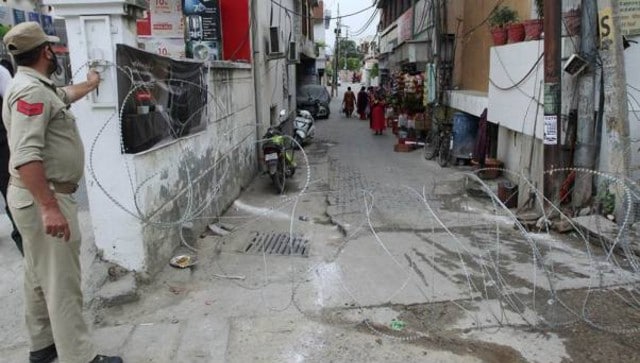 India
Essential and emergency services will be allowed while all market, commercial institutions will remain closed till 6 am on 26 April