Securing India's maritime border: Government contemplating giving greater powers to states
The government is mulling an idea to bring seaside revenue villages under coastal police stations and extending their jurisdiction up to 200 nautical miles in order to strengthen the country's maritime borders
New Delhi: The government is mulling an idea to bring seaside revenue villages under coastal police stations and extending their jurisdiction up to 200 nautical miles in order to strengthen the country's maritime borders. The move comes close on the heels of a chargesheet in the MV Henry drug haul case against an Indian crew and Iranian shipowner and handlers. During a discussion with stakeholders — including coastal states — on potential threats, the Narcotics Control Bureau (NCB) revealed that anti-national elements are adopting alternate sea routes to beat the layered security system and states are required to enhance capabilities to reduce the threat of smuggling and terrorism.
At present, the Indian Navy is the lead agency for securing country's maritime interests while the Indian Coast Guard carries out overall responsibility for coastal security in territorial waters. The state's jurisdiction extends up to 12 nautical miles in shallow territorial waters except in Port Blair where jurisdiction of 10 designated coastal police stations has been extended up to India's Exclusive Economic Zone (EEZ) or 200 nautical miles. In the aftermath of the 2008 Mumbai terror attacks, the coastal police is primarily responsible for prevention of smuggling, collection of intelligence, handling law and order situations, disaster management as well as providing additional line of defence along the coastline. Several intelligence warnings have been issued since 2008 relating to the country's porous coastline that provides an opportunity to anti-national elements, infiltrators, drug peddlers and terrorists to sneak onto land.
Details accessed by the Firstpost suggest that the Ministry of Home Affairs is consulting the concerned state governments to strengthen the coastal police and it may also give the go-ahead for the allocation of separate budgets by states to ensure that money is properly utilised. Tamil Nadu has informed the ministry that effective action was being taken in three vulnerable districts — Tuticorin, Ramanathapuram and Nagapattinam. Last year, three consignments bound for Sri Lanka were seized by the coast guard and the investigation had revealed Tuticorin was frequently used to smuggle narcotics to the Maldives and Sri Lanka.
India's 7,516-kilometre-long coastline includes 5,422 kilometres of coastline on the mainland and 2,094 kilometres on the islands belonging to nine states and four Union Territories. While the coastline accounts for 90 percent of the country's trade, it spans 3,331 coastal villages and 1,382 islands. One hundred and twenty lakh people are involved in fishing activities using at least four to five lakh boats, of which only two lakh boats are registered. The Indian coastline that houses 12 major and 200 minor ports, along with 95 landing centres, is increasingly facing security challenges from adversarial neighbors and non-state actors. This has necessitated the adoption of a more structured and holistic approach with a long-term strategy not only to modernise, update and strengthen naval sinews, but also to plug loopholes in coastal security architecture.
It has also been suggested by the government that each of nine coastal states must set up regional training institutes to train constabulary. Since coastal security threats involve local connections, the coastal police will be trained to effectively deter security threats.
Coastal security infrastructure woes
Few years before the Mumbai attacks, a Coastal Security Scheme was launched by the Ministry of Home Affairs (in 2005) that was being handled by its border management division in two phases: Phase I from 2005 to 2011 involving an expenditure of Rs 646 crore and Phase II from 2011 to 2020, for which expenditure worth Rs 1,580 crore has already been incurred. Despite the fact that 194 coastal police stations have been set up under the scheme and 204 vessels have been made available for patrols, operations are regularly hit by inadequacy of funds for repair and maintenance of boats at the disposal of state police forces.
The states are also facing operational difficulties in jetties and there has been a considerable delay in the creation of additional infrastructure. According to a senior official the problems have been compounded due to a lack of manpower and inadequate facilities to train policemen in coastal security tasks. "The maintenance of boats was earlier being handled by the Centre but it has been recently handed over to coastal states, which is causing huge problems. Gujarat, which has the country's longest coastline (1,600 kilometres) with 30 marine police stations, is facing the uphill task of repairing coastal patrolling boats," the official said.
Gujarat recently informed the Central government that of 31 patrolling boats available to the marine police, seven or eight remain non-functional at any given time for several months. Since navigating the sea requires special skills, Tamil Nadu has started recruiting fishermen as Home Guards. However, the state police has recently informed the Centre that 6 and 12 tonnes boats were frequently breaking down and that is hampering the operations. Moreover, availability of just 60 jetties across the vast coastline was leading to further problems. While the construction of sanctioned infrastructure is a time-consuming process, the tremendous shortage of trained manpower is affecting coastal security adversely.
Kerala, which has around 72 police stations along the coastline, lacks the capabilities for marine policing. The state has submitted a proposal to the Ministry of Home Affairs seeking cost effective boats for venturing into shallow waters up to one or two kilometres into the sea for patrols.
Critical issues in coordination
After the Mumbai attacks, concerns were raised over a plethora of agencies operating in the coastal security sphere. Almost a decade later, the glitches in coordination remain a major problem that is hurting operations since as many as 15 agencies are operating on the coastline including the Indian Navy, Indian Coast Guard, state police, Central Industrial Security Force, Customs, Immigration, state maritime boards, Border Security Force, Intelligence Bureau, Ports Authority of India, NCB, R&AW Sagar Prahari Bal, NTRO and the Lighthouse Authority of India. The supervisory structure is also multi-layered.
At the top is the National Committee for Strengthening Maritime and Coastal Security — headed by the cabinet secretary — that coordinates all matters related to maritime and coastal security followed by a steering committee in Ministry of Home Affairs for a review of coastal security. Then there are state-level coordination committees under the chief secretary and district-level coordination committees under the district magistrate responsible for reviewing coastal security implementation.
After the attacks of 26 November, 2008, the Ministry of Defence (in May 2009) had designated the Indian Navy as the authority responsible for overall maritime security including coastal and offshore security while the Indian Coast Guard was handed responsibility for overall coordination between Central and state agencies as well as being the lead intelligence agency for coordination and sharing of intelligence among various agencies operating on the coast.
The Centre was recently informed that multiplicity of agencies with overlapping jurisdictions was leading to coordination problems and delayed response times.
Firstpost has learned that a proposal was recently floated to raise a dedicated intelligence set up specifically tasked for coastal security related issues, which has been turned down. It was argued that there was disconnect between Central agencies like the navy and coast guard and the local population due to the limited interface and there was a lack of coordination and liaison between these agencies and state police during crisis situations. Although, no single force has the capability to simultaneously patrol both land and sea adequately, a senior security official had argued that adding a 16th agency to the existing plethora of agencies would complicate the issues of coordination.
"There is a need to standardise the coastal police architecture across all concerned states, provide additional training, manpower, equipment and infrastructure to coastal police and make available the data of all fishermen (that is presently available with fisheries department) with the coast guard and coastal police online through CCTNS to effectively prevent intrusion via sea routes," the official said.
also read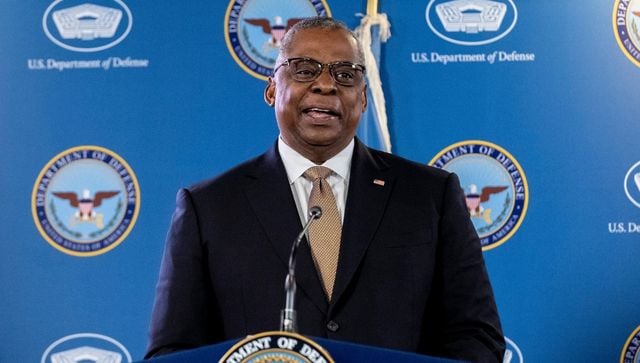 World
The Pentagon on Thursday announced that US Defence Secretary Lloyd Austin will visit New Delhi the next week to meet with his Indian counterpart Rajnath Singh
Photos
There is hectic activity going on in Srinagar as it is set to host the third G20 Tourism Working Group meeting from 22-24 May. Drones have been deployed, Marine commandos have taken over the security of Dal Lake, and the elite NSG are in action
World
The Chinese government declined an invitation from the US for a meeting between Defence Secretary Lloyd Austin and his Chinese counterpart Li Shangfu that would have taken place in Singapore this week, the Pentagon announced on Monday