Saudi Arabia rolls out 'biggest increase' in India's Haj quota, hikes it by 34,500
Saudi Arabia had five years ago slashed Haj quotas for foreign pilgrims coming from each country by 20 per cent in view of safety of the devotees as they undertook expansion of Grand Mosque there
New Delhi: In the biggest hike in nearly three decades, Saudi Arabia on Wednesday increased India's annual Haj quota by 34,500, a move welcomed by the NDA government as a "matter of pleasure".
Union Minister Mukhtar Abbas Naqvi and Saudi Arabia's Haj and Umrah Minister Dr Mohammad Saleh bin Taher Benten inked an agreement in this regard in Jeddah today, increasing the size of India's Haj quota from 1,36,020 to 1,70,520.
According to a statement issued by Minister of State for Minority Affairs (Independent Charge) Naqvi, it is the "biggest increase" in quota for Haj pilgrims after 1988.
The latest increase in quota will be effective from the current year. The Saudi authorities had five years ago slashed quotas for foreign pilgrims coming from each country by 20 per cent in view of safety of the devotees as they undertook expansion of Grand Mosque there.
Accordingly, India's quota was brought down to 1,36,020 from 1,70,000 in 2012. Last year, a total of 1,35,903 devotees from India performed Haj. Of these, 99,903 devotees went to Jeddah through Haj Committee of India. The remaining 36,000 pilgrims had proceeded through private operators.
Expressing pleasure at signing of the agreement, Naqvi tweeted, "Its a matter of pleasure that Saudi Arabia has increased India's Haj quota by about 34,000." Naqvi said his meeting with Benten was "very fruitful" as "constructive" discussion was held on whole gamut of issues related to the pilgrimage, transport and accommodation facilities for devotees and their safety.
"On behalf of the people and Government of India, we also extend gratitude to the Custodian of the Two Holy Mosques, His Excellency Saudi Arabia King Salman bin Abdul Aziz al Saud, for his keen personal interest and initiative in organising a successful Haj 2016," Naqvi said in the statement.
The Minister exuded confidence that under the visionary leadership of Saudi Arabia's King Salman bin Abdul Aziz al Saud, the "excellent" relationship between the two countries will be further strengthened.
Stating India and Saudi Arabia share ideals of global peace, progress and prosperity, Naqvi said the two countries are tied together with strong civilisational, cultural, economic and political links.
"The regular visits by the leaders and senior-level officials of the two nations have further strengthened the relationship between the two nations. The visit of Prime Minister Narendra Modi to Saudi Arabia during April last year added new dimensions to our vibrant relationship," he said.
The Minister also expressed satisfaction over the improvements in services offered to pilgrims which indicates Saudi Arabia's firm commitment towards welfare and betterment of pilgrims.
India
Islamist groups often become a pain under the nose, not only for the countries, but also for the Muslim community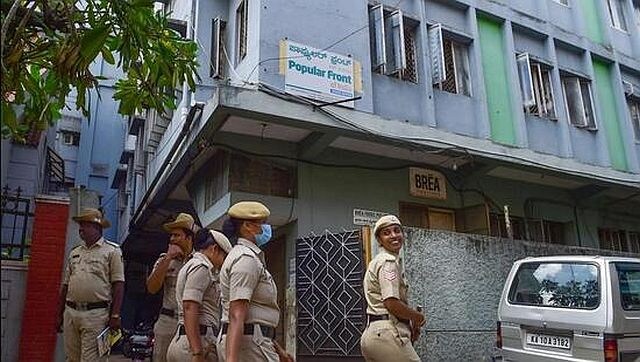 India
The move to ban the Popular Front of India is the most concrete signal yet of the government's intent to stem the growing radicalisation of Muslim youth
Explainers
With its links to SIMI, members joining the Islamic State and the newly revealed 'Mission 2047' documents showing its plans to turn India into an Islamic nation, the PFI has been linked to many a terror-related activity