Saffron isn't green: When religion is the pollutant, can Modi clean up Ganga?
PM Narendra Modi's alluring ideological synthesis runs quickly into trouble when faced with reality, and nowhere are its contradictions more glaringly obvious than in Varanasi.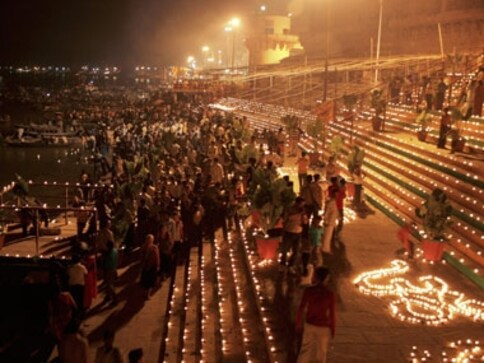 Editor's note: This is the first in a four-part series on Varanasi, which emerged in the run up to the Lok Sabha elections as a staging ground for Narendra Modi's ideological vision, prime ministerial ambitions, and PR reinvention. Firstpost revisited the PM's constituency on the eve of his first year anniversary to more closely examine the battles over tradition, environment, and identity that have unfolded over the past year.
" Indian philosophy on the contrary is that you can enjoy life only when the surroundings are healthy and harmonious. That is why in our mythology trees are worshipped. Animals are worshipped. Even water, earth and sky are worshipped. We have been taught to replenish what we take from the Nature. India's ancient message of sustainability thus can show the way in the fight against Global Warming and Climate Change." Narendra Modi on Pravasi Bharatiya Diwas 2014
In Modi's worldview, environmentalism meshes neatly with his brand of Hindutva politics. Green bleeds into saffron as he positions ancient Hindu tradition as the true guardian of Mother Nature.
This alluring ideological synthesis, however,  runs quickly into trouble when faced with reality, and nowhere are its contradictions more glaringly obvious than in Varanasi.
In Prime Minister Narendra Modi's constituency,  monkeys often become entangled in badly outdated overhead power cables. But Hanuman bhakts consider the dead monkeys so sacred that they perform elaborate rituals, including chanting of shlokas, before gently immersing them in the River Ganges.
Modi promised to rescue the Ganges from polluters insisting that Maa Ganga summoned him to Varanasi to serve her. He then appointed a new minister, Uma Bharti, to save the endangered river. Earlier this year, chairing the fifth meeting of the National Ganga Basin Authority, he called for an  "uncompromising mission mode approach" to cleaning up the river.
But will such an uncompromising approach remain so in the face of the very same Hindu traditions when they run afoul of environmental needs? Will Modi ban religious customs like dumping dead humans, monkeys and cows in the Ganges?  Can he silence Hindutva forces which argue that Ganges is so critically entwined with religion that environmental consequences be damned?
Religion as pollutant
A five-star funeral pyre at one of Varanasi's cremation ghats is a lethal affair consuming  over 450 kg of firewood, at least 100 kg of ghee besides incense sticks or dust and can take up to six hours releasing carbon dioxide into the atmosphere and ashes into the Ganges. Electric crematoriums are only for the have-nots or unclaimed bodies from police morgues disposed off at government expense.
Besides 40,000 traditional, open-air cremations every year in Varanasi – or over 100 daily – which often entail dumping of human flesh into the Ganges because everyone can't afford to buy enough firewood to completely burn the corpse, bodies of sanyasis, children and snakebite victims exempted from cremation are bound with stones and immersed in the Ganges which is also the final resting place of chemical-laden images of Durga, Saraswati and Ganesh round the year.
Bathers invariably use mustard oil and chemical soaps, diyas are left to float after the aarti and the motorboat Ganges cruise for pilgrims leaves a diesel layer on the already polluted waters.
The length of the Ganges in Modi's constituency is barely 10 km from Ramnagar in the south to Aadi Keshav Ghat in the north. But the relatively short stretch is one of the most polluted in the iconic river's 2500-km long journey from the mountains to the ocean
Vishwambhar Nath Mishra, professor of Electronics at Banaras Hindu University and high priest of the Sankat Mochan Temple, told Firstpost: "Although a human body or animal carcass floating in the Ganges is revolting, it's Varanasi's untreated municipal waste pouring into the Ganges at 33 sewage discharge points that has turned the city's famed riverfront into an open sewer with methane bubbles rising from the water."
Dr Mishra's praise-worthy slogan is: not a drop of sewage into the Ganges. But he also advocates immediate curbs on polluting religious practices like throwing flowers into the Ganges and immersion of images. He is in favour of worshipping framed pictures of gods and goddesses on occasions like Durga or Saraswati Puja and Ganesh Chaturthi instead of images which require immersion.
"Banarsis should take a leaf out of Puri's book", Dr Mishra said. "In Puri, a single image of Lord Jagannath is worshipped for 12 successive years before it is immersed rather than worshipping a brand new image each year and immersing it."
Damn the dams 
But Pandit Kanhaiya Tripathi, Secretary of the powerful Kashi Tirtha Purohit Sabha (Varanasi Association of Religious Priests), told Firstpost that centuries-old rituals are non-negotiable. "Nobody can tamper with them", the 59-year-old warned.
According to Tripathi, electric crematoriums are a big insult to religious traditions. "The Shastras have laid down that mukhagni (lighting of a fire in the deceased's mouth) and kapal kriya (shattering of the skull by a blow from a stick to release the soul) are vital for moksha. Neither ritual can be performed if the body is burned in a crematorium."
"The Shastras have also instructed that bones left after cremation must be immersed in the Ganges. I'm against dumping ash into the river but human remains, especially bones, must be submerged in the river. Otherwise the soul will suffer which is totally unacceptable."
"Not too long ago, someone told me to instruct devotees who come to me for guidance not to offer Haldi [turmeric], Chawal [Rice] and Sindoor [Vermillion] to Ganga Maa. This is the most ridiculous thing I have ever heard in my whole life. I refuse to give such orders."
Push Tripathi on pollution, and he points his finger elsewhere. "Why blame Hindu religion [for the state of the Ganges] when the real culprit is the Tehri dam? Dams and barrages in Uttarakhand and Uttar Pradesh suck water out of the Ganges. It's daylight robbery!  Sarkar pani chor hai [The government steals water]. My Ganga Seva Samiti has petitioned successive governments to demolish the dams to ensure the natural flow [of the Ganges] ordained by gods."
But Modi isn't listening to Tripathi. His pro-development  Environment Minister Prakash  Javadekar has quietly canned the Bhagirathi Eco Sensitive Zone created in 2012 to check unplanned growth in disaster-prone Uttarakhand. The volte face has cleared the decks for big and small hydro-electric projects even as Tripathi cries himself hoarse over the diversion of Ganges water upstream.
Cows first, Ma Ganga second
The gravity of the situation is evident from the fact that it's not only the Tripathis of Varanasi but even a former High Court judge personally known to Modi doesn't give a hoot about the pollution clogging the Ganges.
Shockingly, retired judge of Allahabad High Court, Justice Girdhar Malviya - who officially proposed Modi's nomination from the Varanasi seat - is leading from the front a no-holds-barred movement against the construction of a Sewage Treatment Plant (STP) in Varanasi by Uma Bharati's ministry for rejuvenation of the Ganges.
Giving cows precedence over the Ganges, Malviya has locked horns with the government simply because the administration has acquired some land belonging to a goshala, or cow shelter, at Goithaha in Modi's constituency for the STP. The land, acquired in the public interest after a protracted legal battle, is owned by the Shri Kashi Jivdaya Vistarini Goshala Evam Pashushala.   
The Times of India dated 15 February, 2015 published a report headlined "Project to check Ganga pollution runs into 'saffron tide'. It quoted Malviya saying:"It is disgusting that the land of goshala is being acquired for the construction of STP. It is really shocking that  one hand we are talking about the protection of cow progeny and on another acquiring the land meant for cows for some other purpose." (Sic)
Varanasi District Magistrate Pranjal Yadav stoutly defended the acquisition on the ground that it was done as per rules for a good cause.

"After a favourable High Court decision, there is no question for delaying the Jawaharlal Nehru National Urban Renewal Mission-funded STP at Goshala site. The land was acquired for the noble cause of checking Ganga pollution. Hence no one should have any objection," he said.
Recently, Swaminathan Aiyar argued that Modi should harness Hindu religious fervour to cleanse the Ganges. Without mentioning Varanasi, he suggested that the first step could be "to train religious groups in maintenance and then hand over sewage treatment plants for them to run. Many will be very keen to do this if this gives them access to the holy Ganga shoreline, enabling them to build a ghat of their own….The next step can be to hand over treatment plants to them."
Dr Mishra was speechless when I sought his reaction to Aiyar's proposal. My prodding finally drew a response: "I'm afraid the solution lies in science, not religion."
"Haven't you read about Yogi Adityanath's proposal that Haridwar ghats [on the Ganges] should be out of bounds for non-Hindus? What the BJP MP from Gorakhpur actually meant was that Muslims should be banned from Haridwar ghats", said Dr Mishra. "Can Adityanath, who insists he is a man of religion, or his ilk,do any good?"
Although religious customs, particularly the rites of death, are not the sole or even the biggest contaminator of the Ganges in Varanasi, they are undoubtedly a significant and  conspicuous contributor. And, importantly, the easiest to eradicate if there is genuine  political will to save Maa Ganga. If Modi decides to choose religion over science due to electoral compulsions, Ganges – Varanasi's economic-cum-spiritual lifeline – will go into terminal decline, warn experts.
Clearly, Modi's task is cut out for him as far as saving the Ganges in Varanasi and elsewhere is concerned.  He must read the riot act to bigots, strike a balance between conservatism and modernity, and harness the power of science to save a river which symbolizes India. If he succeeds, it would be good news not just for the people of Varanasi who belong to all religious faiths, but also beyond.
India
The court has also appointed two more lawyers as commissioners to accompany the court commissioner Ajay Mishra for the survey
Politics
Prime Minister Narendra Modi had inaugurated the redeveloped Kashi Vishwanath Corridor on 13 December 2021
India
As per Hindu mythology, Narada Muni was a divine messenger in heaven and an ardent follower of Lord Vishnu. He was known to be the prime source of information among the gods as he had easy access to all the loks including Akash, Patal, and Prithvi