RSS swayamsevaks with lathis, walrus moustaches on border: 'General' Mohan Bhagwat's idea is a win-win
Apart from this small matter of impracticality that may lead to losses in the battlefield, in principle, Mohan Bhagwat's suggestion is a win-win scenario.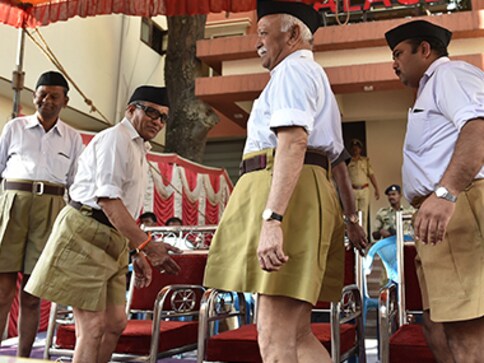 Mohan Bhagwat must have been a fan of popular Indian TV serial Mungerilal Ke Haseen Sapne in his youth. Like Rahguvir Yadav's character in that serial about a lotus eater who works up lovely fantasies in his reverie, the RSS chief too has perfected the art of seeing beautiful dreams.
After dreaming of an India where caste-based reservations would be passé, something that ended up making the BJP passé in Bihar, after having visions of women who would turn into baby-making machines for our "society, culture and civilisation", after conjuring a model society where women would restrict themselves to household work, he has come up with a new fantasy: The RSS as guardian of Indian borders and security; and the Swayamsevaks as battle-ready soldiers.
Let's not carp over whether he compared the Indian Army with his cadre. Or, if Bhagwat was misquoted, which, for some strange reason that should necessitate an astrological consultation, Bhagwat usually is. That is precisely why he allows just his Vijaydashmi speech to be telecast live. For everything else, he has a plan-B.
Talking of which, brings us to his ingenious plan. India's population is almost 1.3 billion. Yet, the Indian Army faces a perennial shortage of officers and soldiers. In 2015, according to government figures, the army had 55,000 vacancies, 11,000 of them for officers. With one flight of fancy, Bhagwat has proffered a brilliant solution to bolster the army's strength.
As the RSS chief said, his men – there are no women in Shakhas – come ready for combat. Draft them, arm them and send them to the battleground to see the enemy tremble at the knees. All of it just a bit slower than the speed of cooking masala Maggie.
This battle-readiness obviously comes after years of combat training in knee-length shorts that till recently flared a bit too much for the Swayamsevaks to sit without someone reminding them to cross their legs. A typical Swayamsevak, by his own account, spends months, shining his oiled lathth (stick) in a neighbourhood park under the guidance of a Shakha Babu.
He practises for hours the Sangh's trademark salute to the organisation flag till his hand bends just at the right angle and practises the warcry 'Namaste Sada Vatsale' till his throat his sore. Even if the Swayamsevak doesn't kill with his lathth, the sight of a hirsute man charging in a kachcha would certainly scare away the enemy. Yes, the Swayamsevaks certainly need to be guarding our gates.
The problem, of course, is this: How do you know, when push comes to lathth, this GI Joe would actually perform? The Sangh's prowess was not tested during the freedom struggle. Its cadres did not rush in large numbers to join Netaji's Azad Hind Fauj. They kept their sticks sheathed and gunpowder dry even during the 1962, 1965, 1971 and Kargil wars.
How do we trust these lathi-wielding putative war heroes to showcase their skills and bravado against an enemy platoon armed with Kalashnikovs, rocket launchers and, perhaps, even low-yield nuclear warheads? The thought obviously makes us Indian get our knickers in a twist.
Apart from this small matter of impracticality that may lead to losses on the battlefield, in principle, Bhagwat's suggestion is a win-win scenario. One, the Swayamsevaks, being devoted sons of the motherland, will obviously offer their services gratis, thus taking a huge burden off our already meagre defence budget.
Since they already have a settled uniform – even the kachcha has been replaced with trousers – the economy would not tire of the burden of financing their attire. And since, like Chacha Chaudhary, they go to war armed with lathis and walrus moustaches, their presence would help India curtail its defence spending and send arms dealers into premature retirement. Bye-bye Win Chaddhas and Ottavio Quattrocchis. Rue, Rahul Gandhi, for there would be no Rafael to crib about.
Over to you 'Major General' Mohan Bhagwat. More power to you and those knickers that you just wisely retired in anticipation of a long winter for the Swayamsevaks in Siachin, whom you saw in your deshbhakti ke dreams.
Opinion
Would Bharat Jodo Yatra make some promising and fresh beginnings in Kashmir? Looks a tough call given the baggage of history and the poor track record
Opinion
The BJP has a distinct advantage over the Opposition which is divided, bereft of any ideology and has poor organisational support
Entertainment
In response to a Twitter user's appreciation post for Gandhi, Agnihotri wrote, "I like the ease with which he wears warm jackets indoors and goes without jacket outdoors. Also, ease with which he drinks chai outdoors and 5 course meal indoors. Easy drama. Easy followers. Good one."