RSS lecture series: Mohan Bhagwat calls Sangh 'most democratic', pitches for Ram temple, elaborates on 'Hindutva'
The three-day RSS lecture series was primarily an attempt to change the public perception of the Sangh, and this is what Mohan Bhagwat focused on at the event.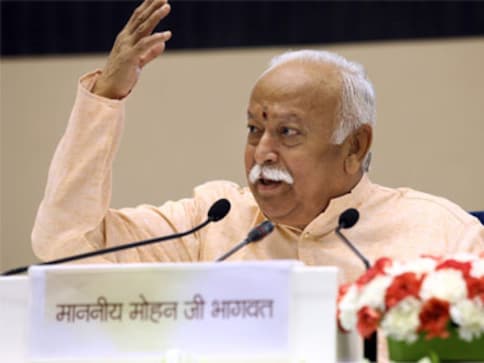 Rashtriya Swayamsevak Sangh (RSS) chief Mohan Bhagwat spoke at the organisation's three-day outreach event organised in Delhi from Monday to Wednesday, at which he presented the Sangh's views on a number of contentious subjects. He also answered wide-ranging written questions on the concluding day of the conclave, including on matters like the Ram temple dispute, inter-caste marriages, education, crimes against women and cow vigilantism.
The event saw the presence of several leaders of the ruling BJP as well as Bollywood actors, artistes, academicians and other politicians. However, nearly all major Opposition parties gave the conclave — 'Bhavishya Ka Bharat: An RSS Perspective' — a miss, though the RSS had said it had invited them.
'Faceless' RSS is 'most open organisation'
The three-day lecture series was primarily an attempt by the RSS to change the public perception of the Sangh. With this in mind, Bhagwat focused on creating a new image for the RSS at the event.
"The Sangh wants the common man to lead the society in the right direction. People tell us that the Sangh is becoming faceless. We want to be faceless so that we don't become arrogant. If tomorrow pictures of Mohan Bhagwat start getting published in newspapers, it will be a matter of concern for Mohan Bhagwat," he remarked.
"Who will be in power and what policy the country will accept is something to be decided by the society and people. There are mechanisms in place for that... We are not concerned about that, what we are concerned about is the conduct of the society. The Sangh is the most democratic organisation. We function by consensus. Here, every worker can express his views. There are no restrictions... We have started our work to make a certain kind of people and society and we do not want anything else," the RSS chief said.
"People often believe that the RSS is a dictatorial organisation, and that one man decides everything... If you want to see the most open organisation, then you should come to the Sangh. There is no restriction. An RSS worker conducts himself in line with the values imbibed from the organisation. The RSS keeps away from politics but has views on issues of national interests. The Sangh believes that the centre of power should remain as envisaged in the Constitution. We consider it wrong if it is not so," Bhagwat said. "We never ask a swayamsevak (RSS volunteer) to work for a particular party; we ask them to back those working in national interest."
Bhagwat said that the RSS does not seek domination and is indifferent to who comes to power. The Sangh does not give advice but offers suggestions if it is sought, he said, without naming the Bharatiya Janata Party (BJP) or any of its leaders.
"We speak about interests of the nation and if we have strength, we push for what we consider to be right. There is nothing to hide here. We do it openly," he said. "Anyone (political party) can have such a policy in national interest. It is not that only one has it and another cannot have so," he said.
'Building Ram temple with defuse Hindu-Muslim tensions'
Bhagwat strongly pitched for the construction of a Ram temple in Ayodhya "at the earliest", asserting that it will end tensions between Hindus and Muslims. Describing Lord Ram as "Imam-e-Hind", Bhagwat said he may not be a god for some people of the country, but he is an idol of Indian values for people from all sections of society. "... As a Sangh worker, head of the Sangh and as part of the 'Ram Janambhoomi Andaloan', I want that a grand Ram temple be constructed at the earliest at the birth place of Lord Ram (Ayodhya)," he said.
"It should have happened by now. The construction of a grand Ram temple will help end a major reason for tensions between Hindus and Muslims, and if the temple is built harmoniously, then fingers will no longer be more pointing at Muslims," he said, on the final day of the RSS' lectures series, adding that this was a matter to "strengthen unity" and the culture of the country as well as an issue of faith for crores of citizens.
He also supported a dialogue on the dispute, but said the final decision lies with the Ram Mandir Samiti, which is spearheading the movement for the construction of a temple in Ayodhya. The Supreme Court is expected to pronounce its verdict in the case before the current Chief Justice of India Dipak Misra demits office on 2 October.
Bhagwat also said he did not know whether an ordinance on the Ram temple could be promulgated as he is not part of the government, but that it is the Centre's prerogative to make the decision. He said aspects such as whether an ordinance can be passed and legal challenges to it will have to be examined.
Hindutva and Hindu population
Speaking on Hindutva, the RSS chief claimed there is an increasing acceptance of the ideology in the world, but there was anger against it in India because of various wrong practices that have crept into society over the years. The Sangh is working to remove these practices, he added.
To a question about changing the demographic balance in parts of India and the "declining" Hindu population, Bhagwat said the matter of demographic balance is considered significant the world over, and it should be maintained in India, as well.
"Keeping this in mind, a policy on population should be prepared," he said, adding that one has to consider the country's projected population for the next 50 years and its resources to deal with the number. He said that such a policy should be applied first where the problem (of population) exists, "where there are more babies but means to bring them up are limited". "If their upbringing is not good, then they will not become good citizens."
Many BJP leaders and Hindu outfits have often claimed that the Hindu population was dwindling in India while Muslim numbers were on an upswing. Speaking against religious conversion, Bhagwat said it is almost always done with ulterior motives and also causes demographic imbalance. He said conversion through forceful means was wrong.
"KB Hedgewar (the founding chief of the RSS) always used to say, for how long will we blame the Muslim invaders and the British for our state? How did a handful of invaders from thousands of miles away conquer this nation of warriors? He used to say there is some problem that we need to correct," Bhagwat said.
"When we forgot our values, our decline started. If you study it, you will find that India's decline started with our decline. The solution is to go back to these values. This value-based behaviour and culture is our Hinduness. Therefore, Hindutva unites us... Hedgewar said we will organise a Hindu community. He did not make this proclamation because he wanted to oppose somebody, but he wanted to unite people."
LGBTQ rights, diversity and language 
Replying to another question, he said it was the responsibility of the government and administration to protect its people against any discrimination. He also said that the LGBTQ community should not be isolated as it is also part of society. "Times are changing and society has to take a call on such issues," Bhagwat said.
"India is a country full of diversity and it must be respected and celebrated. In the form of the Congress, a big freedom movement had started in the country, which gave us many great personalities. For the sake of uniting the society, no one is a stranger to us, not even those who are opposed to us. We believe in an India, which includes everyone and does not exclude anybody. That is why we try to approach everyone. We do not want to dominate the society," Bhagwat said.
Bhagwat also asserted that the Sangh was not opposed to any language, including English, but it should be given its proper place, suggesting that it cannot replace an Indian language. "We have no enmity with English, we need proficient speakers in the language. You should not be opposed to any language, including English," Bhagwat said.
Kashmir and education
Speaking on education, he said there was a need for a new education policy that is a mix of modern methods of teaching and Indian traditions. He added that degrees were being given out by institutes today, but research work was decreasing.
Among other issues, Bhagwat also talked about the conflict in Jammu and Kashmir and said the RSS does not accept Article 370 and Article 35A of the Constitution that are related to the state. While Article 370 deals with the autonomy of the state, Article 35A allows the state Assembly to define the permanent residents of the state. Bhagwat pitched for greater development of Jammu and Kashmir, saying it was essential to bring its people into the mainstream.
Bhagwat also pitched for protection of cows but disapproved of miscreants going against the law in the name of cow vigilantism. The RSS chief said it is a crime to take law into one's own hands, and there should be stringent punishment in such cases. "But we have to reject the double-speak as there is no talk of violence by cow smugglers."
On the Sangh's view on inter-caste marriages, Bhagwat said it supports such weddings, and if there is a census on inter-caste marriages, the maximum such marriages would be of workers of the organisation.
Moreover, expressing anguish over crime against women, he said an environment needs to be created in India where women feel safe and secure. Men, he said, have to learn to respect women.
He also strongly backed the existing reservation system for various communities, but added that there should not be any politics on the matter.
With inputs from PTI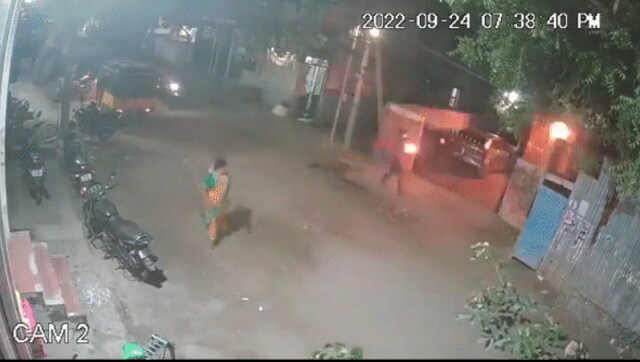 India
In a letter to Home Minister Amit Shah on the increasing attacks against BJP and RSS functionaries in recent times, Tamil Nadu BJP has mentioned 19 attacks, including the damaging of houses, and vehicles, and the hurling of petrol bombs on their or affiliated organisations' activists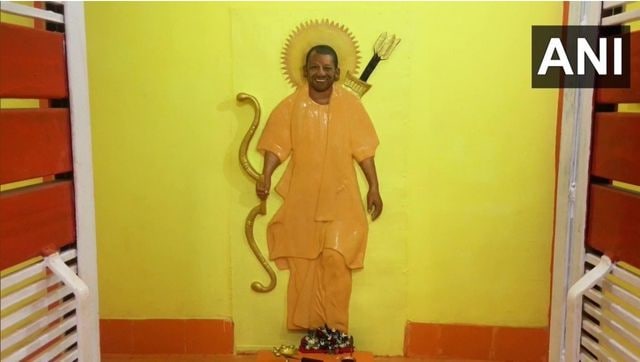 India
A relief statue of the Uttar Pradesh chief minister seems to emerge from a wall carrying a bow and quiver of arrows. Also, a halo sits behind the head of the idol
India
Cow vigilante groups in Asansol have alleged that the police and the ruling Trinamool Congress (TMC) are active participants in the cattle smuggling racket in West Bengal.