Rs 500, Rs 1,000 notes banned: One day exchange window would have stumped black money holders
Exchange, albeit, up to a tightfisted limit of Rs 4,000 at a time was a terrible idea in the first place not the least because banks would be laid siege to
The serpentine queues outside all banks, private or PSBs, elitist or common folks', techno-savvy or old fashioned on the first day of the exchange window being kept open for a fortnight revealed one thing in stark detail-- - exchange counters would be thronged more than the deposit counters in the remaining days to come of the fortnight. Bank managers have a fight in hand given banks' willy-nilly are going to work overtime during this fortnight.
That one could go to any bank irrespective of whether she held account in it has made all banks irrespective of their pedigree vulnerable to this menace. Insistence on identity proof hasn't deterred those laying siege to the exchange counters a wee bit because Aadhaar has been issued to almost anyone asking for it without any inconvenient much-less probing questions.
Exchange, albeit, up to a tightfisted limit of Rs 4,000 at a time was a terrible idea in the first place not the least because banks would be laid siege to. More importantly, the idea is reprehensible as it tantalises crooks who do not mind the huge amount of leg work involved in exchanging their stash of black money in driblets.
To wit, a crook having Rs 1 crore of black money would not mind engaging the services of 2500 persons, may be his present employees or fawning friends, for this noble cause! Truth be told, 2,500 persons may not be required after all and only 250 would do if all of them gamely volunteer to do ten errands in the course of the exchange scheme spanning a fortnight.
Exchange then bristles with the grim possibility of a huge chunk of black money giving the government a slip thus frustrating one of the three objectives of the ongoing exercise-- -- attack on counterfeit currencies, attack on black money and fostering the banking habit.
Exchange alas has frustrated two of the objectives-- - attack on black money and fostering banking culture. It is all fine to say that the government is keeping a hawk eye on the exchange counters but the truth is it would be difficult to pin down one about the source of his income when it is a pittance-- - Rs 4,000. Nor has the government and the RBI got resources and technology to collate the withdrawals made
by frontmen for a single crook.
Thrusting on people deposits as the only option might sound cruel but then the government should have bit the bullet for a larger cause. In return for wrenching away the exchange facility, the government could have extended the deposit deadline may be by a month i.e. the deposit counters should have been kept open for 80 days instead of 50. Crooks would have fallen in line.
And those not having a bank account would have made a beeline for opening accounts instead of making a beeline for the exchange counters. True, in the hinterlands there are still large swathes of unbanked areas but the RBI should have sent the mountain to Mohammed i.e. banks and their correspondents should have been sent to unbanked areas to enable people their to open their accounts.
Folklore has it that bank managers pounced on the first person on the street to cajole him to open bank account under the Jan Dhan Yojana scheme. But now he would anxiously walk into the nearest branch knowing pretty well that his cash otherwise is just a waste paper.
Exchange at best should have been extended for the day when ATMs were not in operation i.e. on 10 November 2016, when they were being readied for the new currency regime. Cynics might say this would have brought about a virtual mayhem outside banks on 10 November but then it is equally plausible that crooks would have thrown in the towel knowing pretty well that their game is up and not much can be accomplished during the course of a single day especially when the black money stash is large.
The Finance Minister Arun Jaitley was on dot when he said nobody had the birthright to persist with shady cash deals. He should have added for good measure that nobody should be outside the banking system.
Business
Malpass also said that India, which faces huge challenges of integrating more people into the formal sector economy and raising the earnings of the people, has made some progress but that's not enough.
Business
Following an FIR, the agency conducted searches at nine locations, including residential and office premises of the accused in Mumbai and Kolhapur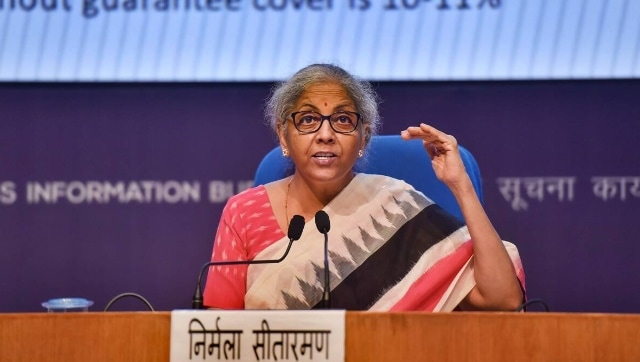 World
During the meeting, she appreciated the World Bank Group for its initiative to increase lending space for India to enhance availability of finance for development