Rs 500, Rs 1,000 note ban: Chaos reigns supreme as banks scramble to meet note demand
Frustration and anger boiled over amid chaos and serpentine queues at banks on 11 November as less than half of ATMs were functional for only a few hours and banks struggled to cope with the rush for new currency notes
New Delhi: Frustration and anger boiled over amid chaos and serpentine queues at banks on 11 November as less than half of ATMs were functional for only a few hours and banks struggled to cope with the rush for new currency notes.
Servers broke down, as did patience, at most branches where the average waiting time to get the limited quota of valid notes came close to three hours.
Despite the assurance, most ATMs across the country did not function and many branches ran out of cash, leaving people who waited for hours high and dry.
"It has taken me three hours and when my turn came, I was told that there was no cash left. I have to make such a futile effort to withdraw my own money," said a frustrated customer Shaswat Rai from Mumbai, the financial capital of the country.
Reports of chaos and scuffle at bank branches and ATMs streamed in from different parts of the country.
There were also heated exchanges between hassled customers and overworked bank officials at several branches.
Since the recalibration for the higher denomination of valid notes is being done for ATMs, the stock of low-value Rs 100 got over very fast because of the huge demand, said a banker.
Many ATMs are still waiting for recalibration, the banker said, adding that the rush is expected to grow further during the weekend.
The country's largest lender, SBI, was able to press into service only about half of its ATM network nationwide. "We have also been able to put up 29,000 ATMs and cash deposit machines today. Of these, 21,000 ATMs were functional and the rest are CDMs," SBI Chairman Arundhati Bhattacharya said.
Post offices which have been designated to exchange cash have also been a scene of chaos across the country. Taking into consideration problems faced by people, the government has extended the use of old Rs 500 and Rs 1,000 notes for paying household utility bills, fuel, taxes and fees as well as purchases from co-operative stores by another 72 hours to 14 November.
India
The prime minister has closely monitored the Kedarpuri reconstruction projects worth Rs 250 crore in Uttarakhand.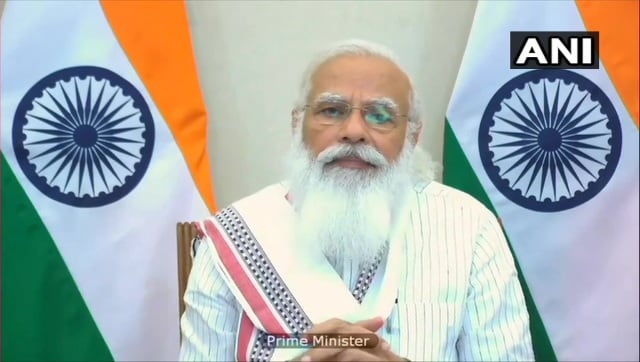 India
Modi cited the government's success in privatising loss-making public airline Air India to assert that this shows its commitment and seriousness.
India
Modi tweeted, "I pray for the good health and speedy recovery of Dr. Manmohan Singh Ji."