Rohingya Muslims in Kashmir: Part of a larger game plan to escalate hybrid warfare; no room for politics
The presence of Rohingya Muslims in Kashmir is bound to give rise to a more complex problem, as Pakistan will have direct access to them.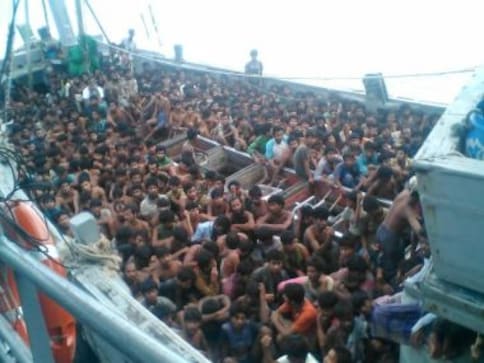 Over the years, security dynamics in the state of Jammu and Kashmir has evolved rapidly. While the security forces have managed to contain militancy in the Valley, the other two parts of the state — Jammu and Ladakh — are now up against a new challenge from migration of Rohingya Muslims from Myanmar. This has a direct impact on the security of the country as a whole and of the state in particular.
Different reports have given varying figures of Rohingya immigrants in India. According to one estimate, there are around 40,000 Rohingyas residing in India. The UNHRC data, on the other hand, shows that 16,500 Rohingya Muslims have settled in India as refugees. Of these, 5,700 are settled in Jammu and rest in New Delhi, Jaipur and Hyderabad. Whereas, according to the Jammu and Kashmir government, there 5,700 Rohingyas in Jammu and 7,664 in Ladakh.
The central government has said that it has evidences to prove that the illegal Rohingya Muslims have links with terror groups in Kashmir and they pose a very serious security threat. The number of Rohingyas involved in terror activities is not confirmed yet, but involvement of even one is enough for the security agencies to suspect all and act accordingly. The genuine victims who have migrated from Myanmar do need to be viewed from a humanitarian angle. But having said that, the problem also needs to be looked at through the worst possible security scenario they might create.
Accommodated in the strategically important Kashmir, Rohingya Muslims have settled in Doda and Samba sectors of Jammu region and in Ladakh. This is a good enough reason for the government to act in national interest. Former Jammu and Kashmir chief minister Omar Abdullah recently remarked that the Rohingyas have become a security threat after the BJP came to power in 2014. Similar sentiments were also expressed by Farooq Abdullah earlier, when he had supported the stone pelting youth, saying they "are throwing stones for the sake of nation" and because "we can find a solution to the Kashmir issue".
Such views serve the communal agenda and make short-term political gains, but the political class has so far failed to take into account the larger threat this development poses to the already strife-torn state.
At a time when terrorism seems to be on the back foot, this is a dangerous political trend. Infiltration from Pakistan has been effectively checked by the security forces for past nearly one year. However, the presence of Rohingyas, especially their growing concentration in Jammu and Ladakh regions, has raised fear among intelligence agencies and security bodies over their involvement in terror activities. Such fear is justified and here's why:
Chota Burmi of Rohingya origin was killed along with Pakistani mercenaries in Kashmir in 2015. He is said to have received patronage of Hafiz Saeed in Pakistan.
In October 2016, reports emerged that Rohingya terror group, known as Aqa Mul Mujahideen (AMM), was in touch with terrorist outfits active in the state including Lashkar-e-Taiba (LeT) and Jaish-e-Mohammed (JeM) and men belonging to AMM got trained in Pakistan.
Zakir Musa, the Head of Al-Qaeda's offshoot in Kashmir, Ansar Gazawat-ul-Hind, has expressed solidarity with Rohingyas living in Jammu. In a 10-minute-long audio clip, Zakir Musa warned the Modi government against deporting Rohingyas from India and called for liberating Kashmir from the leadership of 'cow-worshiping' Hindus.
In early September, the Mutahida Majlis-e-Ulma (MMU), headed by separatist Mirwaiz Umar Farooq and other religious organisations also observed a Solidarity Day in the Valley for Rohingya settlers.
According to a recent India Today report, Rohingya Muslims have forcefully converted Rohingya Hindu women in Bangladesh. Therefore, it would not be wrong to assume that some Rohingya Muslims harbour anti-Hindu feelings. A fragile state like Jammu and Kashmir which is divided on religious lines can potentially flare up — invoking fear in the minds of Hindus in Jammu and Buddhists in Ladakh.
At the same time, India is witnessing a growing intellectual debate which is trying to create a pro-Rohingya perception. According to this report, the BJP is pushing for deportation of Rohingyas just because they are Muslims. The article claimed that the 'ultra-right wing' party, which is unable to get rid of all the existing Muslim population in India, doesn't want additional foreign Muslims settlers to seriously damage the demography of the country. Similarly, this article in Scroll, ignores the security threat angle, and elaborates on how Hindus in Jammu are agitating with increasing anger against the Rohingya Muslims. Similar discourse was carried out in the aftermath of the killing of Hizbul Mujahideen commander Burhan Wani, the impact of which, is still felt, even one year after his encounter.
The European Union has blamed Russia for using the migrant population in European countries to create unrest and also wage an information warfare. Moscow's takeover of Crimea is the finest example of Russian hybrid warfare. While a section of the Indian political class firmly believes in playing the religious card, it forgets that sensitive states like Kashmir are sitting on the verge of communal implosion. Pakistan and its puppets in Kashmir cannot ask for more.
Those advocating accommodation of the Rohingyas in India fail to consider the burden they are bound to put on India's strained national resources including the overall socio-economic indicators such as public health, employment, crime, rehabilitation of internally displaced etc.
Jammu and Kashmir should learn lessons from illegal migration into Assam from Bangladesh. The influx of illegal Bangladeshi immigrants into Assam pose a serious security threat to the Assamese identity. It has adversely affected the social, economic and political environment of the state, creating law and order problems, particularly in areas where immigrants are present in large numbers.
According to a Carnegie India report dated 29 June 2016, several illegal migrants from Bangladesh have fuelled insurgency in some parts of the state and many have also been registered on the voters' list. This has been possible because India doesn't have a national refugee law, making it difficult for the government to distinguish between refugees and economic migrants. The presence of Rohingyas in Kashmir is bound to give rise to a more complex problem, as Pakistan will have direct access to them.
Therefore, while giving due consideration to the call for a humanitarian solution, India must necessarily inquire into the following questions pertaining to the Rohingya crisis:
1) Why were Jammu and Ladakh particularly chosen for the settlement of Rohingyas? Why not the Muslim-majority Valley?
2) What is the level of their involvement in societies of Jammu and Ladakh?
3) To what extent has the demography in the state changed because of their settlement?
4) How are they employed?
5) Do they have access to Aadhaar card, ration card, voter ID etc. Do they regularly report to local police authorities and are they freely allowed to visit other parts of the country?
6) Are they involved in criminal activities, if yes, what type?
7) Where does accommodation of Rohingyas in Kashmir leave Article 370?
8) Is the terror/security angle the only way to look at Rohingyas?
9) Should India accommodate Rohingyas (for limited period) on humanitarian grounds?
War is morphing. Nation states are no more involved in waging conventional military operations against their adversaries. However, they are in a constant state of war. Especially in case of Kashmir, where with the passage of time, conflict has changed its nature from armed operations to religious extremism to exploitation of local population, the Rohingyas pose a new threat. Successive governments in New Delhi have failed to resettle Kashmiri Pandits in the Valley, but there is vehement advocacy to accommodate foreign Rohingya settlers.
This is the dirty war played by external forces with the help from local support. In a fragile state like Kashmir, where terrorism and religious extremism are grave concerns, the settlement of Rohingyas in Jammu and Ladakh calls for an inquiry. And politics has no place in it.
After successive military debacles, Pakistan has quite successfully adopted hybrid warfare to counter India. It has succeeded in bringing the war on to the Indian soil with the help of the local population. Pakistan has also successfully utilised armed militias, religion and Kashmiri sentiments to destabilise the Valley. Presence of Rohingyas in Jammu and Ladakh gives Islamabad a direct access to further infuriate terrorism and communal tensions in Kashmir, particularly in the relatively calmer areas of Jammu and Ladakh.
Keeping in mind the critical geography of the state and its sensitive communal environment - it is necessary that New Delhi treads carefully and explores all the alternatives before arriving at any long-term solution to the issue. Any rash and hasty action might be a quick fix, but it will be short-lived. For India, fighting Pakistan-sponsored terrorism is much easier than countering the Pakistan-influenced ideology and mindset.
The growing concentration of Rohingyas hints at a larger game plan to escalate this hybrid warfare.
The author is Research Fellow at Observer Research Foundation Mumbai.
Explainers
Codeine is an opioid medication that doctors may use to treat pain. It is used in cough syrups and has mild pain-relieving properties, but it is a powerful drug that one can get addicted to
Explainers
Serbia, which has refused to recognise Kosovo, cherishes the region as the heart of its statehood and religion. Kosovo's majority ethnic Albanians, who are mostly Muslims, view Kosovo as their country and accuse Serbia of occupation and repression
Politics
In a Facebook post written in Malayalam, the Kerala MLA said "the part of Kashmir annexed to Pakistan was known as 'Azad Kashmir' and it was an area where the Pakistan government does not have direct control"