RLD-SP-BSP combine crushes BJP in Kairana bypolls 2018: Who won where in by election at 10 Assembly and 4 Lok Sabha seats
A look at how the parties are faring with respect to vote share and lead margins in the various constituencies in by elections 2018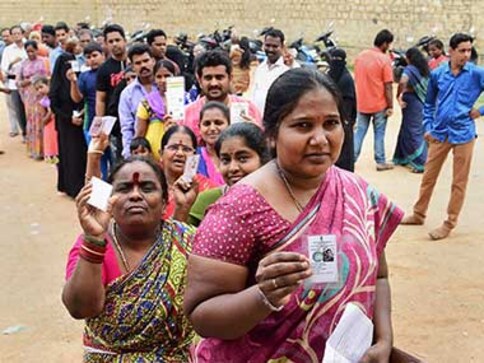 As the bypoll results have started to formulate into wins and losses from initial trends and leads, it is interesting to note the analysis behind the new equations which have cropped up and how the ruling party at the Centre—BJP—has only managed to continue its poor run in bye-elections held post-2014 Lok Sabha elections. So far, the BJP has only managed to win four out of the 23 Lok Sabha bypolls that have been held post its historic win in the general elections in 2014.
Here's a look at how the parties are faring with respect to vote share and lead margins in the various constituencies:
Uttar Pradesh
Kairana Lok Sabha constituency
The Rashtriya Lok Dal (RLD) candidate Tabassum Hasan defeated her rival, BJP's Mriganka Singh, by over 55,000 votes.
Noorpur Assembly constituency
After round 22 of counting, the Samajwadi Party candidate Naeemul Hasan, who was ahead of BJP at 85,020 votes, won the Noorpur Assembly seat. He won against BJP's Avnish Singh by a margin of around 10,000 votes.
Maharashtra
Palghar Lok Sabha constituency
BJP retained its Palghar Lok Sabha Constituency seat with its candidate Rajendra Gavit defeating the Shiv Sena's Shrinivas Wanga in the bypoll by 29,572 votes.
Bhandara-Gondiya Assembly constituency
The Nationalist Congress Party (NCP) won the election by defeating close rival BJP by a margin of 20,583.
Palus Kadegaon Assembly constituency
Congress candidate Vishwajeet P Kadam was declared elected unopposed in the bypoll to the Maharashtra Assembly from Palus-Kadegaon in Sangli after the BJP withdrew its candidate.
Bihar
Jokihat Assembly constituency
RJD candidate Shahnawaz Alam won from the Jokihat Assembly seat with 76,002 votes as the JD(U) could only secure 37,913 votes.
Jharkhand
Silli Assembly constituency
Jharkhand Mukti Morcha's (JMM) Seema Mahto won the Jharkhand Assembly seat by 13,500 votes beating nearest rival and AJSU president Sudesh Mahto.
Gomia Assembly constituency
 JMM's Babita Devi won the Assembly bypoll by defeating BJP rival Maghavlal Singh by a thin margin of 1,344 votes.
Karnataka
 RR Nagar Assembly constituency
Congress' N Munirathna has won Karnataka's Rajarajeshwari Nagar seat in Bengaluru by 41,162 votes defeating BJP's Tulsi Muniraju Gowda and JD(S) leader GH Ramachandra.
Uttarakhand
Tharali Assembly constituency
The BJP retained the Tharali Assembly seat in Uttarakhand with party nominee Munni Devi Shah defeating her Congress rival Jeetram by over 1,900 votes.
Nagaland
Nagaland Lok Sabha constituency
BJP ally Nationalist Democratic Progressive Party (NDPP) won over Naga People's Front (NPF) by over 1,30,000 votes.
Meghalaya
Ampati Assembly constituency
Congress candidate Miani D Shira won the Ampati Assembly seat in Meghalaya against the National People's Party (NPP) CG Momin after two rounds of counting.
Punjab
Sahkot Assembly constituency
Congress candidate Hardev Singh Laddi Sherowalia defeated Shiromani Akali Dal's (SAD) Naib Singh Kohar by a massive margin of around 37,000 votes.
Kerala
Chenganur Assembly constituency
The Left Democratic Front (LDF) candidate and CPM member Saji Cherian won the bypoll by a margin of 20,956 votes over D Vijayakumar of the United Democratic Front (UDF).
West Bengal
Mahesthala Assembly constituency
West Bengal's ruling Trinamool Congress retained the Maheshtala Assembly seat with an impressive margin, while the BJP came in the second spot by displacing the CPM.
By elections were held in 10 Assembly and 4 Lok Sabha seats on 28 May and the verdict is crucial for all political parties considering the changing dynamics of national politics post the Karnataka elections 2018. The BJP has the challenge of maintaining its majority in Parliament as it stands against a united opposition of regional parties.
also read
Politics
Early trends show Congress leading on 135 and BJP on 63 seats. JD(S) is winning on 21
Politics
Congress has won in Karnataka and the BJP has conceded defeat. JD(S)' hopes as kingmaker have been dashed as it is relegated to the third position
Politics
The Congress successfully wresting power in Karnataka after Himachal Pradesh will be a morale booster for the party in reviving its electoral fortunes and strengthening its credentials as the main opposition against the BJP in the 2024 Lok Sabha elections