RJD will not allow Monsoon Session of Bihar Assembly unless Nitish Kumar, Sushil Kumar Modi resign
RJD on Thursday threatened it will not allow the monsoon session of the Bihar Assembly to be run unless new Nitish Kumar and Sushil Kumar Modi resign
Angry at not being invited to form the government, the RJD on Thursday threatened it will not allow the monsoon session of the Bihar Assembly to be run unless new Chief Minister Nitish Kumar and Deputy Chief Minister Sushil Kumar Modi resign.
The monsoon session of the state Assembly begins on Friday.
Nitish Kumar, who along with the BJP formed a new government on Thursday, will have to prove his majority in the next two days on the floor of the House.
Demanding that Nitish Kumar and Modi resign, senior RJD leader Jagdanand Singh said: "RJD is the largest party in the state Assembly. We have majority but were not invited by the Governor to form government. The RJD will not allow the Assembly to function," Singh said.
Singh, a former Minister, said the RJD will reply to Nitish Kumar for his "cheating and betrayal" at its August 27 party rally.
RJD leader Manoj Jha said Nitish Kumar has acted against the people's mandate by joining hands with the BJP to form government. "Mandate of the 2015 Assembly polls was against the BJP. It is like dacoity," Jha, RJD spokesperson, said.
Another senior RJD leader Abdul Bari Siddiqui said it is an "old habit" of Nitish Kumar to dump one party to join hands with another to form the government. "Earlier he dumped the BJP and joined hands with RJD to be in power, now he again joined hands with BJP and formed the government," he said.
Raghuvansh Prasad Singh, senior RJD leader and former Union Minister, said Nitish Kumar has betrayed the people and acted against the wishes of people. "Nitish Kumar will face the anger of people and its consequence," he said.
RJD chief Lalu Prasad's wife and former Chief Minister Rabri Devi said "Nitish Kumar used to talk to Laluji in the day time and with BJP leaders at night".
Politics
Amid UP government's ongoing drive to verify the eligibility of ration cardholders, the Congress alleged that the BJP has tricked the poor into voting for this scheme during Assembly elections and now is withdrawing it
India
The Prime Minister said that the BJP-led government, after taking over in 2014, revived the spirit of innovation in India's youth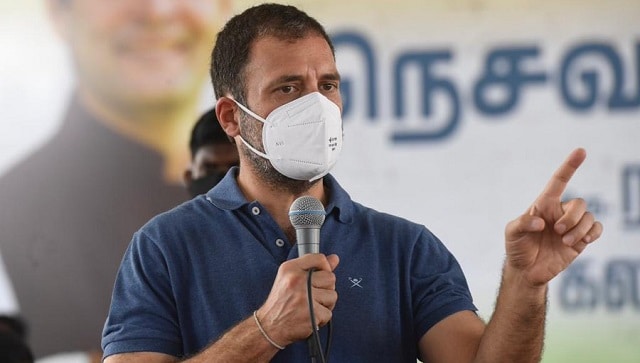 India
Congress leader Rahul Gandhi said there is a fight between two ideologies in the country