Revival of Indian Mujahideen: Abdul Subhan Qureshi's arrest breakthrough for security agencies but it's just tip of the iceberg
The Indian Mujahideen has hit the headlines again with the arrest of Abdul Subhan Qureshi by the Delhi Police from the Ghazipur area. The police claimed that Qureshi was trying to revive the Students Islamic Movement of India (SIMI) and the Indian Mujahideen, which have been lying dormant for some time.
The Indian Mujahideen has hit the headlines again with the arrest of Abdul Subhan Qureshi by the Delhi Police from the Ghazipur area. The police claimed that Qureshi was trying to revive the Students Islamic Movement of India (SIMI) and the Indian Mujahideen, which have been lying dormant for some time. His arrest is being considered a breakthrough by security agencies as he is a prime accused in several high-profile bomb blasts that took place in last one decade. However, the greater challenge will be to make him reveal all vital details about Indian Mujahideen's network of terror in India as well as to get him convicted in court.
Indian Mujahideen is one of those terror groups formed by recruiting lower-level SIMI cadres. In fact, the lines between both the outfits have remained blurred. The Indian Mujahideen claimed itself as an indigenous Islamist group, which emphasised on getting its cadre from local Muslims. Indian Mujahideen first shot into notoriety when it carried out the 2008 serial blasts in Ahmedabad, which remain the biggest and boldest attack to date by the terror outfit.
The organisational antecedent of SIMI, as well as Indian Mujahideen, is Jamaat-e-Islami (JeI), an Islamist revivalist party founded by Maulana Mawdudi who was also a great intellectual inspiration to Pakistani dictator General Zia ul Haq. After India's bloody partition, JeI split into two independent wings, with Mawdudi becoming chief of JeI's Pakistani wing. JeI is also the parent organisation of Hizbul Mujahideen, one of the leading terror organisations involved in terrorism in Jammu and Kashmir. JeI maintains regional links to Islamist radicals. For instance, Gulbuddin Hekmatyar, the head of Hezb-e-Islami group, was originally a member of the Afghanistan branch of JeI.
The SIMI believed that in a pluralist and secular society, like India, Muslims cannot lead their lives in accordance with Islamic principles. Hence, an organised struggle to set up the Islamic state is an essential duty for each Muslim. Moreover, increasing communal tensions between Hindus and Muslims during 1990s coupled with the demolition of disputed Babri Masjid were equally significant drivers in SIMI's evolution towards supporting the cause of violent jihad. In fact, many emails sent by the Indian Mujahideen for taking responsibilities for terror attacked cited the Babri demolition and the 2002 Gujarat riots as the reason for their action.
What is particularly troublesome is that despite a ban on SIMI in 2001, the organisation continued to operate in some form or the other for more than half a decade, before giving birth to the Indian Mujahideen. Another worrying aspect is that most of the operatives recruited by Indian Mujahideen are having good educational background, and only a few of them are actually influenced by Mawdudi's hardline views or Wahhabist ideology.
There are several versions of how the Indian Mujahideen was formed, including a belief that it grew out of the Asif Reza Commando Force (ARCF), which is known for a terror attack on the American Centre in Kolkata in January 2002. But to cut the long story short, the Indian Mujahideen took a concrete shape when SIMI figures Mohammed Sadiq Ishrar Sheikh, Riyaz Bhatkal and his brother Iqbal Bhatkal came together with Amir Reza Khan and Abdul Subhan Qureshi.
The Indian Mujahideen founders were also guided in their endeavours by Bangladesh-based Harkatul Jihad-e-Islami (HuJI) and Lashkar-e-Taiba (LeT), who helped them build a highly effective cadre of 'home-grown' jihadists. That is how a dangerous journey of recruiting disgruntled, unemployed Muslim Indian youth into waging holy war against non-Muslims and the Indian state began.
After key operatives of the Indian Mujahideen were arrested by police, the founder members – Riyaz Bhatkal and Iqbal Bhatkal — were forced to escape to Pakistan along with a bunch of other Indian Mujahideen operatives in 2009. The Indian government declared the Indian Mujahideen as a terrorist organisation in June 2010. While placing the Indian Mujahideen on the list of foreign terrorist organisations, the US State Department acknowledged that it had engaged in several terror attacks in India and was engaged in the creation of an Islamic caliphate across South Asia.
Bhatkal brothers attempted to revive the organisation again but could not gain much success. An internal disagreement between Bhatkal brothers, and a faction led by Mirza Ali Baig saw a defection from the ranks of Indian Mujahideen. In a major breakthrough in August 2013, Yasin Bhatkal, one of the co-founders of Indian Mujahideen, was arrested by by the police and the National Investigation Agency (NIA) near the Indo-Nepal border. Again in March 2014, the Special Cell of the Delhi Police made arrests of four Indian Mujahideen members. The same year, another Indian Mujahideen operative was arrested in September from Saharanpur.
It should not be forgotten that many members and cadres of Indian Mujahideen are still at large. They are now working in tandem with like-minded jihadist outfits to revive the Indian Mujahideen's network of terror in India. Although the Islamic State has been neutralised in Iraq-Syria region, the radical jihadist ideology will continue to inspire jihadists around the world. There is no doubt that al Qaeda and Islamic State are grounded on different ideologies, but India-centred terrorist groups are known to mutate for tactical gains. The SIMI or Indian Mujahideen remnants are classic example of this phenomenon; they first got linked with al-Qaeda but later mutated to join the Islamic State.
Therefore, India's law enforcement and intelligence agencies need to remain extra cautious and take proactive measures to prevent them from succeeding in their plans. Politically speaking, the strengthening of democratic institutions and processes against all communal forces in the country is equally important. Moreover, there have been instances where the police did not carry out investigations in a proper manner. In the fight against religious extremism and terrorism, the police cannot afford to be seen acting in a prejudicial manner. There is an urgent need for police to properly investigate terror cases and not come up with tailor-made accusations.
The author is an assistant professor at the Department of International Affairs and Security Studies, Sardar Patel University of Police, Security and Criminal Justice, Rajasthan. He is also the coordinator at the Centre for Peace and Conflict Studies in Jaipur.
Find latest and upcoming tech gadgets online on Tech2 Gadgets. Get technology news, gadgets reviews & ratings. Popular gadgets including laptop, tablet and mobile specifications, features, prices, comparison.
India
Governments can ensure that religious processions don't end in violence. For that though, the lives of innocent citizens, especially minorities, should matter to them
India
From the moment she steps out of her home till she reaches her Chepauk office, Aruna Devi requires assistance from passersby at multiple points. "That there is still no policy to cater to something as basic as transportation shows that there is no concern for us," says the Chennai revenue official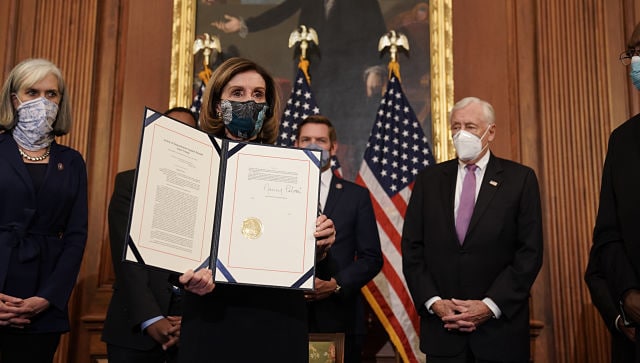 World
While the House moved with remarkable speed to impeach Trump, a Senate trial to determine whether to remove him cannot begin until 19 January, his final full day in office