India is reported to have a low quality of life compared to most countries, and was ranked 135th on the UNDP's Human Development Index in 2014. Now, a new study paints a grim picture for India in terms of quality of death, ranking it at last place among 40 countries.
This was part of the findings of a report of the Economist Intelligence Unit titled The quality of death: Ranking end-of-life care across the world. The index scored countries across four categories — basic end-of-life healthcare environment, availability of end-of-life care, cost of end-of-life care and quality of end-of-life care. India ranks below not just China and Brazil, but also Uganda. In the Human Development Index of 2014, Uganda ranks much below even India, at 164th place.
The report, however, refers to Kerala as a 'notable exception of excellence'. In a separate section on the state, the report refers to it as a 'beacon of hope.' The report says that Kerala, 'with only 3 percent of India's population, the tiny state provides two-thirds of India's palliative care services.
Kerala's unique system revolves around the Neighbourhood Network in Palliative Care (NNPC) project, co-founded by Suresh Kumar with the aim of improving both accessibility and quality of end-of-life care.
"There are a lot of medical problems, but there are also a lot of social, spiritual and financial issues — so anybody who has time to spare can, if properly trained, take care of these people," he said.
Palliative care advocates not only in developing countries but also across the world are studying Kerala's potent combination of government support and civic involvement in end-of-life care, the report said.
The bottom ranks of the Quality of Death Index are dominated by developing and BRIC countries, such as India, China, Mexico, Brazil and Uganda, where progress on providing end-of-life care is slow.
The upper rungs of the index are dominated by wealthy European, Asia-Pacific and North American countries. Australia is second, New Zealand third and Ireland and Belgium complete the top five. The US is ninth in the index.
"A very strong marker in our index is the availability of specialised palliative care workers and this is where the UK scores particularly well. The other super strong marker is the way that the countries do have a plan for palliative care. That means they are on the dynamic of measuring progress and improving," said Annie Pannelay, EIU's healthcare specialist.
The Quality of Death Index, commissioned by the Lien Foundation, a Singaporean philanthropic organisation, is based on qualitative and quantitative indicators and took interviews of over 120 palliative care experts from around the world.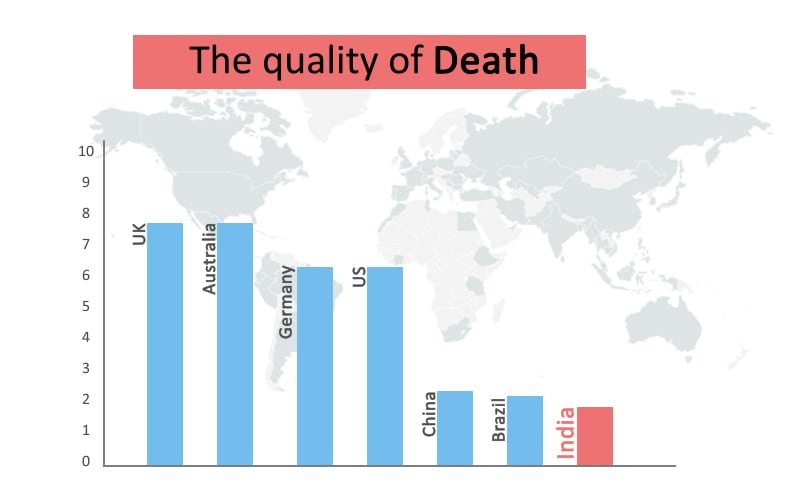 With inputs from PTI
Your guide to the latest cricket World Cup stories, analysis, reports, opinions, live updates and scores on https://www.firstpost.com/firstcricket/series/icc-cricket-world-cup-2019.html. Follow us on Twitter and Instagram or like our Facebook page for updates throughout the ongoing event in England and Wales.
Updated Date: Oct 08, 2015 17:25:32 IST