Illegal arms manufacturers and the continuing threat to India's internal security: An explainer
India is increasingly facing internal security threats from the illegal arms manufacturers because the inflow of weapons to neighbouring Bangladesh and Myanmar have come down considerably after the border security was beefed up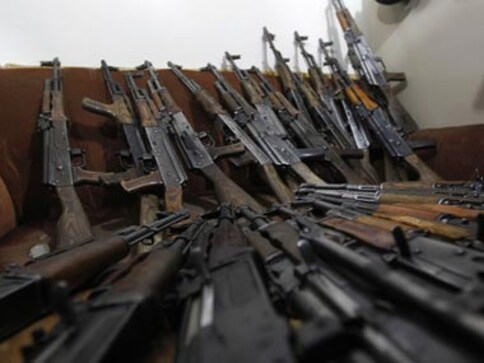 Munger, a district deep inside the badlands of southern Bihar, has been home to domestic weapon-manufacturing factories since the 1780s, creating a rich tradition of skilled illegal arms makers. The district is famous for its kattas, or country-made single shot pistols, and more significantly first copies of international brands such as Smith and Wesson, Webley & Scott pistols and even AK-47's and AK-56's, which, at times, deceive even experts.
Signature Munger-made weapons have come been unearthed during raids on Naxalites, who operate in the Red Corridor across Madhya Pradesh, Odisha, Chhattisgarh, Jharkhand, Telangana, Andhra Pradesh and Bihar.
In February 2017, five illegal mini-factories in the region, which were being operated by Maoists, were destroyed by the Bihar Police. Moreover, the media has widely reported how Maoists have been procuring weapons from illegal arms manufacturers to destabilise internal security.
Recently, the police arrested three persons in Jammu and Kashmir, who pledged their allegiance to the Islamic State. Investigations revealed that the trio was asked to buy weapons from Munger and then cross over to Pakistan-occupied Kashmir to undergo training.
Over the years, Munger has also earned notoriety for supplying weapons to Bangladeshis including terror groups such as Jamaat-ul-Mujahideen Bangladesh (JMB) and Ansarullah Bangla Team (ABT).
For instance, the Munger-made weapons were used by members of neo-JMB in Dhaka's Holey Artisan Café attack in July 2017, which claimed 29 lives.
The arms-manufacturing business in Munger has been in decline since the turn of the new millennium due to greater crackdown on this illegal cottage industry, compelling many to migrate outside Bihar in search of livelihood and safe havens.
The Kaliachak block in West Bengal's Malda district is one such safe haven, which has become an adopted home for many on-the-run Mungeris, and has emerged as the mainstay of gun supply to local criminal gangs.
Kaliachak is also a hub for producing opium, which is used to buy arms and also to fund terror groups such as JMB.
Beyond Munger, Madhya Pradesh's Khargone district, located in the central Indian state's south-western part, is another major centre for manufacturing illegal arms. About 5,000 Sikligar Sikhs are involved in the trade and are known to have supplied arms to many actors including terrorist group SIMI in Madhya Pradesh in 2011, according to the state Anti-Terrorism Squad (ATS) officials. Besides SIMI, no major terror group has procured weapons from the Sikligar Sikhs, but security agencies are still keeping a close tab on the impoverished community for their linkages to anti-national activities.
The problem that arises with the issue of arms smuggling is that little first-hand information is available on its explicit links with terror groups. However, poring over the facts and figures of illegal arms production give a sense of their impact on insurgency movements.
India is increasingly facing internal security threats from the illegal arms trade sector because the inflow of weapons to neighbouring Bangladesh and Myanmar have come down considerably after the border security was beefed up.
Recommendations and challenges
Dealing with arms smuggling and terror nexus is fundamentally an economic exercise to reduce the demand and the supply of weapons. Imposing hefty fines and penalties on illegal use of weapons and clamping down on insurgencies would help reduce the growing appetite for arms and ammunition.
On the supply side, the government can take steps to train people involved in arms manufacturing in alternative vocations. For instance, Munger thrives on a parallel economy by selling illegal locally-made arms. The illegal arms manufacturing industry sustains a section of Mungeris, who don't have economically viable skills.
Similar challenges confront the Sikligar Sikh community, and they have expressed their eagerness to integrate with the mainstream for a better future.
There is a pattern in demand for illegal arms. Come elections, the lawless parts of Uttar Pradesh and Bihar always see an uptick in sales of guns.
And politicians often lure voters with guns, among other inducements, in their desperate bid to win elections. Once the elections are over, the guns often end up in the hands of terrorists and criminals.
Strong electoral laws are the need of the hour to prevent the proliferation of wanton arms during elections. Also, police action should be de-linked from political patronage to improve law and order.
The solutions, however, present new problems for policymakers. As arms are smuggled within and across states, effective coordination and cooperation among police, security agencies, border authorities and ministries are needed, which in reality is few and far between. The problem intensifies when states are ruled by parties, who are inimical to each other.
To make matters worse, security and border forces are routinely understaffed, over-worked and poorly paid, encouraging smuggling of firearms under the nose of corrupt authorities.
States have to contend with international smuggling routes, fuelling demands of assorted terror and insurgent groups.
Encouragingly, the once rampant arms smuggling via the porous India-Bangladesh border has come down drastically. Violence too has abated in domestic terror hotspots such as the Red Corridor and the remote North East.
The trend suggests that effective cooperation is achievable for domestic agencies. Most proposed solutions can be implemented at some level, provided there is political will.
Illegal arms smugglers may continue to have a truck with hardened criminals, but their linkages with terror groups and insurgents call for greater attention and stronger action.
The author is a research analyst at S Rajaratnam School of International Studies (RSIS), Singapore
India
The mine, which was found buried by the Border Security Force, was later safely defused by experts of the bomb disposal squad
India
During the searches conducted at the premises of office bearers and members of JeI various incriminating documents and electronic devices were seized
India
Curfew was imposed in Bhaderwah in Doda district on 9 June following communal tension in the wake of protests over remarks by now-suspended BJP spokesperson Nupur Sharma on Prophet Mohammad and some social media posts by local right-wing activists in her support