Renuka Chowdhury regressed into a chortling child in House of Elders during Narendra Modi's Parliament reply
Congress leader Renuka Chowdhary interrupted Prime Minister Narendra Modi's Rajya Sabha speech on Wednesday with loud, piercing laughter, prompting Rajya Sabha chairman Venkaiah Naidu to suggest that Chowdhary 'see a doctor'.
Congress leader Renuka Chowdhury interrupted Prime Minister Narendra Modi's Rajya Sabha speech on Wednesday with loud, piercing laughter, prompting Rajya Sabha chairman Venkaiah Naidu to suggest that Renuka "see a doctor". It is not a passing admonishment or a casual scolding, it is a proper dressing down and would have gone on further if Modi had not ad libbed a snappy retort. "Mr Chairman, please don't stop Renuka ji from laughing. Last time we heard such laughter was when Ramayana was on television," Modi had said.
In itself, the comment was no big deal and should have just been water under the bridge. Compared to other disturbances and utterances and acts of physical misbehaviour in both, the Rajya Sabha and the Lok Sabha, and also in state Assemblies. This was not even a blip on the bad conduct radar.
However, now that it has been made into a cause célèbre, a few things need to be said.
This is not some schoolyard prank where you can engage in high jinks and be a giggly little kid. This is the house of the elders and one expects a modicum of maturity. You can rib your science teacher and be the class clown if you want to but when you represent the people and your prime minister is speaking you do not regress into this chortling child for a moment's cheap popularity.
While the prime minister could have ignored the rudeness of the deliberate interruption he chose a bit of dark humour and hit back. Why is it suddenly wrong to defend oneself if you are being heckled? Where is the male chauvinism? While there was no need for Minister of State for Home Affairs Kiren Rijiju to join the fray and play loyal servant to his boss by tweeting inane messages seeing as how Modi is capable of handling himself by the same token the bristling indignation in the Congress ranks is also a lot of crock.
There will be very few buyers for Renuka's decision to seek a privilege motion against the prime minister for comparing her laughter to character from Ramayana. She asked for it and it was conduct unbecoming. You make a ninny of yourself, you show no respect for the sanctity of the House, you snigger and snicker and chuckle as if sharing a private joke just like you would as a teenager and when given a verbal slap you get all holier than thou and make it all about a man-versus-woman-thing. And to take it to that ridiculous length it is made into a comprehensive all-encompassing female thing like every woman in India is offended on Renuka's behalf.
No they are not. If anything they are annoyed with the way this lady behaved during the address and chairman Naidu's irritation with her ongoing silliness was palpable.
What is perhaps even scarier is that trivia like this has now become hard news and eclipses the real issues of the day. Renuka's laughter, good, bad or raucous is not on the national agenda.
Find latest and upcoming tech gadgets online on Tech2 Gadgets. Get technology news, gadgets reviews & ratings. Popular gadgets including laptop, tablet and mobile specifications, features, prices, comparison.
Politics
Parliament Updates: The Essential Commodities (Amendment) Bill, 2020, has been passed in the Lok Sabha, by voice vote. The House has been adjourned until 3 pm on 16 September, 2020
Politics
The Opposition alleged that the Centre was trying to throttle democracy by doing away with the Question Hour, which it called the "Golden Hour" of the House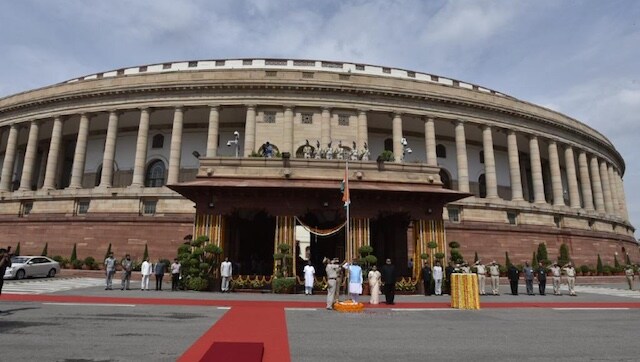 Politics
Parliament Updates: On the first day of the Monsoon Session, the Salaries and Allowances of Ministers (Amendment) Bill and the Indian Medicine Central Council (Amendment) Bill were also introduced in the Upper House.