Ramayana and Buddhism show that ties between India, ASEAN date back centuries, says Sushma Swaraj
Ramayana and Buddhism are two aspects that connect India and ASEAN and that is why they have been given prominence at the India-ASEAN Commemorative Summit, External Affairs Minister Sushma Swaraj said on Tuesday
Ramayana and Buddhism are two aspects that connect India and ASEAN and that is why they have been given prominence at the India-ASEAN Commemorative Summit, External Affairs Minister Sushma Swaraj said on Tuesday.
Speaking at the 'India-ASEAN Youth Awards', Swaraj said the relations between India and ASEAN date back to centuries and the links between the two countries are spread in diverse fields of history, culture, commerce and education.
The India-ASEAN Youth Award was one of the penultimate events in run-up to the ASEAN India Commemorative Summit to be held here on 25 January. She said scholars from the Southeast Asian region have been choosing India as an important learning centre and in the ancient times, they used to prefer the Nalanda University.
"Ramayana and Buddhism are two aspects that connect India and ASEAN. Which is why we have kept these two at the centre
of this commemorative summit," she said.
Cultural groups from the eight member-countries of the Association of Southeast Asian Nations (ASEAN) will present performances based on Ramayana. Commemorative stamps on the epic will also be released during the summit.
For Buddhism, she said, the MEA had organised a Dharma Dhamma conference in Rajgir, the location of the new Nalanda University. Swaraj also narrated an incident about the Indian influence in Southeast Asia.
She said former prime minister Atal Behari Vajpayee, during his visit to Indonesia as then external affairs minister, had seen a man making idols of Hanuman there. "When Vajpayee enquired about why was the man, who appeared to be a Muslim, making the idol since Indonesia is the country with the largest Muslim population in the world, the man replied, 'We have changed our religion but not our ancestors,'" Swaraj said.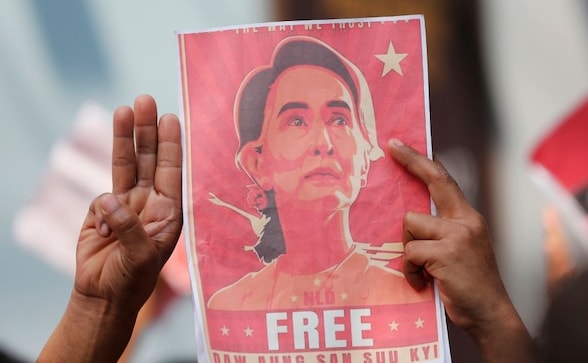 World
Since her ouster in a coup last year, Suu Kyi had been under house arrest at an undisclosed location in Naypyidaw, accompanied by several domestic staff and her dog
World
Had a good interaction with Foreign Ministers and Representatives of ASEAN countries as we celebrate 30 years of close India-ASEAN cooperation, PM Modi tweeted
India
In his opening address, the External Affairs Minister said a better connected India and ASEAN would be well-positioned to promote decentralised globalisation and resilient and reliable supply chains