Ramakrishna Mission head Swami Atmasthanandaji Maharaj dies, Narendra Modi calls it 'personal loss'
President of Ramakrishna Math and Mission Swami Atmasthanandaji Maharaj passed away at a city hospital on Sunday after a prolonged illness.
Kolkata: President of Ramakrishna Math and Mission Swami Atmasthanandaji Maharaj passed away at a city hospital on Sunday after a prolonged illness.
The 98-year-old monk had been undergoing treatment for age-related ailments since February 2015.
A statement released by the Ramakrishna Math and Ramakrishna Mission, Belur Math, said, "Despite the best medical attention, his condition deteriorated over the last few days and he passed away around 5.30 pm on Sunday at Ramakrishna Mission Seva Pratishthan hospital."
The cremation will take place at Belur Math on Monday at about 9.30 pm and the gates of Belur Math would remain open on Sunday and Monday till the last rites were completed, it stated.
Prime Minister Narendra Modi condoled the death of Swami Atmasthananda, terming it as a "personal loss".
As a young boy, Modi had visited the Belur Math to join the order, but his request was turned down and he was told that his calling was elsewhere.
Later, he got spiritual guidance from Swami Atmasthananda in Rajkot, Gujarat.
West Bengal chief minister Mamata Banerjee also condoled the demise of the monk.
Atmasthanandaji, born in May 1919 at Sabajpur, near Dhaka, now in Bangladesh, had received mantra diksha from Swami Vijnananandaji Maharaj (a monastic disciple of Ramakrishna) in 1938 and joined the Ramakrishna Order at Belur Math in January 1941 at the age of 22.
In 1945, Swami Virajanandaji Maharaj, the sixth president of the order, gave him brahmacharya vows, and in 1949, sanyasa vows and the name Swami Atmasthananda.
After serving the order at Belur Math and the branches at Deoghar (Vidyapith) and Mayavati (Advaita Ashrama), Atmasthanandaji got the opportunity to serve Swami Virajanandaji Maharaj, the then president of the order, for a long time.
He spent several years in the company of Virajanandaji Maharaj at the Shyamla Tal in the Himalayas. In 1952, he was posted to Ranchi TB Sanatorium branch as an assistant secretary.
In 1958, he was sent to Rangoon (Yangon) in Burma (now Myanmar) Sevashrama as its secretary.
When military rulers took over the Rangoon Sevashrama, he returned to India in 1965 and was posted at the Rajkot branch as its head in 1966.
He was elected a trustee of the Ramakrishna Math and a member of the governing body of the Ramakrishna Mission in 1973.
In 1975, he was appointed an assistant general secretary of the twin organisations. Under his stewardship as relief secretary, the math and mission conducted massive relief and rehabilitation operations in various parts of India, Nepal and Bangladesh.
He became the general secretary of the math and mission in 1992 and remained at that post for five years till 1997 when he became a vice-president of the order.
He was elected president of the Ramakrishna Math and Ramakrishna Mission in December 2007.
Swami Atmasthanandaji had travelled extensively all over the country and abroad and visited several branches of the Order and some unaffiliated centres spreading the messages of Ramakrishna, Sarada Devi, Swami Vivekananda and Vedanta, besides giving mantra diksha to disciples.
He was one of the key persons to organise the Pallimangal (integrated rural development) activities in Kamarpukur and Jayrambati, a youth training centre at Saradapitha (Belur) and many other social service programmes.
Mamata Banerjee, who paid a visit to the ailing monk earlier on Sunday afternoon, described his passing away as "an irreparable loss to the mankind".
"Saddened that Rev. Swami Atmasthanandaji, President, Ramakrishna Math Mission passed away on Sunday at Seva Pratishthan #Kolkata," she tweeted.
"I paid my last visit to him this afternoon. A life of outstanding social and religious service. This is an irreparable loss to mankind," Banerjee said.
Sports
Bhavani Devi began her campaign with a confident 15-3 win against Tunisia's Nadia Ben Azizi but bumped into Rio Olympics semi-finalist Frenchwoman Brunet in the next round, which she lost 7-15.
India
The leaders voiced their support towards spreading awareness about the ongoing vaccination drive and provided their ideas and suggestions for preventing the third wave, as per the PMO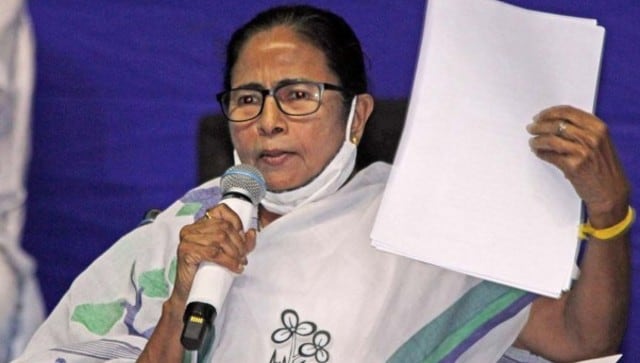 Politics
The TMC chief, who seeks to take up a larger role in national politics prior to the 2024 Lok Sabha election, is visiting Delhi for the first time after her party's win in the recent Assembly polls