Ram Temple row: As Sri Sri Ravi Shankar heads to Ayodhya to 'mediate' dispute, what does his 'peace formula' entail?
Spiritual leader and founder of Art of Living Foundation Sri Sri Ravi Shankar offered to mediate in the Ram Temple row.
Following the Supreme Court's suggestion that all parties in the Ayodhya dispute settle the matter out of court, spiritual leader and founder of Art of Living Foundation Sri Sri Ravi Shankar offered to mediate in the row.
Ravi Shankar had said on Monday that he would travel to Ayodhya and open talks with stakeholders in the Ram Janmabhoomi-Babri Masjid dispute on 16 November. "I will be going to Ayodhya on Thursday, and so far, all talks have been positive," he had said.
According to a report on PTI, Ravi Shankar met with Uttar Pradesh chief minister Yogi Adityanath at the latter's residence in Lucknow on Wednesday ahead of his interaction with stakeholders in the Babri Masjid dispute.
Ravi Shankar's offer to mediate had found few takers other than Adityanath and Shia Waqf Board chief Wasim Rizvi.
'A government agent'
The Congress had last month dubbed him a "government agent" representing its interests in the Ram Temple dispute. "Ravi Shankar is representing the government interests," Congress spokesperson Tom Vadakkan had said on 31 October in Delhi, when he was asked about the mediation being done by the AoL chief in the Ram Temple issue.
The Vishwa Hindu Parishad (VHP) also voiced doubts over Ravi Shankar's efforts. "This is not the first time Ravi Shankar has taken this initiative. In 2001, he made attempts but failed. The reaction to his efforts was the same as today. Somebody is calling him an agent of (Prime Minister Narendra) Modi while another is dubbing him a VHP agent. In fact, he is being insulted," Jain told IANS.
The spiritual leader, rejecting these accusations, had said, "It was of my own will that I was involved as a mediator in the Ram Temple issue. I do not have an agenda in this issue and will listen to everybody. He had offered to mediate in the Ram Temple row for an out-of-court settlement," he had said.
The Sri Sri 'formula'
But Ravi Shankar seems to have revived an old solution he offered back in 2003, which he claims will resolve the long-standing problem that has caused bitter acrimony between Hindus and Muslims. "Compassion and forgiveness form the basis of this proposal. Mistakes have happened in the past. It is only wise to forgive and forget. As a civilised society, we cannot afford not to practice forgiveness and trust building for the betterment of the society and our own selves. This is to be undertaken now. Right now," Ravi Shankar had said earlier.
"It is one's obligation to forgive when someone asks for it. However, to be forgiven even without being asked is true wisdom. Any practical solution for solving the Ayodhya issue shall necessarily be based on these foundations of compassion and forgiveness." he had said.
As part of his "formula" to resolve the issue, he has put forth three proposals:
Proposal I
Muslims to "gift" the place where the makeshift Ram Temple stands to the Hindu community and withdraw all cases on that piece of land, and allow Hindus to carry out worship which has been happening for the 50 years.
"If this plan is executed, both communities will come together and there can be celebrations in the whole country. The Art of Living Foundation will take responsibility to organise such celebrations in bringing together Muslims and Hindus in every state and district centres. This will be a win-win situation for both communities," he had said.
Proposal II
In a scenario where certain organisations do not comply, the peace process should not be shunned. In such a case, the Muslim Personal Law Board should still go ahead and take into confidence the venerable saints of the Hindu community and gift the place to the saints.
The Hindu saints, in turn, will help to build a mosque in Faizabad.
Proposal III
In case the parties don't agree on resolving the issue, Parliament is to enact a legislation gifting Ram Janmabhoomi to the Hindu community and keeping the status quo of all other places of worship. The Supreme Court will hear the case on 5 December, a day before the 25th anniversary of the Babri Masjid demolition.
With inputs from agencies
Find latest and upcoming tech gadgets online on Tech2 Gadgets. Get technology news, gadgets reviews & ratings. Popular gadgets including laptop, tablet and mobile specifications, features, prices, comparison.
World
Not only is Rishi Sunak a smooth communicator, but, with his Indian heritage, he is a walking success story of modern multiracial Britain.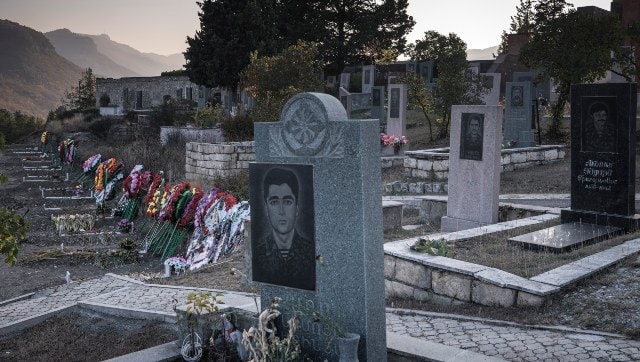 World
For the region's populace, the war is a continuation of on-off violent strife over both territory and history, with roots going back more than a century