Ram Rahim Singh sentenced: Leadership crisis looms in Dera Sacha Sauda but no rush to name successor
Gurmeet Ram Rahim Singh, head of the infamous Dera Sacha Sauda, being sentenced to 20 years' rigorous imprisonment by a CBI special court for the rape of two female disciples, a leadership crisis looms
With Gurmeet Ram Rahim Singh, head of the infamous Dera Sacha Sauda, being sentenced to 20 years' rigorous imprisonment by a CBI special court for the rape of two female disciples, a leadership crisis looms over the Rs 1,000-crore sect in Haryana that is said to have over 60 million followers.
With family and non-family claimants to the legacy of the disgraced sect chief, there is uncertainty over who will lead the cash-rich sect.
Well-placed sources in the sect told IANS that, as of now, there is no move to immediately name a successor to Ram Rahim.
"Pitaji (father, as Ram Rahim is called) has been convicted and sentenced by the trial court. His counsels will appeal in the high court and, if need be, in the Supreme Court. They will try till all legal options are exhausted. We are hopeful that the judgment of the CBI court will be over-ruled and he will be back to lead the sect," said one source who did not want to be named.
Sect insiders say that, as of now, an arrangement needs to be in place to manage the affairs of the sect and to give direction to its millions of followers who continue to have full faith in the sect and on Ram Rahim, who turned 50 on 15 August this year.
"Even though he is in jail, he will continue to guide affairs through family members and others who will be allowed to meet him," the source said.
Within the family of the sect's jailed leader, the name of his 33-year-old son, Jasmeet Singh Insan, is being propped up to manage the affairs of the sect in Ram Rahim's absence. Those behind the move include Ram Rahim's aged mother Naseeb Kaur and wife Harjeet Kaur, who normally keep a low profile compared to the rather flashy and even controversial lifestyle of Ram Rahim himself.
The bid to promote Jasmeet's name by the family which is said to be now in the Dera complex in Gursar Modia in Rajasthan's Sri Ganganagar district, from where Ram Rahim hails is being seen as an attempt to scuttle any move by non-family claimants to take control of the sect or even to manage its affairs.
Jasmeet is the son-in-law of Harminder Singh Jassi, Congress leader and former legislator from Punjab.
The "threat" to Ram Rahim's family, the source said, is from two close female aides of the sect chief Honeypreet (who was earlier called Priyanka Taneja) and Vipassana both of whom are said to be adopted daughters of Ram Rahim.
While Vipassana, aged around 35 years, is officially the number two in the sprawling 700-acre sect headquarters complex near Sirsa town and has been managing the affairs in the past few days when the sect has been through turmoil, it is Honeypreet who has figured more prominently and publicly with Ram Rahim in the last five years.
When Ram Rahim was convicted by the CBI special court judge Jagdeep Singh in Panchkula on August 25 and was being taken to prison, it was Honeypreet who travelled with him from Sirsa to the courtroom and later even managed to escort him in the government helicopter to Rohtak after he was taken into custody.
Honeypreet, who is also in her mid-30s and is considered closest to Ram Rahim, and has been his heroine in the five films that he has directed, produced and acted in in recent years. Though both (Ram Rahim and Honeypreet) describe themselves as a "father-daughter" duo, her former husband had accused them of having an illicit relationship.
"In the coming days, Dera followers will have to go through a period of uncertainty and confusion as various people and groups try to take control. But the directions will keep coming from Guruji even from jail, the source added.
Dera Sacha Sauda was established in 1948 by Mastana Balochistani. After he died in 1960, the Dera was headed by Shah Satnam Singh, who served till 1990. Ram Rahim is the third head of the Dera.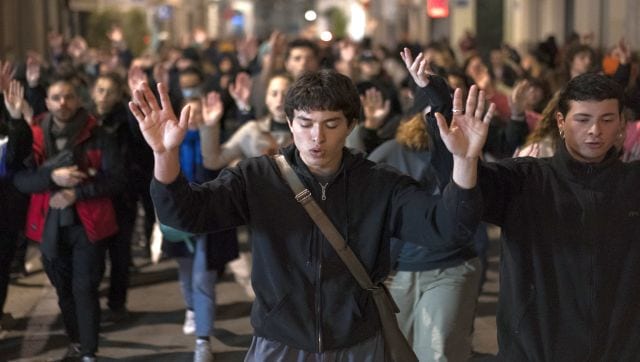 World
France has been seeing protests, which have turned violent in recent days, as the Emmanuel Macron government pushes pension reforms through parliament. In India too, there's a debate on the pension scheme, some arguing that the old method is fiscally unsafe
Explainers
Amritpal Singh and his aide Papalpreet Singh have been on the run for the past seven days. They were last located in Haryana's Kurukshetra. Baljit Kaur, the woman arrested by Haryana Police for sheltering them, told interrogators that the duo confided in her that they might move to Uttarakhand next
Politics
Punjab Police on Saturday launched a major crackdown against Amritpal and suspended internet and SMS services till Monday noon. It has arrested 78 members of 'Punjab Waris De', an outfit headed by him