Ram Nath Kovind takes over as President of India, says diversity is key to country's progress
An elated Ram Nath Kovind on Tuesday expressed his gratitude after swearing in as the 14th President of India and said he was taking charge with humility.
After being sworn-in as the 14th President of India on Tuesday, an elated Ram Nath Kovind expressed gratitude for being entrusted with the top position, and made a strong pitch to inculcate a sense of national pride among Indians.
Kovind was addressing a gathering, which included Vice-President Hamid Ansari, Lok Sabha Speaker Sumitra Mahajan, Prime Minister Narendra Modi, outgoing president Pranab Mukherjee and former president Pratibha Patil. Former prime ministers Manmohan Singh and HD Devegowda, UPA chairperson Sonia Gandhi, and former Lok Sabha speaker — and Kovind's presidential poll rival — Meira Kumar were also in the audience.
Lauding India's democracy, he said, "I bow to the 125 crore citizens of this great nation and promise to stay true to the trust they have bestowed on me. I am conscious of following in the footsteps of stalwarts such as Dr Rajendra Prasad, Dr S Radhakrishnan, Dr APJ Abdul Kalam, and my immediate predecessor, Mukherjee, whom we address out of affection as 'Pranabda'."
Appreciating other parties' mutual understanding of each other, he said, "We've had our agreements and disagreements but we learnt to respect each others' views. This is the beauty of democracy."
The 71-year-old, who took his oath in Hindi, is the first BJP leader and the second Dalit to occupy the Rashtrapati Bhavan. He was administered oath of office on Tuesday to "preserve, protect and defend the Constitution and law" by Chief Justice of India JS Kehar.
The former Bihar governor had spoken highly of India's diversity on Tuesday. "We are all very different but we are one. We are in the 21st Century. We all believe that this century belongs to India," Kovind said in the Central Hall of Parliament. He also expressed hope that India will be a country that will combine its traditions and values with modern ideas.
After taking oath, Kovind was given a 21-gun salute to mark assumption of the highest constitutional office in the country. Mukherjee and Kovind exchanged seats on the dais, after which the latter delivered his maiden speech as president.
Speaking on nation-building, Kovind said that government can only be a guide in the process. "National pride is what contributes to nation-building," he said. He also conveyed that the government took pride in each citizen of the country, even those belonging to poorer backgrounds.
Kovind also acknowledged the role of women in the country. "Teachers who inspire youth are nation-builders. Several women are looking after their families and are making their children proud citizens of this country. They too are nation-builders," he added, while emphasising on the need to respect all occupations.
Kovind was elected with 65 percent votes, defeating Meira Kumar to become president.
"India's voice counts in today's world. The entire planet is drawn to Indian culture and soft power. The global community looks to us for solutions to international problems — whether terrorism, money laundering or climate change. In a globalised world, our responsibilities are also global." he said.
A commerce graduate, Kovind studied law at the Kanpur University, practised in the Delhi High Court and the Supreme Court. He was also the central government's standing counsel in the apex court from 1980 to 1993. "We have achieved a lot as a nation, but the effort to do more, to do better and to do faster should be relentless. This is especially so as we approach the 75th year of our Independence in 2022," Kovind said.
"We constantly need to think about whether development in the country is reaching the person standing last in a line or in the most backward community," he added.
The Kanpur-born leader had also earned support from JDU, which broke ranks with the mahagathbandhan alliance in Bihar because of his non-confrontational approach as governor of the state. "I am accepting this position with all humility and I am grateful for this responsibility," he further said.
The elaborate ceremony for change of guard in India's highest Constitutional office began with Military Secretary to the President, Major General Anil Khosla, inviting Kovind and his wife Savita to the Rashtrapati Bhavan on Tuesday, where Mukherjee was waiting for them.
The two leaders then went to the grand Rashtrapati Bhavan forecourt where they were escorted to the saluting dais. Mukherjee took the last salute of the President's Bodyguard with Kovind standing to his left.
Swearing-in ceremony | 14th President of India- Sh.Ram Nath Kovind: https://t.co/YYl9STSpSj via @YouTube

— Rajya Sabha TV (@rajyasabhatv) July 25, 2017
The road from Rashtrapati Bhavan to Parliament was lined with 1,000 jawans from all three services of the armed
forces offering the traditional 'hazaar salaam' to the president, who is the supreme commander of the defence forces.
Ansari, Mahajan and Khehar received Mukherjee and Kovind, who were then taken to the Central Hall. After the oath-taking ceremony, Kovind met leaders in Central Hall before leaving for the Rashtrapati Bhavan in the presidential limousine.
With inputs from PTI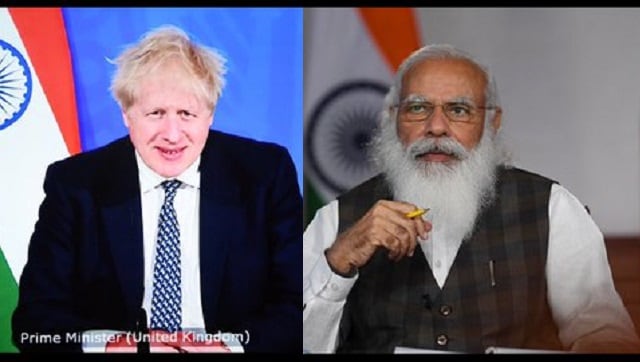 India
The countries agreed to negotiate a comprehensive and balanced Free Trade Agreement including an interim trade pact for delivering early gains
India
Naval hospitals are being opened for civilian use in various cities, Singh told Narendra Modi, while briefing him about the initiatives taken by the Indian Navy to help fight COVID-19
Politics
With all leaders who could pull others with them gone, this victory has placed Mamata Banerjee in a safe seat to rule the state