Ram Jethmalani retires: From smuggler's lawyer to anti-corruption activist, the maverick's legal career
On Saturday, noted jurist Ram Jethmalani announced that he was retiring as an advocate. This piece looks at some of the highlights of his legal career.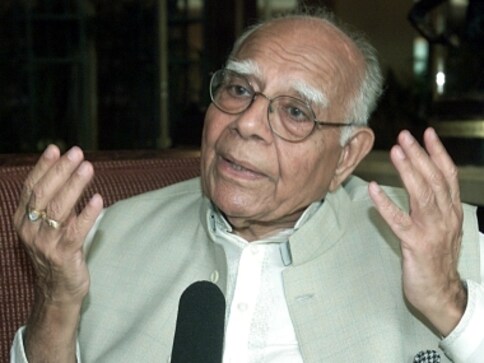 On Saturday, noted jurist and maverick lawyer Ram Jethmalani announced that at the grand age of 94, he was drawing the curtains on his seven-decade long career as an advocate. He also took the opportunity to call the present state of governance a "calamity" and said that he will continue to combat corrupt politicians.
While Jethmalani is a sitting member of the Rajya Sabha and has had an illustrious career as lawmaker as he served as the law minister as well as the Minister of Urban Development, it is as a lawyer that he is most well-know. It is hard to say whether he follows controversy or if its the other way around but he does find a way to stay in the news.
His entry into the profession was newsworthy in itself. After getting a double promotion at school and completing matriculation at 13, he finished his LLB degree by the time he was 17, according to The Times of India. A special resolution had to be passed to allow him become a lawyer at 18 as the minimum age at the time was 21.
After moving to India after partition, his legal career took off after he got involved in the Nanavati case in 1962, reported Livemint. He had been engaged as counsel by the sister of the deceased to look after her brother's interests. The case established him at the Bombay bar after which he embarked on a remarkable legal journey. It snakes through defending smugglers and assassins to most recently defending Arvind Kejriwal in a defamation case against Arun Jaitley. This piece will take a look at some of the highlights of Jethmalani's substantial legal career.
Smuggler's lawyer
He initially picked up a reputation as a 'smuggler's lawyer' as he defended a string of smugglers in the 1960s, the most famous of whom was Haji Mastan. To those who would question his choice of clients, he would point out that he was only doing his duty as a lawyer, according to The Times of India.
He would then go on to defend the killers of two prime ministers — Indira and Rajiv Gandhi. In Indira's case, he was not engaged by the accused in the trial court, says a report in Outlook. In the High Court, the accused told the court that they wanted Jethmalani's services. Taking the request of the High Court as a command, he accepted and managed to save one of the accused.
In Rajiv Gandhi's assassination, Jethmalani argued for the convict Murugan as he told the Supreme Court that the suicide bomb attack was not a crime against India, says The Times of India. He defended his decision to represent the convicts as he said, "They are entitled for the commutation as there was a long delay. The noose was hanging over the three persons every day, every hour and every minute."
Defended white-collar criminals
Jethmalani didn't shy away from defending economic crimes either. He represented both Ketan Parekh and Harshad Mehta, perhaps the two-most famous white-collar criminals India has seen. He was setting precedents for lawyers' fees even at that time as told to The Economic Times by veteran lawyer Rohit Kapadia who said, "This was the first time they started charging Rs 1 lakh per appearance. That kind of money was not billed by even the most successful of Supreme Court lawyers."
Spoke for some of the most hated men in the country
Speaking about Parliament attack convict Afzal Guru, Jethmalani had demanded commutation of his death sentence, as he felt that life imprisonment for him would be alright, reported The Times of India. He thought that Guru did not get a fair trial and he was "ashamed" of the incident as he was a Cabinet minister at the time.
While he never represented Guru, he did take up the case of Manu Sharma, the accused in the Jessica Lal murder case, as per The Hindu. The case eventually concluded with Sharma being given life imprisonment but not before Jethmalani caught the nation's attention by questioning Lal's character.
Represented politicians
He represented Kanimozhi, daughter of former Tamil Nadu chief minister M Karunanidhi, who was accused of corruption in the 2G scam case, according to NDTV. While listing the reasons why she should be given bail, he said, "She's a law abiding citizen, an MP and a woman." He also said that she was being targeted because of her political lineage.
Most recently, he represented Delhi chief minister Arvind Kejriwal in a case against Union minister Arun Jaitley. That relationship did not end too well as he quit as Kejriwal's lawyer after saying that his client had lied about giving him instructions.
Apart from this, he also appeared for BJP president Amit Shah in several fake encounter cases and defended Jayalalithaa, the late chief minister of Tamil Nadu, who was ultimately convicted in a disproportionate assets case, according to International Business Times.
The "maverick" lawyer is a highly-paid one
A Livemint report mentions that in 2015, based on interviews with law firm partners and advocates to determine how much lawyers charge per hearing — Jethamalani was said to charge Rs 25 lakh. The publication wrote, "Jethmalani can afford to price himself out of the market for all but the most affluent clients because a majority of the cases he does take up these days, he handles pro bono."
The bar has certainly lost one of its most remarkable characters with Jethmalani's retirement. He was a man who wore the word "maverick" as a badge of honour, said Hindustan Times. He said that a maverick is "someone who thinks independently, who has not mortgaged his soul or intelligence to anybody." At 83, he was fine "with the appellation." As he retires from law at 94, there is little evidence to suggest that much has changed.
Explainers
Italian design house Lazzarini, which unveiled the concept, said Pangeos has been named after the supercontinent Pangea. At 1,800 feet long, and 2,000 feet wide, Pangeos will cost around $8 billion to construct
Politics
In a video, the suspended Anganwadi workers can be seen raising slogans against the Delhi government and Chief Minister Arvind Kejriwal, asking why they had been "abruptly sacked"
India
The Arvind Kejriwal-led Aam Aadmi Party (AAP) on Wednesday alleged that its candidate in Gujarat has been missing along with his family members since yesterday