Rajiv Kumar appointed vice-chairman of NITI Aayog; economist backed GST, demonetisation
Economist Rajiv Kumar has been appointed the vice-chairman of NITI Aayog in place of Arvind Panagariya, said informed sources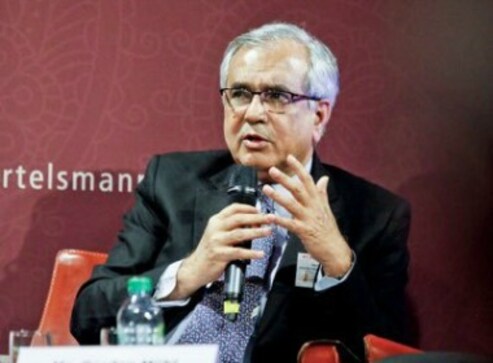 Economist Dr Rajiv Kumar was appointed the new vice-chairman of NITI Aayog on Saturday, reports said. This comes five days after the incumbent vice-chairman Arvind Panagariya announced he was quitting the government think tank on 31 August to return to Columbia University.
Vinod Paul, a doctor by professsion, has been appointed as a member of the NITI Aayog. Paul is a paediatrician at AIIMS, and is known to have done substantial work in public health.
Kumar, a senior fellow at Centre for Policy Research (CPR), is also chancellor of the the Gokhale Institute of Economics and Politics in Pune, and is the founding director of Pahle India Foundation, an organisation that specialises in policy-oriented research and analysis.
He has openly supported two of the present government's most significant economic moves: implementing demonetisation and Goods and Services Tax (GST).
Kumar, in an editorial piece in April, has supported the government's move to demonetise high-value currency notes of Rs 500 and Rs 1,000, and condemned criticism against the move as "politically motivated".
In a piece titled 'Demonetisation and its outcomes', Kumar had written, "On 11 April, finance minister Arun Jaitley informed the Rajya Sabha that Rs 5,400 crore of undisclosed income had been detected since the 8 November announcement that demonetised 86 percent of the currency in circulation. Critics will surely latch on to this rather measly figure to declare that demonetisation has palpably failed in expropriating owners of 'illegal money'. Such criticism would only further display the inherent ideological bias and politically motivated opposition by these critics."
Kumar also hailed the government's move to implement the GST, terming it as a "transformational fiscal reform".  He wrote:
"GST will help neutralise the centrifugal forces that are constantly in operation in this continental sized economy, with its unparalleled diversity and heterogeneity across multiple dimensions. This critical politically and socially unifying role of GST has been consistently underplayed and not received due attention in the hullabaloo of assessing its significant impact on economic activity."
Before joining CPR, Kumar was Secretary-General of the Federation of Indian Chambers of Commerce and Industry (FICCI).
He has also served as Director and Chief Executive of the Indian Council for Research on International Economic Relations (ICRIER), and chief economist of the Confederation of Indian Industries (CII). Kumar has also held several government positions; he was an economic advisor in the Department of Economic Affairs, Ministry of Finance, and senior consultant at the Bureau of Costs and Prices. He was a member of the Indian government's National Security Advisory Board between 2006 and 2008.
He presently sits on the boards of several international and national institutions, including the King Abdullah Petroleum Studies and Research Center in Riyadh, the Economic Research Institute for ASEAN and Asia in Jakarta, the State Bank of India, and the Indian Institute of Foreign Trade.
With input from agencies
also read
Explainers
Kyriakos Mitsotakis, whose party scored a thumping win at Sunday's election, is a conservative political dynasty scion credited with putting the debt-ridden country back on the path of growth. But he has signalled that he will seek a new election in order to obtain an absolute majority
India
The police force is on high alert to ensure that no protestor moves toward the new Parliament complex as permission has not been granted to hold the 'Mahila Mahapanchayat'
World
Prime Minister Narendra Modi has redefined foreign diplomacy during his nine years in power. He has many firsts to his credit, visiting nations no Indian premier has gone to before and forging stronger ties with leaders the world over