Letter reveals Maoists planned Rajiv Gandhi-style assassination of Narendra Modi; MHA calls it hollow threat
In one of the letters from one Prakash to Wilson, it is stated that the Bhima Koregaon agitation was losing its steam, and cadres should keep it alive.
A letter allegedly found in the house of one of the five persons arrested for "links" with the banned CPI (Maoist) talks about the ultras mulling "another Rajiv Gandhi incident", Pune police told a court on Friday.
A letter found in activist Rona Wilson's house in Delhi talks about requirement of Rs 8 crore to procure M-4 rifle and four lakh rounds, and also about "another Rajiv Gandhi incident", prosecutor Ujjwala Pawar told the court.
"We are thinking along the lines of another Rajiv Gandhi incident. It sounds suicidal and there is a chance that we might fail but party must deliberate on our proposal," Pawar quoted the letter as saying. The purported letter indicated an assassination plan against Prime Minister Narendra Modi.
The investigators also claimed that the communication seized from the laptop of one of the arrested persons says that "Modi has successfully established BJP government in more than 15 states... if this pace continues, then it would mean immense trouble for the Maoist party on all fronts".
Home minister reacts to alleged assassination plot
Home Minister Rajnath Singh, in response to a question relating to the recently uncovered assassination plot against the prime minister, said, "We are always concerned about our PM's security. Maoism and extremism has now been reduced by many folds. They are just fighting a lost battle."
"At present, the Maoist insurgency affects just 10 districts and it will end soon as has been done in the Northeast where insurgent violence has been contained and brought down by 85 percent," Rajnath added.
Decline in Maoist incidents since 2014
The police intercepted the purported assassination plan against Modi in the wake of recent crackdown on Maoist activity by the central government. According to Ministry of Home Affairs (MHA) data  an overall 20 percent reduction in violent incidents (1,136 to 908) and 33.8 percent reduction (397 to 263) in Left-Wing Extremism related deaths in 2017 as compared to 2013 has been reported. Compared to 2016, the year 2017 recorded a decline of 13.4 percent (1048 to 908) in incidents of violence and 5.4 percent (278 to 263) in resultant deaths.
The government has subsequently managed to systematically evolve its outreach programme, leading to " an increasingly large number of LWE cadres shunning the path of violence and returning to the mainstream," the MHA report said.
Sanjay Nirupam terms assassination plan 'false feed' by BJP; Congress distances itself from remark
Reacting to the news, Congress' Sanjay Nirupam dismissed any possible threats to the prime minister's life and said that it was an old strategy used by the latter, whenever his popularity dipped.
"This is nothing new. The news of an assassination plot is planted whenever Modi's popularity declines. This has happened even when he was the Gujarat chief minister," Nirupam told CNN-News18. 
He also said that an enquiry should be launched into whether the said assassination plot is a false news fed by the ruling Bharatiya Janata Party.
Meanwhile, the Congress party distanced itself from Nirupam's remarks. Party spokesperson Majeed Memon told CNN-News18 that both, Nirupam's comments and the Pune Police' claim are "premature" and it would not like to admit or dismiss either statements until some documentary evidence is recovered. Memon said that the police also should have refrained from releasing such sensitive information without further investigation in the matter.
'Assasination plot' letter recovered from activists arrested in connection with Bhima-Koregaon violence 
The Police on Thursday arrested Dalit activist Sudhir Dhawale, lawyer Surendra Gadling, activists Mahesh Raut and Shoma Sen and Rona Wilson from Mumbai, Nagpur and Delhi respectively in connection with 'Elgar Parishad' held in Pune in December and the subsequent Bhima-Koregaon violence in the district. All five were produced before the sessions court on Friday which remanded them in police custody till 14 June.
Seeking their remand, Pawar told judge AS Bhailsare, that documents seized also showed that preparation for the Elgar Parishad — which police believe was backed and funded by the Maoists — was going on for two months.
Letters show Bhima-Koregaon violence funded by CPI (Maoist)
Quoting another letter allegedly seized from Wilson's house, Pawar said, "The higher Committee has appreciated the endearing efforts of all urban comrades for the specific tasks given to them... there is a lot of ground to be covered. Comrade Mangalu and Deepu have been coordinating the Koregaon programme (for) last two months with Comrade Sudhir.
"They have been able to gather support from the larger sections of Dalits across the state," Pawar quoted the letter as saying.
Evidence also showed that funds were provided by the CPI (Maoist) to "comrade Sudhir" for Koregaon Bhima "task" and "Comrade Shoma and Surendra" were authorised to provide funds for future programs, the prosecutor said.
In one of the letters from one Prakash to Wilson, it is stated that the Bhima Koregaon agitation was losing its steam, and cadres should keep it alive, Pawar said.
Investigation also revealed that senior Maoist leaders were asking lower-rung cadres to target and recruit "intelligent" students from "renowned" institutes, she said.
Accused say documents fabricated but police claim 'urban Maoist' linked to Gadchiroli incident too
The lawyers of the accused said the documents cited by the prosecution were fabricated, and the accused have been framed up.
One of the defence lawyers pointed out that while police invoked the Unlawful Activities (Prevention) Act (UAPA) against the five accused, the stringent law was not applied against right-wing activists Milind Ekbote and Sambhaji Bhide, who are accused of inciting anti-Dalit violence at Bhima Koregaon on 1 January.
Earlier in the day, Joint Commissioner of Police Ravindra Kadam told reporters that a letter allegedly seized from Wilson's house had been sent by fugitive Maoist leader Milind Teltumbde.
When asked if it refers to the Congress and Bharip Bahujan Mahasangh president Prakash Ambedkar (as alleged by a BJP leader today), he said, "The letter has their references, but we are still investigating the details."
Documents seized from Gadling's house in Nagpur show his indirect connection to recent Maoist attacks in Gadchiroli in Maharashtra and in Chhattisgarh, Kadam said. Dhawale was one of the organisers of Elgar Parishad, organised to commemorate 200 years of the Koregaon Bhima battle, on 31 December.
Police had earlier claimed that Kabir Kala Manch activists made provocative speeches at the gathering, leading to violence at Bhima Koregaon the next day. Police also said that Teltumbde, comrade Prakash, comrade Manglu and comrade Deepu have been added as absconding accused in the present case.
Kadam had on Thursday claimed that some of the arrested activists were the "top brass of the Urban Maoists". Dalits commemorate the 1818 battle of Bhima Koregaon where British forces, mostly consisting of Mahar soldiers (who were Dalits), defeated the forces of Peshwa, ending the Maratha rule. Some Hindu organisations had opposed the celebration this year.
With inputs from agencies
Find latest and upcoming tech gadgets online on Tech2 Gadgets. Get technology news, gadgets reviews & ratings. Popular gadgets including laptop, tablet and mobile specifications, features, prices, comparison.
India
Wishes have poured in for Prime Minister Narendra Modi on his birthday as he turned 70 on Thursday. Several prominent world leaders greeted the prime minister on his special day. Russian President Vladimir Putin, German Chancellor Angela Merkel, Nepal Prime Minister KP Oli, the Dalai Lama, among others were some of the prominent names who wished Modi.
India
The prime minister also asked the states to enhance efforts for effective testing, tracing, treatment, surveillance, and clear messaging in order to curb the pandemic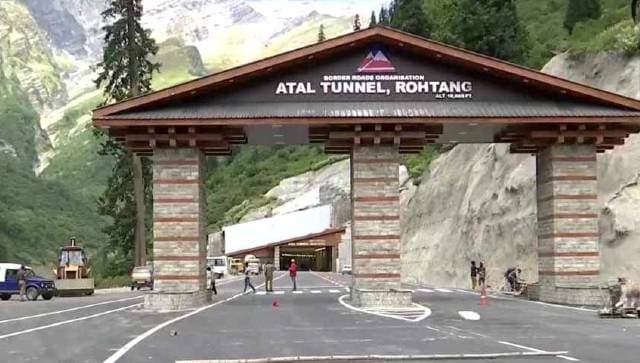 India
Built at a cost of over Rs 2,500 crore, the idea was conceived by the Indira Gandhi govt in 1983. Work, however, started only in September 2009 — seven years after the then prime minsiter Atal Bihari Vajpayee approved the project