Rajasthan rains: Flood-like situation in parts of state, rescue operations on, says official
Heavy rainfall and water released from the Jawai Dam have flooded parts of Jalore and neighbouring areas in Rajasthan, officials said on Saturday.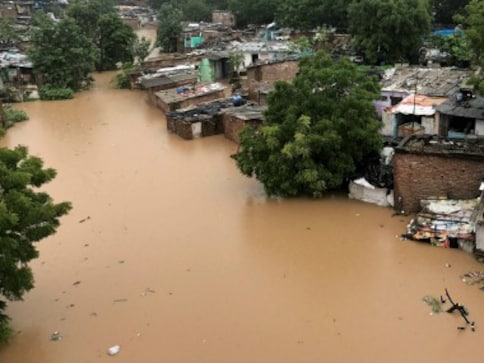 Jaipur: Heavy rainfall and water released from the Jawai Dam have flooded parts of Jalore and neighbouring areas in Rajasthan, officials said on Saturday.
More than 70,000 cusecs of water were released from the dam — the largest in western Rajasthan — on Friday evening.
Heavy downpour also affected normal life in the adjoining Pali and Sirohi districts, where many villages are on high alert and relief and rescue operations are carrying on.
Three gates of the dam were opened on Thursday and eight more were opened on Friday night, after the level of water rose above 60 feet.
"Of the total 13 gates, 11 were opened last night (Friday) to discharge water. Seven gates were closed in the morning and four are still open," said Vinod Kumar Malhotra, sub-divisional magistrate (SDM) of Sumerpur town in Pali district.
The water level in the dam was 59 feet at present.
"Many villages in Jalore are flooded, and some roads have been washed away. Relief work is underway," LN Soni, the Collector of Jalore, said.
Soni said the district administrations in Pali and Jalore had alerted villagers before the gates were opened.
"People in several hundred villages in Pali, Sirohi and Jalore had been affected by the flood-like situation," the district collector said.
In many villages, people were being rescued from their rooftops by the army, National Disaster Response Force (NDRF) and State Disaster Response Force (SDRF), he added.
"Rescue operations are being carried out," Hemant Gera, Secretary of state Disaster Management and Relief department said.
Various parts of Rajasthan have been experiencing heavy rainfall.
Chittoragarh recorded a maximum of 129 millimetres till Saturday morning, followed by Rawatbhata, which received 104.9 millimetres of rain, followed by Mount Abu, which recorded 101 millimetres of rain. Bhilwara, Ajmer, Dabok, Kota and Bundi received 65.2, 54.6, 49, 21 and 20 millimetres of rain respectively, while many other areas recorded below 20 millimetres rains during this period.
Find latest and upcoming tech gadgets online on Tech2 Gadgets. Get technology news, gadgets reviews & ratings. Popular gadgets including laptop, tablet and mobile specifications, features, prices, comparison.
Lifestyle
With people engaging in customary duels of kite flying from rooftops of their respective places, COVID-19 restrictions like night curfews, curbs on public gatherings, and the firecracker ban will not rob Makar Sankranti of the fun and frolic it is associated with.
First Cricket News
Speaking on STAR Sports' show 'IPL: RETENTION SPECIAL', former India cricketer and columnist Aakash Chopra said Chennai Super Kings desperately needed to get rid of dead weight.
First Cricket News
The 35-year-old right-hander from Karnataka had scored just 196 runs in 12 matches in the last IPL in UAE after being picked up by Rajasthan Royals at the last IPL auctions.