Rajasthan hacking: Over 300 activists protest in Delhi against the killing of Muslim labourer
The accused who termed the cold-blooded murder an act of revenge against 'Love Jihad' has since been arrested by Rajasthan Police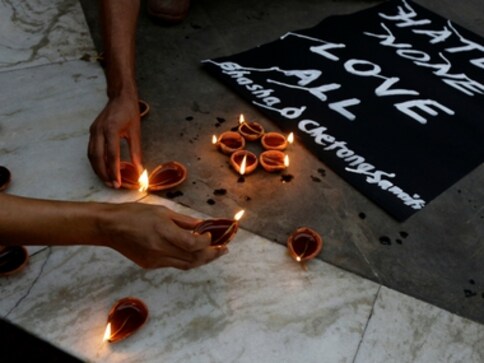 New Delhi: Academics and social activists formed a silent human chain on Saturday protesting the brutal murder of Muslim labourer Mohammed Afrazul, who was brutally murdered and burned by accused Shambhulal Raigar in Rajsamand in Rajasthan earlier in the week.
Protesters stood holding hands outside the Central Park in Connaught Place during their demonstration, which was attended by politicians, academics, social activists and students. Although peaceful throughout, the demonstration was faced with a considerable deployment of police forces at the site.
"The protest was against the brutal killing of Afrazul, which was captured on the video, in which we got to see the height of dehumanisation. That, and also number of previous such murders which give the feeling that Muslims are second or third rate citizens. No one is daring to do anything against it,"
Owais Sultan, one of the organisers of the protest and a member of Anhad, a "socio-cultural" organisation, told IANS over phone.
Over 300 people took part in the demonstration, he said, and was attended by, among many others, Communist Party of India-Marxist (CPM) leaders Mohammed Salim and Hannan Mollah, women rights activist Kamla Bhasin, and academic and social activist Zoya Hasan.
In a terrifying video which appeared on social media on 7 December, Afrazul, hailing from Malda district of West Bengal, was shown being hacked to death and then set ablaze by one Shambunath Raigar.
The accused who termed the cold-blooded murder an act of revenge against "Love Jihad" has since been arrested by Rajasthan Police.
India
After three hours of bargaining and bidding, the fish was sold for Rs 26,000 per kg which brought in a total of Rs 13 lakh
India
The Duare Ration scheme, launched by Mamata Banerjee in November 2021, promises a monthly delivery of foodgrains and other ration to the public at their doorstep. It was one of the election promises of the Trinamool Congress
India
The Civil Service Preliminary exam is being held for recruitment to various posts in the cadre of State Civil Service (Exe.) and some other services and vacancies. Candidates who appeared for the recruitment should note that the process will have three stages: prelims exam, main exam and interview