Rail roko in Mumbai not spontaneous? Police says job aspirants may have been planning protest for a month
Around 3,000 young people held sit-in protests on Tuesday on the tracks between Matunga and Chhatrapati Shivaji Maharaj Terminus (CSMT) stations, forcing cancellation of 68 trains and leaving thousands of commuters in the lurch. It is hard to imagine that the protest was planned overnight or very recently.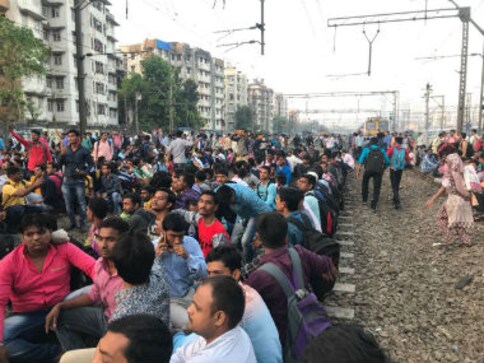 On Tuesday, unemployed youth blocked Mumbai's suburban rail network on the Central Line by protesting on tracks between Matunga and Dadar stations over issues pertaining to railway recruitment, and the protests culminated in a rail-blockade in peak morning hours, police caning the students, and some retaliatory stone-throwing.
However, the fact that around 3,000 young people gathered up for the protests — forcing cancellation of 68 trains and leaving thousands of commuters in lurch — makes it hard to imagine that the protest was planned overnight, or very recently.
According to The Times of India, most of the protesters were not from Mumbai, which indicates that they would have planned to gather up at least a month ago, an IPS officer said. The IPS officer added that law enforcing agencies were surprised that over 1,000 of the protesters had gathered near Matunga station on Tuesday early morning.
The agitation led to a cascading effect even on the Western Railway with all trains running packed to capacity, the roads linking Mumbai with the mainland, and the two highways slicing through the country's commercial capital.
Also, the protest happened to be at a time when call taxis were on strike making it difficult for students and office-goers to commute. Sources told The Times of India that it's not a coincidence that the two protests by cab drivers and railway apprentices had the backing of MNS.
More than 4.5 million commuters were badly hit for the second consecutive day following a strike called on Monday by drivers of cab aggregators and app-based taxis that disrupted in Mumbaikars' schedules.
The protests were carried out by activists of the All India Act Apprentice Association (AAAAA) that demanded the scrapping of the 20 percent quota for direct recruitment and jobs for local candidates in all states who have cleared the All India Railway Act Apprentice Exams.
 They claimed they had taken up their demands right upto the Railway Minister Piyush Goyal who met them but there was no progress in the matter.
With inputs from agencies
Politics
Leader of Opposition in Rajya Sabha Mallikarjun Kharge accused the government of 'demoralising' the Opposition with the use of central agencies
India
"These numbers tell the power of a vision. A vision to see innovation and enterprise drive growth," he said
Politics
Lok Sabha and Rajya Sabha proceedings have been disrupted mostly due to the Opposition protests and demands of a discussion on price rise and GST rate hike on some food items, since the Monsoon Session began on 18 July