Rahul Gandhi's willingness to hear women shows way for political parties, but change begins at home
In a country where politicians either deify women or dehumanise them Rahul Gandhi's attempt on Tuesday — even if it's strategically aimed at positioning himself among women opinion makers at some of India's top media houses — was well received
The one thing that came up several times during Rahul Gandhi's informal interaction with about 100 women on Tuesday is the now-famous hug, amid much laughter. There's a story behind that hug that will be repeated over and over again in the corridors of media houses as Gandhi went from table to table, interacting with journalists, answering questions that ranged from the Rafale deal and Sabarimala to why he's reluctant to identify himself as a feminist although he strongly believes in gender equality.
The story goes: Gandhi heard Prime Minister Narendra Modi belittling his family in a speech a few months ago and since then he nurtured in his mind an idea to counter the prime minister's "anger with love". On that day in the Parliament, he walked up to an unsuspecting prime minister and hugged him before walking back and winking at a party colleague, immediately triggering a conversation on parliamentary ethics and political showmanship. The hug was apparently planned, the wink was not.
In a country where politicians either deify women or dehumanise them through acts of dismissive misogyny, there is simply no doubt that Gandhi's attempt on Tuesday — even if it's strategically aimed at positioning himself among women opinion makers at some of India's top media houses — was well received. Many of the women who were at the interaction, this writer included, tweeted out the need for women's voices being heard by their elected representatives. Gandhi was eloquent, candid and straightforward as women wanted to know his stand on the many issues that affected them, including entry into places of worship, triple talaq, farm distress, sexual violence, abusive trolling and abortion rights.
They also somewhat brusquely advised him on the need to look inside his own party to fix its gender representation. The controversial hug, however, lingered in the background throughout the interaction — a space for Gandhi to go back to, with only the tiniest bit of swagger. So, let's address its implication and symbolism in politics, and why male politicians grapple with labels that clearly bracket them on the side of women.
I'm unsure what Gandhi's body language would have been in a room full of 100 male journalists, but here, he was relaxed. The hug — in itself a harmless gesture if the receiver explicitly consents to it — is an interesting analogy for counter-masculine signalling in Indian political space. And whether misguided or not, unknowingly or with intention, Gandhi has opened the space for an interesting discussion on an inherent masculine culture in Indian politics.
Male politicians — even the so-called "youth leaders" — rarely acknowledge or thank their partners in speeches, let alone show affection in public. Therefore, any mundane act of familial affection gets amplified as a major certificate of character. Neither Gandhi nor Modi is immune to it. Modi's visits to his 96-year-old mother are accompanied by camera fanfare. But that Modi does not acknowledge his wife and projects an image of a man single-mindedly dedicated to the nation, sacrificing his own happiness, is never questioned, in mainstream media, as a contradiction to the glorification of the 'family' his party thrusts upon India's conscience repeatedly.
Similarly, when Rahul hugged his mother Sonia at the 84th Congress plenary in April this year — a son's spontaneous show of affection — it became a big deal for the media. Our elected representatives, especially men, have an ingrained fear of public display of affection, let alone understand sexuality and choices driven by consent. Imagine the depth of ingrained homophobia and misogyny that prompted BJP MP Nishikant Dubey to say on Thursday: "Yes, we do fear hugging Rahul Gandhi as our wives might divorce us after that. Also, Section 377 hasn't been scrapped as yet. If he gets married, we will hug him."
#WATCH: Yes we do fear hugging Rahul Gandhi as our wives might divorce us after that. Also, Section 377 hasn't been scrapped as yet. If he gets married, we will hug him: BJP MP Nishikant Dubey on Rahul Gandhi statement 'Now BJP MPs take 2 steps back thinking I'll hug them' pic.twitter.com/gUVMeyjcgw

— ANI (@ANI) July 26, 2018
There's an image of political leaders — of a possible third front — gathered on the stage for the swearing-in ceremony of Karnataka chief minister HD Kumaraswamy. The men have their hands clasped and raised in familiarity, kinship, and solidarity. In the middle of the row are Sonia Gandhi and Mayawati, holding hands with each other, but not with the men, most of whom they would have known all their political lives. The photo is a telling narrative about Indian sensibilities and the "respectful" distance between men and women, shaped by centuries of conditioning, overtaking even a space as public as politics.
At the plenary, Gandhi also spoke of "pyaar (love)", a word alien to a hyper-aggressive culture of political posturing. Before the event on Tuesday, a Congress office-bearer told me that Gandhi "is not here to lecture, he is here to listen to you". Any woman will know that these are words that gladden our heart, because listening in silence, without being defensive or interrupting, are virtues rare in most Indian men. Gandhi did not disappoint on that count. He listened attentively and when his party members attempted to rush him from table to table, he waved them away and lingered a little more.
With his willingness to listen to women, Gandhi has started a process that other political parties could emulate. However, change begins at home.
Only seven women are part of the 51-member Congress Working Committee team. Be it years of court battle seeking to decriminalise homosexuality or pushing to make marital rape a punishable offence, Congress is as complicit as any party in power in delaying justice to women. While one does not expect the conservatives in the BJP to come out effusively in support of the LGBTQI community, Congress has a history of indecisiveness about where it stands about the issue. It was only when the Delhi High Court read down 377, that Congress leaders sensed the changing winds and backed the scrapping of the contentious section that criminalises consensual acts of sex between adult males. Shashi Tharoor's attempt at discussing the bill in the Parliament, poorly attended by his own party members at that time, was drowned in jeers.
In most of his public speeches, Gandhi appears to be stressing that women have every right a man has, including over their own bodies. He has been a vocal champion of LGBTQI rights, which hold out hope that whether Gandhi's party returns to power or not, he is a man in tune with modernity at a time when divisive forces are focussed on taking the country back through their communal campaign of lynchings and hate, fuelled through social messaging platforms.
And yet on the question whether he identified as a feminist himself, Gandhi is hesitant. If all of Gandhi's claims support equality, he should not hesitate to embrace the label of a feminist — someone who believes in equality and agency of all genders and helps them reach their full potential. His articulation of the very concepts that hold up feminism without actually claiming to be one is a conflicting message to his women voters' base.
Congress functionaries say Gandhi is serious about fixing the gender imbalance within the party. Sources say there are schemes and initiatives in the pipeline with advice from opinion leaders in the society that will help make the party more inclusive. And yet, the interaction, which would have benefited many women reporters in the beat who struggle for access to top leaders and could have added their valuable inputs on contentious issues that are at the core of their well-being, was not open for all.
Some months ago, Congress leader Sushmita Dev, said over a phone interview that the 56-inch chest analogy "is pure chauvinism". I agree. This imagery of so-called masculine virility might be a dog whistle for a male vote base, but it cannot replace a deep understanding of women's issues, a genuine will to change a political culture of misogyny, and conceding public space so that women can shine.
The label of feminism is an uneasy one for most men especially politicians to embrace unhesitatingly. It immediately exposes them to the risk of alienating their male base. Which is why the Women's Reservation Bill, which the Congress supports, will be tough to pass since it threatens the position of male candidates in a large chunk of the seats that will be contested by women if it is implemented.
At the core of it, is the moral duality of our leaders in understanding what equality truly means in a multicultural country where layered and clearly defined class and caste structures decide a woman's role in public life. Equality cannot stand without intersectionality. That intersectionality forms a part of the feminist universe and the sooner male politicians understand that, the wider the umbrella of protection will be for women who are fighting for that parity.
Politics
The poll strategist's comments come a day after West Bengal chief Mamata Banerjee's dig at Rahul Gandhi's leadership
Politics
Congress spokesperson Gourav Vallabh said latest satellite images show that China has built four villages in Bhutan, next to Dokalam, and has grabbed 100 square kilometres of land in the area through illegal incursions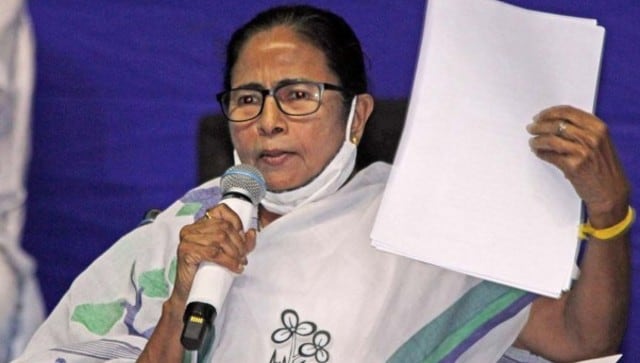 India
The Mamata Banerjee-led party, however, said it would cooperate with other opposition camps on various issues concerning people's interest