Rahul Gandhi's UC Berkeley speech: Congress VP spurned god-sent chance to score points over BJP
Every time there is a public event that involves Rahul Gandhi, you hope and pray that he won't embarrass his family and political party
Every time there is a public event that involves Rahul Gandhi, you hope and pray that he won't embarrass his family and political party. You also constantly wonder if maybe this time, just this time, things will be different. What if he starts talking like a real politician? What if he has actually changed? What if he has matured into taking on a fight with his nemesis — Narendra Modi? It could be Rahul 4.0 or Rahul 5.0, but surely something would be different from his previous avatars. It's almost as if you sympathise with his ordeal and want to back him as the underdog.
Obviously, that's only partially true.
Whatever few good wishes you send out for him are not because of your loyalty to the Congress, but because of your reluctance in voting again for the current government and its leadership. You are desperately hoping for some Opposition to spring up; an Opposition that could push, shove and rub the government the wrong way — enough for it to come to its senses and face reality. And that reality is that many of its voters are disappointed, angry, frustrated and even willing to switch sides.
And Tuesday was another god-sent opportunity for the Gandhi scion. Growth rates had fallen in the previous two quarters, demonetisation didn't pan out the way the prime minister had envisioned, retail inflation had risen to a five-month high in August and India hadn't exactly been a paradise for free speech and liberty over the past few years. A decent platform at a supposedly liberal university (although the University of California, Berkeley is currently involved in a raging controversy over free speech), enough material to push the government into a corner, the fortunate timing — it just couldn't have been better. And yet, Rahul being Rahul, he squandered it away only the way he could.
If I was him, I would fire my team of speechwriters. Who starts with a soporific story about tsunamis and tribals?
If you are going to speak for only 15 minutes, why not make the most of it and come to the point? Start with the trouble that many regular Indians are facing, that they want a way out and end with what you have to offer. It's that simple, really. But after the 'little story', he went on and on about meaningless platitudes such as violence, hatred, love and compassion which was followed by a few lines on the economy. Later, he spoke on healthcare and somehow ended his speech with a side-piece on demonetisation and GST. How was all of it connected? It was as if randomly collected bullet points had been transformed into a speech. If he was trying to convince undecided voters to vote for him, this was the worst way to do it.
But knowing Rahul, the worst was yet to come. His Q and A session didn't entice any voters towards the Congress, but instead pushed them further away.
His two-minute explanation of his views on dynastic politics was enough. One of the biggest mental blocks that voters face with Rahul is the issue of dynasty and he made sure that the only takeaway of the entire event will be his comparison of 'dynasts'. If you start comparing yourself with Abhishek Bachchan and the Ambani children, you are bound to have scorn heaped upon you.
And no wonder that was what was discussed in mind-numbing, deafening TV debates in the evening.
Unfortunately, it overshadowed everything sensible that Rahul said — maintaining high growth rates (probably for the first time) or empowering individual MPs in framing laws (not making them worry about "making roads in villages"). These were decent points but his utter naivete or extreme honesty gave away any chance of gaining an upper hand against the government. The BJP, of course, responded with new energy and determination — something that wasn't visible over the past few days. A below-average performance by Rahul is the drug that keeps the BJP going.
On the other hand, the Congress seemed to be in celebratory mood. They felt their captain had scored a century, but in all honesty he was out hit-wicket on a perfect day for batting at a paltry score of 20. If Rahul had made a genuine case for himself as a liberal leader by committing to free speech and individual rights or promised to maintain high growth rates by freeing up the economy from the laws and regulations put in by his family over the past six decades, he would have deserved the Man of the Match award.
But that was not to be and he may have to wait for his chance for longer than he thinks he deserves.
Find latest and upcoming tech gadgets online on Tech2 Gadgets. Get technology news, gadgets reviews & ratings. Popular gadgets including laptop, tablet and mobile specifications, features, prices, comparison.
Politics
The BJP attacked Rahul Gandhi and Priyanka Gandhi Vadra of being selective in cases of atrocities against women and questioned their 'silence' over the alleged rape and killing of a six-year-old girl in Punjab
India
Madhusudan and Mantri describe Bharat's journey from a civilisation to a nation, the dangers of demographic takeover especially in states like Bengal, Assam and Kerala, "saving secularism from secularists", and the baroque minority appeasement by successive Central and state governments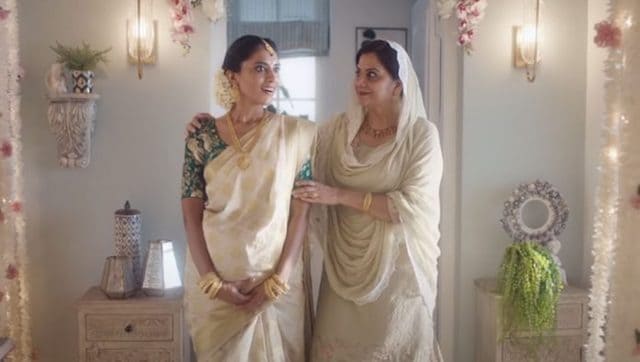 India
The Tanishq advertisement is about a Muslim family trying to respect the traditions of the pregnant daughter-in-law. It enraged a large section of Hindus