Rahul Gandhi has slandered a billion Indians using flaky Thomson Reuters Foundation survey, writes Poonam Mahajan
Even with several concerns in mind, India certainly is much better for women than many other countries, no matter what Mr Gandhi thinks of his fellow Indians.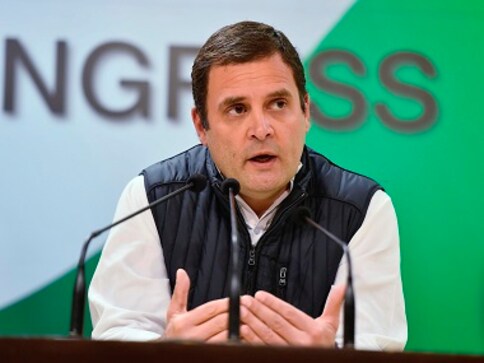 "India leads Afghanistan, Syria and Saudi Arabia in rape and violence against women." This statement may seem absurd to any rational person. However, Congress president Rahul Gandhi believes this to be true.
Perhaps he has his reasons. I'm sure he makes statements based on facts and research. Or does he?
He knows about the complaints made by a female member of the Congress party's student body NSUI, who raised her voice against the NSUI president for demanding sexual favours in lieu of political posts.
The usually Twitter-happy Congress president did not speak a word about this incident. Was it because disrespect of women is so common and rampant in his party that he doesn't think it is unacceptable?
He has grown up seeing cases such as the infamous 'Tandoor case' related to a Youth Congress president that might make him think that all of India is like the Congress party. But thankfully, India is not the Congress party.
The Congress president has acquired a habit of spreading absolute lies through his Twitter handle. On 26 June, he tweeted a report that quoted a poll to claim India is the most dangerous country for women. This poll called 'The World's Most Dangerous Countries for Women 2018' was conducted by the Thomson Reuters Foundation.
When someone makes a claim about my country, especially such a damning one, my natural reaction would be to be extremely concerned and begin to analyse their claims. Clearly, Gandhi has no such compunctions about portraying more than a billion Indians as the worst in the world when it comes to treating women. He did not even think the methodology of this poll that calls India the most dangerous place for women warrants a closer look. He spreads false rumours blatantly, and on social media platforms, for the world to see and judge!
Right in the beginning of their methodology page, they say, "The Thomson Reuters Foundation, the philanthropic arm of Thomson Reuters, the world's largest news and information provider, conducted a global perception poll of experts in women's issues to highlight the most dangerous countries for women."
They further add, "We contacted 548 experts focused on women's issues including aid and development professionals, academics, health workers, policymakers, non-government organisation workers, journalists, and social commentators."
These "experts" were asked to name the five most dangerous countries for women based on a few questions. So, this was just the "perception" of the people that Thomson Reuters consider as experts in women's issues. Essentially, their claim of India being the "most dangerous country for women" is not based on data but is entirely based on what a small number of people think!
At this point, Gandhi should have ideally paused and asked, "Who are these experts?" Sadly, he did not. There are no names mentioned in their methodology page. So, the president of a leading political party in India, someone who is constantly in the public eye and needs to be very responsible about the statements he makes, relies on the perception of 548 people whose names and credibility he doesn't know, to put the "anti-women" label on a billion Indians.
While our PM tiptoes around his garden making Yoga videos, India leads Afghanistan, Syria & Saudi Arabia in rape & violence against women. What a shame for our country! https://t.co/Ba8ZiwC0ad

— Rahul Gandhi (@RahulGandhi) June 26, 2018
From the wording of Rahul Gandhi's relevant tweet, it is clear that he is grossly uninformed or is brazenly lying. Consider Syria, a country he spoke of as better than India. In the course of the violent and tragic circumstances that have unfolded in the past few years, hundreds of women, including girls who are not even in their teens, have been raped and sold as sex slaves. Is this the country that Rahul Gandhi thinks is better than India?
Rape is one of the major crimes against women. Every single of these heinous crimes is dastardly and must face the strictest action. However, since Gandhi began to compare India with other countries, it may be pertinent to note that, according to the FBI, in a developed country like the United States of America, "There were an estimated 95,730 rapes (legacy definition) reported to law enforcement in 2016."
Since the rate of crime ie number of reported crimes per 100,000 population is a standard worldwide to compare that makes it 40.4 reported rapes per 100,000 inhabitants for the USA.
Per the NCRB report of 2016, there were 38,947 reported rapes in India. Per 100,000 population, the number of rapes reported is 6.3.
Also, a cursory look at the United Nations Office on Drugs and Crime (UNODC) — which has data only till 2015 for various countries — shows that India is nowhere among the top countries when it comes to sexual violence related cases.
Yes, there are reporting differences, cultural differences and even differences in definition of rape or alacrity of institutions. We need to further embolden women to report cases of sexual violence and also gear up our systems to deal with them sensitively. Every single incident of violence or crime against women is reprehensible and something that must never happen. We must make it our utmost priority to become a better place for women.
Even with these concerns in mind, India certainly is much better for women than many other countries, no matter what Gandhi thinks of his fellow Indians. Slandering crores of fellow countrymen by calling them most dangerous in the world for women, to further his shoot-and-scoot style of politics, is a new low that the Congress president has stooped to.
The author is a BJP MP from Mumbai North Central constituency and national president of BJYM, the BJP's youth wing
World
UN humanitarian chief Martin Griffith said the humanitarian delegation told the Taliban that if they weren't going to rescind the edict 'then we must expand these exceptions to cover all the aspects of humanitarian action'
World
Women in Afghanistan under Taliban regime have been deprived of several rights including ban on school and University education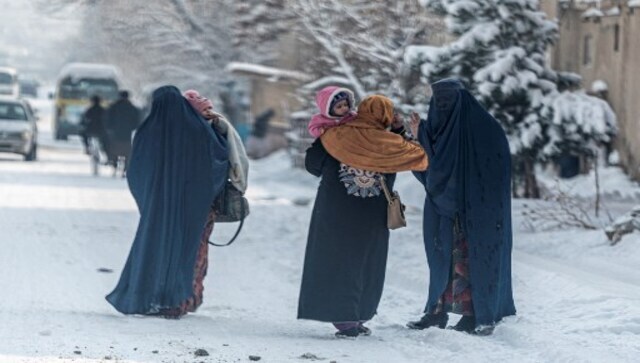 India
Afghanistan has been frozen by temperatures as low as -33 degrees Celsius since 10 January, combined with widespread snowfall, icy gales, and regular electricity outages