Rahul Gandhi's flight malfunctions enroute Hubli; Congress claims conspiracy, says possible sabotage attempt
Meanwhile, the BJP has rejected claims of sabotage inspired by elections and/ or political rivalry even as it said that it sympathizes with Rahul Gandhi.
The Congress on Thursday filed a police complaint alleging that an aircraft carrying its president Rahul Gandhi was intentionally sabotaged after it developed a technical snag. The Prime Minister's Office has called the Congress president to inquire about his safety, media reports said.
#BREAKING 1st on CNN-News18 | @INCIndia prez @Rahulgandhi's flight develops technical snag, Rahul alleges sabotage, claims intentional tampering of aircraft | @_pallavighosh with details on #Viewpoint with @bhupendrachaube | #RahulFlightShock pic.twitter.com/BD34XwKvKS

— News18 (@CNNnews18) April 26, 2018
The aircraft, special chartered flight numbered VT-AVH carrying SPG protectee Rahul and a few other people, made a rough landing at Hubli, following which, Rahul's aide Kailash Vidyarthee wrote to Karnataka police chief Neelmani N Raju.
In his letter, Vidyarthee complained of several "unexplained technical errors" during the two-hour New Delhi-Hubli special flight, and expressed concerns on whether attempts of wilful sabotage were made to endanger Rahul's life. Vidyarthee also shared his experience of the flight scare on Twitter, as he praised Rahul for maintaining his composure.
Glad to be in a room and getting some rest....thankful for being alive...never had such a frightening experience in my life...plane went into free fall...couldnt believe CP's composure and calmness as he stood beside pilots trying to save the situation.

— Kaushal K Vidyarthee (@vidyarthee) April 26, 2018
The complaint further said that the plane shuddered violently, tilted to one side and made cranking noises, following which the altitude dropped shortly. The complainant said that the weather outside was sunny and normal, and hence could not be the cause of turbulence experienced by the passengers. The complaint further alleged that the autopilot system of the aircraft was not functioning.
According to inputs received late on Thursday, an FIR is being filed at the Gokul Road police station against the pilots.
The letter further claimed that the cabin crew too were petrified and admitted that the snags were "particularly frightening and uncommon."
"Serious questions related to intentional tampering with the aircraft cannot also be brushed aside and are required to be addressed and investigated," Vidyarthee's letter read.
Meanwhile, the BJP has rejected claims of sabotage saying that they were inspired by elections and/or political rivalry even as it said that it sympathises with the Congress president.
BJP spokesperson Sambit Patra, speaking to Times Now, said that blaming the BJP for manufacturing some form of conspiracy was "unimaginable, and inconceivable," as he alleged that the Congress party was perhaps reading a conspiracy when there is none. He said that a thorough probe of the technical glitch should be carried out.
It was unclear whether the snag went unreported in the routine security check of VVIP flights or whether the aircraft developed a problem enroute Hubli.
The complaint, meanwhile, has been forwarded to the Directorate General of Civil Aviation as the Congress party had raised a complaint with the local cops instead of the Civil Aviation Ministry. The DGCA has said that it will look into the matter, CNN-News18 reported.
The cabin crew and the two pilots were also taken into custody by the airport authorities for further questioning about the incident.
Rahul's office has also demanded that the private aircraft be grounded at Hubli airport with immediate effect and not be allowed to make another flight till the investigation gets completed, CNN-News18 reported.
Subscribe to Moneycontrol Pro at ₹499 for the first year. Use code PRO499. Limited period offer. *T&C apply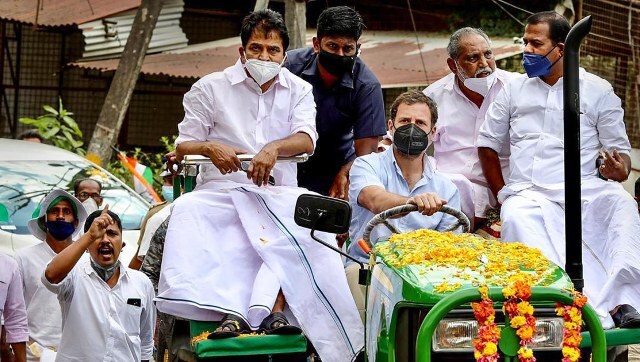 India
The Wayanad MP, who is on a two-day visit to his constituency in poll-bound Kerala, also took a dig at PM Narendra Modi for 'ridiculing' MGNREGA scheme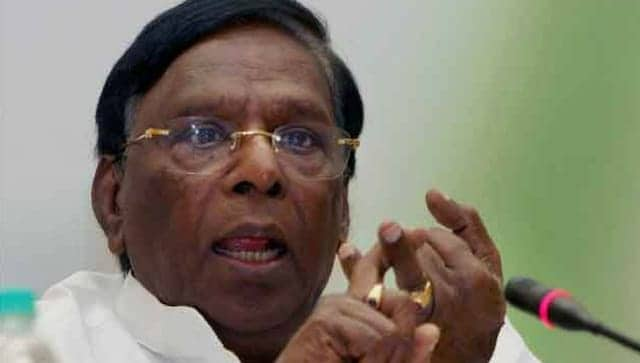 Politics
The collapse of the V Narayanasamy-led government in Puducherry led to a war of words over Rahul Gandhi's leadership of the Congress party and the BJP's 'corrupt politics'
Politics
After concluding his visits to Kerala and Puducherry, Rahul, at a rally in Kanyakumari, said that 'only a person who truly represents the Tamil people can be a chief minister of Tamil Nadu'