Rahul Gandhi to begin Madhya Pradesh poll campaign with visit to Omkareshwar temple in first week of September
As part of his campaign in poll-bound Madhya Pradesh, Congress president Rahul Gandhi will cover four Lok Sabha constituencies in the first three phases.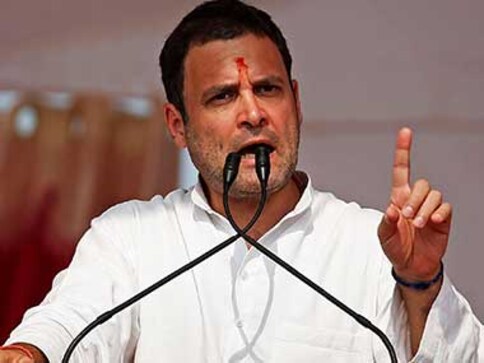 Congress president Rahul Gandhi will kickstart his election campaigning for poll-bound Madhya Pradesh from the holy town of Omkareshwar in the first week of September.
After giving his piece of advice to the Congress leaders from Madhya Pradesh on Tuesday to show a strength of unity ahead of the Assembly election scheduled for end of this year, Rahul finalised his campaigning plan.
According to the plan, Rahul will first visit Omkareshwar temple — one of the 12 Jyotirlinga shrines in India dedicated to Lord Shiva — which is in Khandwa district of Madhya Pradesh.
After the manhandling episode of Madhya Pradesh Congress in-charge Deepak Babaria in Rewa, allegedly by a group of party workers on 29 July, Rahul called for an emergency meeting at his 12 Tughlak Lane residence on Tuesday to discuss the issue. The meeting was attended by Babaria, Pradesh Congress Committee (PCC) president Kamal Nath, campaign committee chairman Jyotiraditya Scindia, Leader of Opposition in Madhya Pradesh Assembly Ajay Singh, former PCC president Arun Yadav, and senior leaders like Digvijaya Singh, Arun Pachauri and Vivek Tankha.
Against the backdrop of grievance redressal, the Congress president had a detailed discussion with the leaders on planning and campaigning strategy in the state and the constituencies to be covered.
"PCC president has informed that Rahul ji will begin his campaigning for Madhya Pradesh election from Omkareshwar, which is in my constituency, during the first week of September," former Union minister Arun Yadav told Firstpost.
As part of his election campaign, the Congress president will cover four Lok Sabha constituencies in the first three phases.
"Yesterday's (Tuesday) meeting with Congress president primarily focussed on planning and the campaign strategy for the upcoming election in Madhya Pradesh. Besides his tour plan, Rahul ji took stock of the ground situation in the state, about the issues and how the party would proceed ahead of the election," he added.
According to the plan, Rahul will cover Neemarh-Mandwa-Dhar region of Madhya Pradesh in the first phase. He will cover 22 Assembly seats. Even during Gujarat and Karnataka Assembly polls, Rahul had visited temples as part of his campaigning strategy, and the move was termed as 'soft Hindutva' by his political rivals.
"Congress president visits temple not to play any 'soft Hindutva' card. Even before Gujarat and Karnataka polls, he had visited temples during the Uttar Pradesh election. But as it remained out of media watch, no one talked about it. Besides Omkareshwar, he may visit temples in other districts as well," a Congress source from Madhya Pradesh said.
Madhya Pradesh, Chhattisgarh and Rajasthan — the three poll bound BJP-ruled states — are seen as big challenges for the Congress.
Shivraj Singh Chouhan-led BJP has been in power in Madhya Pradesh for the last 15 years. After the end of a decade-long Congress rule under Digvijaya Singh in 2003, the party failed to strengthen itself in the state to pose a tough challenge to ruling BJP.
Since then, the grand old party of India has been grappling with factionalism and infighting in the state. It faced embarrassment and criticism after oblique comments were made by some of its leaders in the state. Babaria episode was the latest one to happen.
After taking over as Congress president, Rahul had asked party leaders to bury any kind of factionalism, and contest elections in poll-bound states unitedly. The central leadership initiated changes in the state's organisational structure. Veteran leader and Chhindwara MP Kamal Nath, and comparatively younger Guna MP Scindia have been given key responsibilities this year in Madhya Pradesh, which is to boost party's winning prospects. The PCC has also prepared plans to amplify the pitch of poll campaigning using social media and other options.
Congress is also contemplating on whether to share seats with Bahujan Samaj Party (BSP) in the state.
Politics
The court of Chief Judicial Magistrate HH Varma, which held Gandhi guilty under Indian Penal Code sections 499 and 500, also granted him bail and suspended the sentence for 30 days to allow him to appeal in a higher court, the Congress leader's lawyer Babu Mangukiya said
Politics
The Congress leader gave the 10-point reply hours after a Delhi Police team knocked on his doors for the third time in five days. He also sought eight to 10 days to give a detailed response to the questions posed by Delhi police over his January 30 remarks
India
PM Modi's retort followed Rahul's recent lecture at the prestigious Cambridge University where he claimed that the basic structure of the Indian democracy was under attack