Rafale deal row: Rahul Gandhi must back his allegations against Narendra Modi, keep politics away from national security
Rahul Gandhi would have done well if he had elected to be specific about his accusations against Narendra Modi over the Rafale deal.
The slurring match between the BJP and the Congress, represented by Prime Minister Narendra Modi and Rahul Gandhi respectively, in the Gujarat arena is, at best, a second-rate bout of invective and insult.
The latest sucker punch in this 'everything's allowed' scrap hits at the deal for 36 Rafale fighters purchased from Dassault in France with the option of building 108 (with extra options) more in India. Gandhi has accused the prime minister of messing about with the figures and upping the ante ostensibly to please a specific businessman. Without an iota of evidence.
Gandhi would have done well if he had elected to be specific and mention exactly what he has in mind with his accusation rather than playing 'guess what' games. It is easy to muddy waters with a handy stick when you cannot back it with facts. Why tease the country and get cute over an $8.9 billion deal that is pretty much done and dusted.
Since none of us are privy to the pricing range or the exact impact of the offset factor in the pricing or the specific payment terms (imagine the interest on this sum) one can only look at the available facts.
If anyone should be angry it should be Cairo. Egypt picked up 24 Rafales for $5.9 billion and Qatar spent $7.2 billion for 24 units, thereby indicating that India paid less ($8.7 billion) for its 36 aircraft. The agreement covers weapon systems for the aircraft, a comprehensive supply of spare parts and maintenance for five years.
One cannot overlook the cost factor of the Meteor air-to-air missiles (150-kilometre range), Scalp air-to-ground cruise missiles (300-kilometre) and top of the range avionics, including the Israeli built heads-up helmet mounted display systems. Named Targo 2, the system allows pilots to plan, rehearse, fly and debrief using their personal helmets, providing them with increased situational awareness, safety levels and operational abilities.
France also intends to give back 30 percent of this cost in offset programmes, although some reports give that figure as 50 percent of the total value. That makes it a steal.
And if the financial figures thrown over the past five years fluctuate, and thereby confuse, there is yet more obfuscation over the need for India to have opted for the Rafale and the capability envelope of the plane. Other contenders were Boeing's F/A-18s, the Eurofighter Typhoon and Sweden's Saab's Gripen.
It is exactly this element of confusion that Gandhi is exploiting rather mindlessly. The Rafale is as good as any others in its fourth generation peer group of fighters. Yes, we could have gone back to Russia and loaded up with the MiG 29s and MiG 35s and Sukhoi 35s and other variations at a cheaper price. Lockheed Martin's hugely successful upgrade F16 Fighting Falcons Block 60 was another inexpensive choice. But we did not go for those options.
Maybe because the other 'goodies' were not on offer. Maintenance and weaponry are vital to a deal and the finger pointing at Modi for cutting through the red tape and shoring up national security by pulling in a slack of ten years of indecision in choosing a replacement is not an act of corruption.
These factors compelled Modi to go for it, cancel the 2014 deal and ask for 36 ready to fly aircraft without the transfer of technology clause. The aim then was to fast-track a painfully slow decision-making process that started in 2007 and was going nowhere in a hurry. Our fighter force was literally falling out of the sky. If Gandhi has concrete evidence that something was out of kilter, then he should spit it out.
And if the Congress was so sure it had got a good deal, why didn't it sign the agreement whose negotiations began in 2012 when it was in power. One also has to factor in the difference in the currency worth between then and now, in calculating the final bottom line.
Unless Gandhi can show exactly how anyone, including the businessman in question, was benefited by the deal and give the public chapter and verse on the inside, he would be well advised to shut up.
You see, this is not some tawdry local issue but a question of national security. You cannot do a quid pro quo because the BJP brought up the AgustaWestland VVIP chopper scam.
It is also very unlikely that France and Dassault specifically would go into a Rs 30,000 crore joint venture with Reliance Defence purely to sweeten the Rafale deal. It is mutually exclusive, predicated on the offset understanding between two countries and spread well beyond Reliance as a singular beneficiary.
If Reliance has threatened to sue the Congress and the party's yet to be anointed leader, it has the law on its side. The conglomerate has been quoted widely as saying: "Government policy issued on 24 June, 2016, allows for 49 percent FDI in the defence sector under the automatic route, without any prior approval. No approvals from the Union Cabinet or CCS were required for the formation of the aforesaid Joint Venture company under the automatic route."
Let's also understand one point. The Rafale is not in grand demand. If anything, Dassault would have been simpering for a sales break, rescued as it was by Egypt spending its Saudi loan.
In this case, why not give Modi the credit for shoring up the weak fighter arm of our air force with a little muscle and going for those 36 aircraft.
The alternative: back of the line, restart negotiations with other contenders and leave our feeble air force vulnerable to Pakistan and China. What is the price on that?
Politics
Kumar had joined the CPI ahead of the 2019 Lok Sabha election and had unsuccessfully contested from Begusarai in Bihar against BJP's Giriraj Singh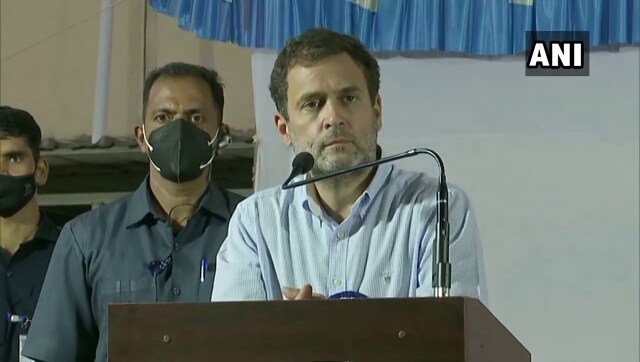 India
Earlier, taking to Twitter, Gandhi posted, "Jo nafrat kare, woh yogi kaisa! (What kind of a Yogi propagates hate)."
India
India vaccinated 2.5 crore people in a single day on Friday to mark Prime Minister Narendra Modi's birthday.