Punjab Village Common Lands Act: State's land rights empower Dalit farmers, allow them to lead better lives
Under the Punjab Village Common Lands (Regulation) Rules, one-third of the public agricultural land in each village is reserved for the members of SCs.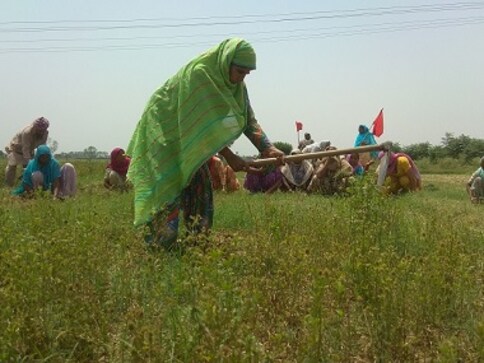 Sangrur: Nikki Kaur from Kular village in Sangrur district of Punjab wakes up at 5 am and walks briskly to the cowshed. Her agile hands quickly milk her cow and in a few minutes, she will be frying paranthas in piping hot oil for her children, who now go to school.
Four years ago, life had been different for the 45-year-old Dalit farmer. "I used to work in agricultural fields as a daily wager. It was in 2014 that women from my community were allotted one-third of panchayat land for farming. Since then, many of us are earning well. I have bought a cow and supplemented my income by selling milk. My kids have also started going to school since I can now afford it," says Nikki.
Nikki is one of the many Dalits in 44 villages in Sangrur, Patiala and Barnala districts who have been allotted land in the past few years under the Punjab Village Common Lands (Regulation) Rules, 1964.
Nikki says that her annual household income, which was Rs 70,000 a few years ago, has today increased to Rs 1,30,000. She proudly points to a new room that has been added to her one-room establishment last year after she was able to save some money.
What the Act says
Under the Punjab Village Common Lands (Regulation) Rules, 1964, one-third of the public agricultural land in each village is reserved for the members of the Scheduled Castes (SCs). The public land is owned by the government and managed by the panchayat in each village. It is auctioned to villagers for a one-year term.
The Scheduled Caste communities in the state form 32 percent of the population and many of them are engaged as a farm labourer. But landlords mostly belong to the upper castes (mainly Jat) while Dalits are largely landless and work as labourers in these farms.
According to Census 2011, Dalits in Punjab own only 63,480 operational land holdings ie 3.2 percent of operational landholdings in the state that spread over an area of 1,26,966 hectares ie six percent of the total cultivable area in the state.
Demand for land rights
In the recent past, rural Punjab has witnessed many protests by members of the Dalit community who have alleged that feudal landlords are in cahoots with officials to deprive them of land rights granted by the law. They alleged that farmers from dominant castes often hire Dalit villagers to act as proxy candidates during the auction.
Gurmukh Singh, general secretary of Zameen Prapti Sangharsh Committee, an organisation demanding land rights for Dalits in Punjab, said, "Dummy candidates of farmers with deep pockets often win auctions ensuring that control of land remains with the dominant castes. Many times, SCs have been pressurised to not take part in auctions."
Recalling one such instance, Nikki said that she and others were stopped by upper caste men from planting in the land they had won during an auction. But the women persisted and through the years improved their standards of living.
Power of pooling resources
In many cases, Dalits who are often unable to afford the land which is being auctioned have pooled in their resources. In Kular village, Nikki and 59 other Dalit families have collectively paid Rs three lakh as annual rent for a 14-acre patch.
They grow wheat and paddy in respective seasons on one part of the land, while animal feed is grown in a small patch. "We grow fodder for our livestock as many of us have now kept goats and buffaloes. The land is not only helping us produce crops but also sustain our livestock," said Harbans Kaur, 52, a Dalit farmer in Kular.
Members of the Dalit community said that Kular village is an ideal example of how granting land rights can improve lives of Dalit farmers.
Budh Singh from Balad Kalan village in Sangrur said, "There is a need for other villages in the state to follow Kular's example."
According to state government data, as of May 2018, 1.45 lakh acres is yet to be auctioned in different panchayats in the state. Of this, 48,518 acres is reserved for auction to Dalits.
Amit Batra, block development and panchayat officer (BDPO) in Sangrur, said that many more Dalit farmers in the district will benefit under the Act. "Auction of land is underway in many villages in Sangrur. The process will continue till June," he said.
Sharma is a Ludhiana-based freelance writer and a member of 101Reporters.com, a pan-India network of grassroots reporters.
World
Chinese president Xi Jinping is in Russia to meet his 'good old friend' Vladimir Putin. The two are expected to discuss a host of issues, including the war in Ukraine. Xi is likely to play peacemaker and reiterate Beijing's proposal to settle the conflict
Explainers
The MQ-9 drone is a large unmanned aircraft remotely operated by a two-man team. It was given the 'Reaper' moniker by the US Air Force and the Royal Air Force. Primarily used to gather intelligence, it can also conduct precision strikes on high-value targets
Explainers
Democratic lawmaker Aisha Wahab introduced the bill just a month after Seattle voted to outlaw caste discrimination. This issue has come to the fore in California since 2020 when the employment regulator sued Cisco Systems on behalf of a low-caste engineer. But some claim it will further fuel instan