Punjab police arrest Gau Raksha Dal chief Satish Kumar on assault, sodomy charges
Satish Kumar was arrested by the Patiala district police in Uttar Pradesh's Vrindavan town following a raid, the official added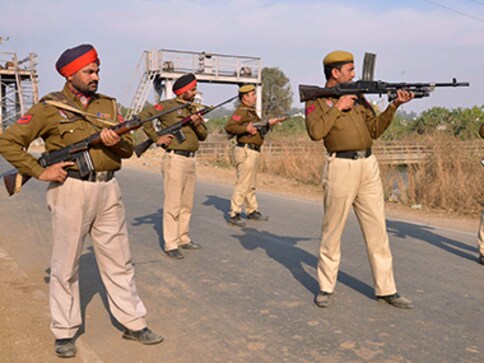 Chandigarh: Gau Raksha Dal chief Satish Kumar was arrested from Vrindavan after being booked on charges of sodomy, rioting and extortion among others.
SSP Gurmeet Chauhan on Sunday confirmed his arrest but did not provide any details.
Police sources said he was arrested on Saturday night from Vrindavan where he was hiding after he was booked on charges of abduction with intent to hurt, wrongful confinement and other sections of the IPC a fortnight earlier.
The case was lodged on 6 August two years after a video went viral showing Gau Raksha Dal members brutally thrashing people.
Satish was also booked under Section 377 of the IPC which criminalises unnatural sex after a youth from Saharanpur alleged that he was abducted and sodomised by Satish's goons.
"Now another Uttar Pradesh resident has told investigators that he was sodomised by Satish," the sources said.
The victim from Saharanpur had told a judicial magistrate that Satish, Bablu and 10-15 others had forcibly taken him to a cow shelter in Rajpura where he was sodomised.
"Also, some goons had urinated in my mouth," he alleged.
Another victim had told the police last week that he was detained by the self-styled cow vigilantes, robbed and tortured. He also alleged that he was sodomised by Satish.
The Gau Raksha Dal allegedly used to post videos online of attacks on trucks "carrying cattle for slaughter", showing drivers being thrashed and vehicles torched.
Meanwhile, a court in Rajpura on Sunday remanded Kumar to one-day police custody.
However, Kumar denied the charges levelled by police against him.
India
The primary purpose of a transit remand is to enable the police to shift the person in custody from the place of arrest to the place where the matter can be investigated. In the Sidhu Moose Wala case, the cops wanted to transfer Lawrence Bishnoi from Tihar jail to the state for further questioning
India
While the police said 27-year-old Kartik Popli died by suicide, the family has alleged murder and vowed to move the court for 'justice'
India
The Amritsar commissionerate police brought Lawrence Bishnoi on transit remand for probing him in the killing of gangster Ranbir Singh, alias Rana Kandowalia, who was shot dead last year at a private hospital in Amritsar