Pune Police detains Trupti Desai ahead of activist's proposed meeting with Narendra Modi in Shirdi
Pune police on Friday detained gender equality activist Trupti Desai, who was on her way to Maharashtra's Shirdi to meet with Prime Minister Narendra Modi to demand his intervention into the Sabarimala row.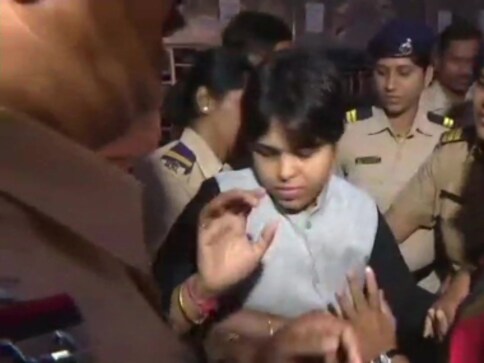 The Pune Police on Friday detained activist Trupti Desai, who was on her way to Maharashtra's Shirdi to meet with Prime Minister Narendra Modi and demand his intervention in the Sabarimala row.
After a scuffle with the Pune Police, Desai was taken to the Sahakar Nagar Police Station and will be held there until the end of Modi's visit, CNN-News18 reported. After being stopped from proceeding to Shirdi, Desai said that even though "being able to protest" is a "constitutional right", the protesters had been "stopped at home".
The move comes after Desai wrote a letter to Ahmednagar Superintendent of Police (SP) on Wednesday, demanding to meet Modi to discuss the Sabarimala issue ahead of his Shirdi visit. She had also threatened to stop his convoy if he doesn't agree to meet, ANI reported.
Police force was already here today morning when we were about to leave for Shirdi. It is wrong. It is our Constitutional right to protest. We are being stopped at home only. It is an attempt to suppress our voice through Modi ji: Activist Trupti Desai on being detained by police pic.twitter.com/n8NJXBhqGR

— ANI (@ANI) October 19, 2018
"I only wanted to tell Modi that you promised better days for women, but they are still unsafe. You spoke up for women on the triple talaq issue. But now you remain silent?" she was quoted as saying by India Today. "Many women want to enter the temple and pray, but they are scared of moving because of the violence in the area," she added.
India Today quoted police sources as saying that her detainment is a precautionary measure ahead of the prime minister's visit.
Tension prevailed on Thursday after Section 144 of the CrPC was in force in several parts of Kerala. A 24-hour shutdown backed by the Bharatiya Janata Party (BJP) was called in the state against Wednesday's police attack on protesters who were opposing the apex court ruling.
Follow LIVE updates from Sabarimala here.
With inputs from agencies
India
Prime Minister Narendra Modi will inaugurate the Sant Tukaram Shila Mandir in Dehu in Maharashtra's Pune district. Shila is the rock that the 17th-century Bhakti saint sat on for 13 days when the authenticity of his abhangas was questioned
Politics
The case has been registered against Sheikh Hussain at Gittikhadan Police Station in Nagpur under Sections 294 and 504 of the Indian Penal Code
India
Over the last thousands of years, Indians have spoken openly about the most difficult of the topics and made correct logic an integral part of the society, PM Modi said