Pulwama encounter: Former policeman's son, ex-army sepoy and orchard worker the three militants killed in Sirnoo
A joint team of the Jammu and Kashmir Police and the Indian Army laid a cordon in Pulwama's Sirnoo village after receiving an input that militants were hiding in the area. As the searches began, militants ran out of a house, took up positions in an adjacent apple orchard and began to fire at the police and army.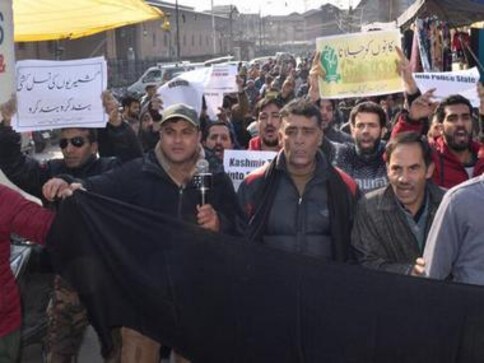 The son of a former policeman, an ex-army sepoy, who had run away from a camp in Baramulla in North Kashmir with his weapon, and a former orchard workers were the three militants killed in an encounter in Pulwama's Sirnoo village in Jammu and Kashmir on Saturday. In the clashes that followed the encounter that involved firing by government forces, seven civilians were killed and at least two dozen were injured, police and local residents said.
A joint team of the Jammu and Kashmir Police and the Indian Army early on Saturday laid a cordon in Sirnoo village in southern Pulwama district after receiving an input that militants were hiding in the area. As the searches began, militants ran out of a house, took up positions in an adjacent apple orchard and began to fire at the police and army.
In the exchange of fire, three militants and an army man was killed, while another was wounded. Seven civilians also died in the protests that followed the Pulwama encounter, the police said.
Sirnoo resident Zahoor Ahmad Thoker had joined militancy after fleeing with his service weapon from an army camp last year. Adnan Hameed Bhat of Kareemabad had been active as a militant since 30 November, 2017, and is a son former police head constable Abdul Hameed Bhat, who had died earlier. The third militant, 23-year-old former orchard worker Bilal Ahmad Magray, had been an active militant only the past two months.
Jammu and Kashmir Additional Director General of Police Muneer Ahmad Khan said Zahoor had "deserted the army". Holding him responsible for many killings in the Valley, including that of policemen, Muneer explained that the militants had established hideouts in the fields where they were killed. He also added that security forces were forced to open fire on the protesting mobs as they had been trying to disrupt the operation.
As soon as the gunbattle started, protests erupted in Pulwama and continued even after the bodies of the militants were handed over to the families. Thousands of people had descended on the site of the encounter to help the militants escape, and the demonstrations continued in parts of Kashmir, including near the encounter site in Sirnoo, even late Saturday evening.
A local resident of Pulwama's Rohmoo area, Mohammad Ashraf said the number of people gathered in Sirnoo was "so huge that it appeared as though the whole of Kashmir had marched to the area".
The deaths of seven civilians triggered massive protests as well as a shutdown in major parts of the Kashmir Valley. The separatist conglomerate — the Joint Resistance Leadership (JRL) — called for an immediate three-day shutdown. Hurriyat (M) chairman Mirwaiz Umar Farooq posted a tweet on the "Pulwama massacre".
#PulwamaMassacre,Bullets and pellets rain!As Govt of India has decided to kill Kashmiri's through its #ArmedForces who control us,JRL and people will march towards Badami Bagh Army cantonment on Monday 17 Dec to ask GOI to kill all of us at one time rather than killing us daily..

— Mirwaiz Umar Farooq (@MirwaizKashmir) December 15, 2018
The JRL later said, "Shouldering the coffins of our youth every day is now unbearable, as is the silence of international community on the massacre in Kashmir... As the Government of India is only interested in our territory and forcibly holds on to it while systematically eliminating its people, it is better that they finish us off at once. That is why the leadership has asked the government to do that, as we march towards their army headquarters in Badami Bagh on Monday," the separatists' group said. Senior Peoples Democratic Party leader and former state finance minister Syed Mohammad Altaf Bukhari called the Pulwama killings "horrendous and heart-wrenching", adding that the incident demands "immediate fact-finding and follow-up action as warranted under law". "Violence begets violence, and any such outrageous incident not only adds to the alienation among people but also results in colossal damages to the efforts to restore peace and stability in the conflict-ridden region," Bukhari said. Former chief ministers Omar Abdullah and Mehbooba Mufti also denounced the killings.
7 dead. There is no explanation for this excessive use of force, none what so ever. This is a massacre & that's the only way to describe it. — Omar Abdullah (@OmarAbdullah) December 15, 2018
How long are we going to shoulder the coffins of our youngsters? So many civilians killed today post encounter in Pulwama. No country can win a war by killing its own people. I strongly condemn these killings , and once again appeal for efforts , to stop this blood bath .

— Mehbooba Mufti (@MehboobaMufti) December 15, 2018
In a statement, the Jammu and Kashmir Police said a search operation had been launched in Pulwama's Sirnoo based on a credible inputs about the presence of militants in the village's Monghama area, and that while the operation was on, a crowd that "who came dangerously close from different parts to the encounter site got injured".
"The injured were evacuated to a hospital, where unfortunately seven persons succumbed to their injuries. Others who were admitted to the hospital are stated to be stable," the police added.
India
This amount, which is around Rs 90,000 crore will be used for maintenance of weapons, equipment and other assets, replenishing stocks of fuel and ammunition and procurement of critical spares along with other capabilities. This amount excludes pay and other allowances
India
The Indian Army has recommenced induction of the Dhanush artillery system and is raising a second regiment of the indigenously upgraded gun
Explainers
The ministry of defence has decided to procure a slew of hi-tech weapons with an eye on increasing its advantage in combat. Experts say India is in a serious weapons race with its neighbours