Pulwama encounter demolishes facade of normalcy in J&K; politicians, separatists denounce civilian killings
The sequence of events at Pulwama on Saturday morning derailed the 'normalcy' facade which Jammu and Kashmir governor Satya Pal Malik has been trying to put up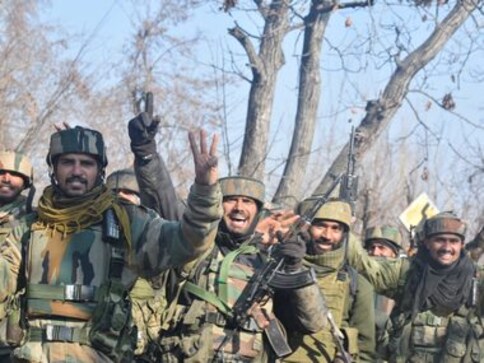 Pulwama: On Saturday morning, a brief encounter had jolted thousands of civilians out of their sleep in south Kashmir's Pulwama. Among these civilians, seven breathed their last in different hospitals in Kashmir.
Zahoor Ahmad Thakor was among the militants killed during the encounter. Thakor was an army deserter who had fled from an army camp with an AK-47 in 2017. His two associates were identified as Adnan Wani and Zahoor Ahmad Kar alias Tahir Hizbi.
Among the civilians who died were Amir Ahmad Palla and Abid Hussain Lone. Lone was an MBA graduate and had returned home recently from Indonesia with his wife and a three-month-old baby. After sustaining injuries, Palla and Lone were shifted to a hospital, and were declared dead on arrival.
The names of the other civilians who died are Shahid Ahmad Khanday, Ishfaq Ahmad, Shahbaz Ali, Liyaqat Ahmad and Tawseef Ahmad Mir. Further, over 50 civilians have been injured, of which nine are said to be critical, with serious bullet injuries.
"A Class 8 student. An MBA passout. An office-goer. A milk buyer. A shopkeeper. A sportsman. A movie buff. An emotional pedestrian. A wailing bystander — all killed in Pulwama," a journalist wrote on Facebook on Saturday.
This incident is indicative of an escalating crisis in Kashmir, one in which civilians are becoming regular casualties in encounters between militants and security forces. This year, at least 106 civilians have died in violence in the state's hinterland, 57 of them near encounter sites. This is the highest number of such deaths in over a decade.
The sequence of events at Pulwama on Saturday morning has demolished the "normalcy" facade which Jammu and Kashmir governor Satya Pal Malik has been trying to put up since he took over the reins of the state.
Despite the fact that 245 militants were killed this year till Saturday, the number of people thronging encounter sites, with stones and bricks in their hands, does not seem to be coming down.
"It is suicidal, but they (militants) are our brothers," said a student at a hospital in Pulwama on Saturday afternoon. "They are fighting for us, and even if one dies saving them, it does not matter."
The violence on Saturday started with a routine cordon operation, in which a joint force of army, paramilitary and police had acted on a tip-off about the presence of three militants in a house. In the ensuing encounter, three militants and a soldier were killed.
Ahmad, 34, a shopkeeper, said, "When protesters came to an orchard a few hundred metres from the encounter site, the forces fired directly at them, after initially firing teargas shells. It was a massacre, nothing else."
People in the crowd whistled, shouted and threw stones, or whatever else they could lay their hands on. They demanded that the dead bodies be given to them. Security forces later opened fire, and most people were hit in the head and chest.
After the incident, authorities suspended mobile internet in Pulwama and cancelled rail services between the Kashmir Valley and Banihal town in the Jammu region.
Both mainstream politicians and separatists in the Valley fiercely denouncing the incident.
Omar Abdullah, former chief minister of Jammu and Kashmir and National Conference vice-president, castigated security forces, saying:
"...Any way you look at it, this was a badly executed encounter. Protests around encounter sites are now the norm, not the exception. Why are we unable to learn how to handle them better?"
Mehbooba Mufti, also a former chief minister said:
"...South Kashmir has been reeling under fear for the last 6 months...Is this what was expected from Gov rule? The admin has failed in securing civilian lives. Deepest condolences to the bereaved (sic)"
Separatist leader Mirwaiz Umar Farooq said, "The government of India (needs to) stop this inhumanity, as it will not achieve anything except further rebellion and hatred."
SOS # to all humanity !Kashmiri's being massacred as Indian forces go on a killing spree in #Pulwama firing indiscriminately !civilian death toll has crossed 7, more than 40 youth have been hit with Bullets many critical,death toll may rise!

— Mirwaiz Umar Farooq (@MirwaizKashmir) December 15, 2018
Many people were seen struggling to ferry the injured people to hospitals in Srinagar for specialised treatment.
"The forces unleashed hell in our village," said a person accompanying an injured protester at Srinagar's SMHS hospital. At the hospital, tempers escalated and people raised slogans as injured were being taken for treatment.
By afternoon, ten fresh graves were dug up in different parts of Pulwama. As people made preparations to bury three militants and seven civilians into them, the lines between combatants and non-combatants were yet again blurred in Kashmir.
Explainers
The European Union has recently approved at least four insects for human consumption including mealworms and house crickets. Mealworms, which taste 'a lot like peanuts', offer the same amount of protein, vitamins, and minerals as fish or meat
Explainers
Dilip Mahalanabis gained national fame in 1971 while serving at a refugee camp in West Bengal's Bangaon where his oral rehydration solution saved umpteen lives. He never patented ORS, arguably the greatest medical discovery of the 20th Century
Explainers
Once touted as the future of money, a challenge to the world's central banks, not to mention a clever investment, crypto now carries the odour of disaster. But some crypto faithful see an upside to the wipe-out of 2022