Pulwama encounter: Centre should keep development, aggressive army operations in tandem to prevent bloodsheds in Jammu and Kashmir
Sections that back the government — Rashtriya Swayamsevak Sangh and the like — think just firing from all cylinders will break militancy in Kashmir. It might, but at a terrible cost that no civilised State should bear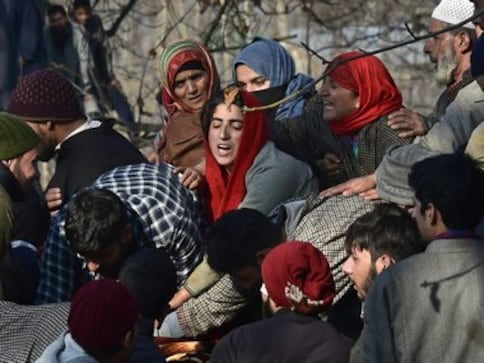 Yet another tragedy in Kashmir, and the same inane messages and condolences from politicians, and the triumphant news reports in Pakistani press on a bloodbath, human rights excesses and the like. Among the cries and the accusations however, it is important to home in on some basic facts regarding this, and other such encounters.
First, security forces killed three militants holed up in a house in the village of Sirnoo in Pulwama. That meant that there was good intelligence emanating from the area. Clearly, there are many within militancy prone areas who don't wish the terrorists well. Second, the threat was very real. Among them the militants killed was an ex-army jawan Zahor Thakor. There's few things more dangerous than a militant trained —- in effect — from within the army. He knows the rules, the protocols and the innards of army operations. Third, the operation was conducted by a mix of forces that included the police and the paramilitary forces. That's always a problem. Paramiltary forces in particular, rarely have the discipline to control fire at critical times. Fourth, security forces seem to have used a mix of pellets and bullets, as evident from the injuries at the hospital. So no, it wasn't anywhere like a panic reaction or a deliberate decision to kill civilians as is being alleged in the media.
It's the fifth aspect that needs to be strongly analysed, without the ifs and buts that are usually seen in reports and commentary. A large crowd rushed towards the encounter site, protesting against the security forces deployed. This is unhappily becoming standard practice in areas such as Pulawama, Anantnag, Kupwara and other affected districts. And inevitably there are casualties. Game point to the terrorists and their sponsors, one down for the Indian government, and irreparable losses to the mothers and fathers, brothers and sisters of those killed.
Understand this clearly. It is the army's job to kill terrorists. That is what it is there for. There is now way on earth that a force operating against dangerous militants will simply walk away from an encounter site because the civilians object to it. A charged-up crowd that gets up close to the army vehicles is in even more danger. In close quarters, warning fire or even pellet guns rarely meet their objective.
So here's the bottom line. Civilians have no business to be around a counter-terrorism operation, and certainly no business throwing stones. No amount of breast beating and crying can change that. Young men will die, and for the most futile of reasons: adding to the casualty statistics that benefit the terrorists and their sponsors across the border. No wonder the Pakistani foreign office is crowing on Twitter.
Others who benefit are those who build their careers on such deaths and announce protests and marches. It's notable that Hurriyat leaders usually hold this a couple of days later. That means they will be arrested, and are in no real danger in front of a charged up-mob, who are disillusioned with them as they are with the politicians. The Hurriyat, the Peoples Democratic Party, the National Conference and all the others knee deep in Kashmir politics know this.
That's why nobody wants elections yet, notwithstanding questionable claims of being able to form a government. Yes, they can be expected to "mourn" — as anyone should — the loss of young lives. But where is the politician who can stand up and say that those who hasten to support militants are holding hostage their own people in other parts of the state? Shop keepers, the shikara operators, taxi drivers and the hundreds upon hundreds who eke out a living out of tourism in Gulmarg, Sonmarg, and other parts of the state: none of whom want any part of militancy or have any sympathy to waste on the hotheads of Srinagar and Pulwama. If Kashmir is bleeding, it is by its own hand.
And what of the central government at Delhi? Certainly, its emphasis on development is sensible on the same grounds. Prime Minister Narendra Modi launched a raft of infrastructure projects, including power and roads for Srinagar. Protesters may sneer, but it is something that will benefit all, and will by inches help bring the province to the same level of speed as other states in India.
But here's the thing. Sections that back the government — Rashtriya Swayamsevak Sangh and the like — think just firing from all cylinders will break militancy in Kashmir. It might, but at a terrible cost that no civilised State should bear. To really deliver, aggressive operations should go hand in hand with aggressive rejuvenation projects. The "hit em and get them" policy needs to be in tandem with an energetic marketing of programmes like Udaan (a public private industry initiative to provide employment to youth) to levels where it becomes the 'go to' option for young men and women. It means pushing other similar programmes to the limit possible using reputable NGOs and the internet to get people on board. At present, hardly anyone has even heard of these programmes.
Meanwhile, spare a thought for the death of Sawar Kishan Singh Rajput from Churu Rajasthan, an army jawan who lost his life during the encounter; or for the martyrs wall of the Pulwama police. There are many others who remain unsung, and many whose opinion was not asked when terrorists mingled in a crowd or invited retaliation on civilians. They need a voice, as do the huge majority of young people who do not participate in the wasteful and unjust war that is Kashmir. When next the prime minister addresses the people, it is this segment that should be his main concern. After all, they're all Indians.
Explainers
India is expected to overtake China's population sometime around April and only widen that gap by 2050. Experts say that while having a young working population could prove a huge advantage, significant challenges of providing quality healthcare, education and jobs remain
Explainers
Researchers in China have successfully powered unmanned aerial vehicles via high-energy laser beams in an experiment. Here's how they did it and why some remain sceptical of the technology
Explainers
Alexanda Kotey was part of a four-member jihadist cell dubbed the 'Beatles' by captives due to their British accents. Now, a daughter of his victim is crying foul after records show he is no longer in federal custody. Prison officials confirmed the development but did not elaborate