Public policy expert Meghnad's 'Sansad Watch' demystifies Parliament, helps rid it of civics textbook-style jargon
An already well-known social media personality, Meghnad is on an "experiment" to demystify the complex functioning of the Parliament through 'Sansad Watch'.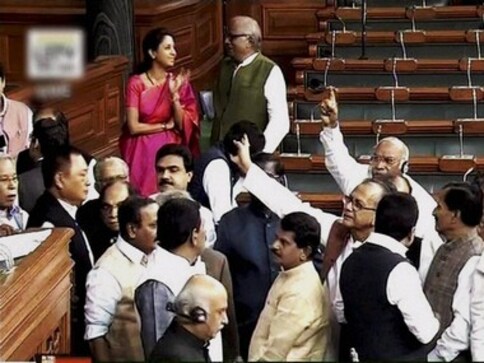 "What is happening? Are we so helpless?," Rajya Sabha Chairman M Venkaiah Naidu said last week, moments before adjourning the Rajya Sabha for yet another day amid loud protests by Opposition parties.
"Is this Parliament or something else?" he asked. The next day marked an entire fortnight of Parliament proceedings being washed out as both the Lok Sabha and Rajya Sabha were adjourned in less than 15 minutes of being in session.
Broadcasting the washed out sessions live on a YouTube channel, and providing commentary on what the adjournments mean for a democracy in general and the Budget Session in particular, was a public policy professional Meghnad. An already well-known social media personality, Meghnad is on an "experiment" to demystify the complex functioning of the Indian Parliament through his new venture — Sansad Watch.
"I had seen people streaming computer games live on the Internet with commentary on the side, and somehow even the most boring games seem interesting. Because I have been working with MPs for seven years now, I've had to obsessively watch Lok Sabha and Rajya Sabha proceedings, and I realise how confusing they can get. So I thought, why not do something similar with the Parliament and build something like Twitch for Parliament. That led to Sansad Watch — a live stream of the Parliament with some commentary," Meghnad said.
By his own admission, Parliament proceedings are often boring, extremely dense and rather complicated to understand — things get more difficult to follow when ruckus erupts in the Houses. At such times, Meghnad explains the rules of the House, procedural details and "the point of the whole thing", to offer his viewers context behind the Bills being tabled even if MPs storm the Well of the Houses and Speaker Sumitra Mahajan is forced to ask, "Is this a school?"
But since the Lok Sabha and the Rajya Sabha begin simultaneously, he has to take a call to decide which House's proceedings will be streamed. "These days, I've been taking Lok Sabha first, because the no-confidence motion is in the news. If there is an important development in the Rajya Sabha at the same time, I switch and give commentary on those proceedings. I look at the list of business in the morning and decide how to go about it. At the end of the day, it is entirely my judgement," he laughs.
"Maybe someday if I am able to convince one more streamer, we may have two parallel streams for Lok Sabha and Rajya Sabha simultaneously. This entire experiment is still evolving."
All parliamentary work done inside and outside (parliamentary committees function even when the Parliament does not) the Houses are uploaded on official websites, which Sansad Watch helps people navigate through. "One, the proceedings are so dense. Two, the quality of the websites leaves much to be desired. Unless you know the exact terms you are looking for, it's impossible to navigate through them. So, I thought it would be interesting to show people how they can go to the Lok Sabha or Rajya Sabha website and see the list of business for the day.
In these times, it is important to show what would have happened in the Parliament had it not been disrupted, the questions that could have been asked and the work that could have been done." Meghnad said.
A bunch of people asked why I live stream Parliament on #SansadWatch even when it's getting adjourned. The truth is, people should see it!

Besides, I also get to talk about what work *could* have been done had the Parliament functioned while showing the disruptions.

— Meghnad (@Memeghnad) March 23, 2018
Sansad Watch depends heavily on the Internet and streaming technology, because it is the live interaction with people that keeps the platform unique. But Meghnad admits it is all very new for him, and he has to do his own research on the side to understand how things work. "The first step was to find the right software to broadcast, then was to learn how to connect it to YouTube, and then it was to set up a channel. I've now done a broadcast on Facebook as well."
Finally got the external microphone for streaming purposes but it doesn't seem to be working. Because why will it and why would life be like, "Oh just plug this in and it'll work perfectly well dude!" Nope. Sigh. — Meghnad (@Memeghnad) March 22, 2018
Streaming the broadcast from his house, Meghnad says Sansad Watch will not remain confined to YouTube. "I have done live videos on Facebook, Instagram and YouTube in the past, and it turned out I was most comfortable with YouTube because it is a subscriber-based platform. For the Facebook audience, I am now trying to do something like a 'Friday wrap-up' where I highlight the main points about the last week in Parliament," Meghnad said.
This week, however, his Facebook live will come early as the Parliament is not functioning on Friday on account of Good Friday. It is also not functioning on Thursday because of Mahavir Jayanti, and on Monday, the Lok Sabha has taken an off to mark Ram Navami. Is it frustrating to watch no work happen in the Parliament because of the disruptions, especially when it runs on a two-day week? Yes, says Meghnad.
"I understand the reasons behind the protests in Parliament — and they are all legit reasons — but the fact remains that the ultimate result is disruption. Nobody wins. The no-confidence motion is not being taken up, the Cauvery issue is not being discussed, the PNB scam is not being talked about, legislations are not being passed. And then things like bulldozing the Finance Bill happen, and that is frustrating.
The best part is that I have got it all on video, along with live, angry comments from people watching it, and everyone going, 'What on earth is going on!' So people are interested to know what is going on in the Parliament and when they find out proceedings are being adjourned in minutes, it annoys everyone," Meghnad said.
Now that Sansad Watch has run for a week and people have shown significant interest in the venture across social media, where does Meghnad see this going? He says he doesn't really know. "Right now, Sansad Watch is only a hobby for me. I have no idea if it is a sustainable venture, if I can monetise it, or if I will even be allowed to monetise it. My viewership is steadily climbing, and I'm happy with that."
Going by the initial response, it is safe to assume that Sansad Watch is here to stay, at least for some time. As a Facebook user pointed out in one of the videos, if Sansad Watch had replaced his civics lessons in school, he and many others would perhaps have been sitting in the Parliament right now.
World
New technologies are in the works, including hydrogen-powered aircraft, fully electric planes and synthetic jet fuel made from carbon extracted from the atmosphere
Explainers
The European Union has recently approved at least four insects for human consumption including mealworms and house crickets. Mealworms, which taste 'a lot like peanuts', offer the same amount of protein, vitamins, and minerals as fish or meat
Explainers
Once touted as the future of money, a challenge to the world's central banks, not to mention a clever investment, crypto now carries the odour of disaster. But some crypto faithful see an upside to the wipe-out of 2022