PTI spokesperson denies reports of Imran Khan inviting Narendra Modi to his oath-taking ceremony, says media speculation incorrect
Several leaders of Imran Khan's PTI denied reports that he has invited Narendra Modi to the ceremony in August where he will be sworn in as prime minister.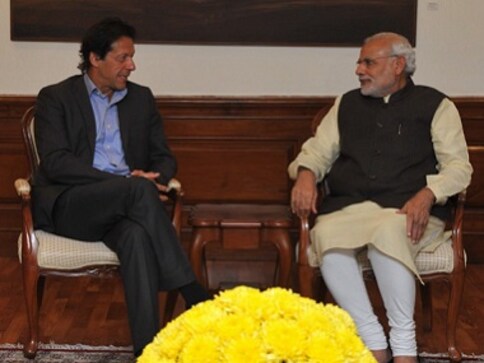 After several media reports claimed that Pakistan Tehreek-e-Insaaf (PTI) chairman Imran Khan, whose party recently surged to victory in the Pakistan general election, has invited Prime Minister Narendra Modi to his swearing-in ceremony in August, the party denied these "unconfirmed reports".
"So far, nothing has been said about inviting Prime Minister Narendra Modi for the swearing-in," PTI's international media coordinator Anila Khawaja told Firstpost.
Senior PTI leader Jehnagir Khan Tareen also refuted the reports, saying that there was no such development at this stage, wherein the party was still in the process of gaining the numbers to form the government. Tareen was questioned about the supposed invitation to Modi at a press conference in Islamabad.
PTI spokesperson Fawad Chaudhry took to Twitter to put the speculation to rest. He said that "media speculations about international dignitaries" attending Imran's oath-taking ceremony were incorrect. "We have sought the advice of the foreign office on the matter and will decide accordingly," he added.
Reports had said that Imran's PTI was considering inviting the leaders of the SAARC countries, including Modi, to his oath-taking ceremony in August. The PTI, led by 65-year-old Khan, has emerged as the single largest party in the National Assembly after the 25 July elections, but it is still short of numbers to form the government on its own. Khan on Monday said that he would take oath as prime minister on 11 August.
"The core committee of Tehreek-e-Insaaf is considering inviting the South Asian Association for Regional Cooperation (SAARC) heads including Narendra Modi and a decision on this is expected shortly," a leader of Khan's party told news agency PTI. He also termed Modi's telephone call to Khan on his victory in the 2018 polls a welcoming sign to begin a new chapter in relations between the two countries.
Spokesperson for Khan's party Fawad Chaudhry also did not rule out inviting Modi to the swearing in ceremony. "A decision about it will be taken by the party in consultation with the foreign ministry in coming days," he said.
Modi on Monday telephoned Khan to congratulate him on his party's victory in the general elections and hoped that "Pakistan and India will work to open a new chapter in bilateral ties".  Khan thanked Modi for his wishes and emphasised that disputes should be resolved through dialogue. "Wars and bloodshed instead of resolving disputes lead to tragedies," Khan had said.
Khan in his victory speech had also said that better relations between Pakistan and India would be "good for all of us". "If India's leadership is ready, we are ready to improve ties with India. If you take on step forward we will take two steps forward," he had said.
The relations between India and Pakistan remained tense since 2014. Former prime minister Nawaz Sharif had travelled to Delhi to attend Modi's oath taking ceremony and the Indian premier had in December 2015 made a stopover in Lahore to greet his counterpart on his birthday. The India-Pakistan ties nose-dived in recent years with no bilateral talks taking place.
The ties between the two countries had strained after the terror attacks by Pakistan-based groups in 2016 and India's surgical strikes inside Pakistan-occupied Kashmir. The sentencing of alleged Indian spy Kulbhushan Jadhav to death by a military court in April 2017 further deteriorated bilateral ties. The two sides often accuse each other of ceasefire violations along the Line of Control (LoC), resulting in civilian casualties.
With inputs from PTI
The author is based in Islamabad.
India
This is not the first time the Punjab Congress chief has stirred controversy; in 2018, he was slammed for embracing Pakistan army chief General Qamar Javed Bajwa
India
After the meetings, the prime minister has announced some major restructuring moves. Here are some key points.
India
More than 20 months after the Kartarpur corridor was shut down due to the COVID-19 pandemic, a jatha of Sikh pilgrims from India crossed over to Pakistan on Wednesday ahead of the birth anniversary of Guru Nanak