Protests against SC's Sabarimala verdict stall women's entry into shrine; two outfits call for 24-hour shutdown
Despite a Supreme Court order lifting the ban on entry of women in the age group of 10 to 50 years into the famous hill temple, protesters on Wednesday forcibly turned back women on their way to visit the shrine.
Amid several incidents of violence and tightened security, the gates of Sabarimala temple opened minutes before 5 pm on Wednesday. However, the historic march of women into the shrine was stalled due to several attempts by protesters to block them from entering the shrine.
Despite a Supreme Court order lifting the ban on entry of women in the age group of 10 to 50 years into the famous hill temple, protesters on Wednesday forcibly turned back women on their way to visit the shrine. The women devotees were blocked even after the police assured that no one will be prevented from taking part in the pilgrimage.
CNN-News18 reported that no women were allowed to cross the Pamba base camp.
Meanwhile, the police arrested members of the Pandalam Royal and Sabarimala temple Tantri families, including women, taking part in a protest against the temple's opening to all women.
They were taken in a police vehicle to a nearby police station, triggering more protests, during which two women television journalists also came under attack.
"How can the police arrest a very elderly lady of the Tantri family? She was on a peaceful protest. This is not acceptable," said state BJP general secretary K Surendran as he squatted at the site with his supporters.
Similar protests at various places in and around the temple town on Wednesday forced a 45-year-old woman from Andhra Pradesh and her family to abandon their trip to the Ayyappa temple.
The woman, Madhavi, accompanied by her parents and children began the climb leading to the hilltop temple hours ahead of its opening for the monthly puja rituals.
Ten minutes into their trek, accompanied by a police force, the family had to abandon their plans as angry protesters went after her, shouting and abusing.
Another woman devotee, Liby, who got down at the Pathanamthitta bus stand and was to board a bus to Nilakkal, faced angry devotees who discouraged her. "I wanted to pray at the Sabarimala temple," she said as police took her to a police station for protection.
Women reporters of two national TV channels on their way to Pamba for news coverage were blocked by a violent crowd which was seen banging their cars while shouting at them and demanding they go back as a tense situation prevailed in the area.
The journalists were forced to get out of the vehicles by the crowd of men.
In another incident, a woman reporter of an English online media organisation was asked to get down from a state-owned KSRTC bus in Nilakkal, one of the entry points to the shrine of Lord Ayyappa.
The crowd, which virtually took control of the Nilakkal area, also hurled stones at vehicles, including the KSRTC buses on way to Pamba.
The protesters also stopped two women government health officials who had come to take part in a routine meeting at the temple. They were allowed to go in only after they showed proof that they were aged above 50.
Protesters also chased away a few women police constables who were trying to go to the temple town.
A clash broke out between policemen and protesters in Nilakkal after the protesters resorted to stone-pelting. Police personnel were also seen vandalising vehicles in Pamba and Nilakkal.
Taking cognisance of the attacks on women journalists and devotees, the National Commission for Women urged the Kerala Police to ensure security of women who wish to enter the Sabarimala temple.
In a statement, the NCW said that it has directed the DGP and Kerala Police chief to provide sufficient security to all women devotees of Sabarimala temple and women media personnel. "Considering the gravity of the matter, the commission has also directed them to take appropriate stringent action against people who are responsible for the attacks and a detailed action taken report may be intimated to NCW at the earliest," it said.
Shutdown from midnight
Right wing outfit, 'Antharashtriya Hindu Parishad' led by Pravin Togadia and the 'Sabarimala Samrakshana Samithi', an outfit of devotees, called for a 24-hour strike, starting from midnight.
In view of the situation, the police decided to impose Section 144 in four areas: Nilakkal, Pamba, Elavunkal and Sannidhanam.
Special security arrangements and patrolling have been put in place in various locations including Pamba, Nilakkal, Erumeli, Vandiperiyar en route to the Sabarimala temple, located in the central district of Pathanamthitta.
DGP Loknath Behera said 700 additional police personnel had already been deployed in Pamba and Nilakkal, the base camps of Sabarimala pilgrimage, to maintain law and order and ensure the safety of devotees proceeding to the temple.
"At least 700 armed police personnel, 100 of them women, are already placed in various locations. A team of commandos will also be deployed soon," he said.
Behera also said anyone who blocks vehicles in the name of hartal would be severely dealt with.
Politics over women's entry
Barring the ruling Left government, the Congress, BJP and Hindu organisations are on a war path against the apex court's ruling.
Industries Minister and veteran CPM leader EP Jayarajan said that those opposing the entry of women to the temple will face the wrath of Lord Ayyappa.
Kerala Congress working president K Sudhakaran led his party workers in a protest at Nilakkal to express solidarity with Ayyappa devotees.
However, Congress leader Ramesh Chennithala denied that his party was involved in violence over the Sabarimala issue. "Congress is not attacking anybody, and definitely the attack on journalists is not tolerable. Those protesting there are BJP and RSS people. Nowhere are Congress people engaged in this kind of hooliganism or vandalism," he said.
Meanwhile, Kerala minister EP Jayarajan blamed the BJP and the RSS for the attacks on devotees. "RSS criminals hid in forests and attacked the Ayappa devotees. Ten media personnel, five devotees and 15 policemen were attacked," he said.
He added: "RSS-BJP is behind all of this. Supreme Court rule applies to all, the government is just following and implementing it."
The temple opened its gates on Wednesday for monthly pujas, which will end on 22 October. The portals will reopen for devotees at 5 am on Thursday, after closing at 10.30 pm on Wednesday.
From Thursday onwards, regular poojas and other rituals like 'Ganapathi pooja' and 'neyyabhishekam' would be held, according to the schedule.
With inputs from agencies
India
The yatra, which entered Kerala on 10 September, will go through the state covering 450 km, touching seven districts in 19 days before entering Karnataka on 1 October
India
The third day of the yatra saw an encouraging turnout of people like the previous two days of the Kerala leg of the foot march which is set to cover 3,570 kilometres from Kanyakumari to Kashmir over a 150-day period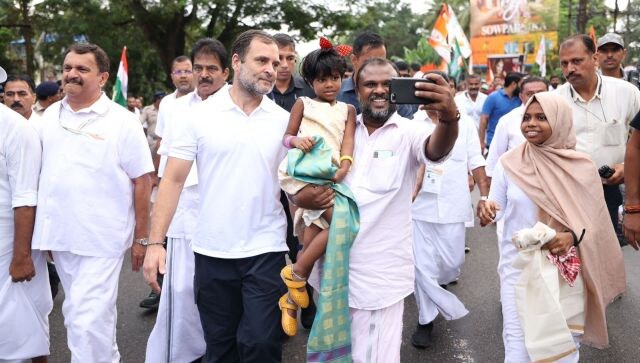 India
The 3,500-km march from Kanyakumari to Kashmir will be completed in 150 days and cover as many as 12 states. From Kerala, the Yatra will traverse through the state for the next 18 days, reaching Karnataka on 30 September. It will be in Karnataka for 21 days before moving north