Prithviraj Chavan alleges data from Maharashtra govt app being transferred to private trust, raises issue in Assembly
Data collected through an app of the Maharashtra government's information and public relations department is being transferred to a private trust, Prithviraj Chavan said
Mumbai: Data collected through an app of the Maharashtra government's information and public relations department is being transferred to a private trust, former chief minister Prithviraj Chavan has alleged.
The app is being headed by the Directorate General of Information and Public Relations (DGIPR) which disseminates information to print and electronic media about government policies.
The trust, called Anulom, was started by one Atul Vaze with the "blessings" of Chief Minister Devendra Fadnavis, Chavan claimed in the Legislative Assembly in Mumbai on Tuesday.
Chavan's allegation came on a day the Election Commission of India said it will look into allegations of harnessing user data through mobile apps of political parties and personalities.
Recently, Fadnavis felicitated active social media users called Mahamitras, who were chosen based on their activities on social media, their followers on Twitter, friends on Facebook, likes and contacts etc.
"These Mahamitras are being used to win over people's minds and their votes. All data collected goes to a private trust called 'Anulom', which was founded by Atul Vaze with the blessings of the chief minister," Chavan said.
An app launched with government funds sends data to a private trust, which is a supporter of Fadnavis, the Congress leader said, and sought to know if the BJP-led government had signed any MoU with the trust.
"What is being done is sociological micro targeting and weaponisation of data," Chavan said. "Data is being collected without consent of the user. This amounts to violation of privacy."
Assembly Speaker Haribhau Bagde asked the government to check if government funds are used for data collection.
Chavan later told reporters outside the House that the server of Anulom was based in Germany.
"Data of anyone who clicks on 'Mahamitra' app goes to the Anulom trust. Details of which social media app the users use, photos and phone record details go to this trust. This is just like how the NaMo app is used for political purpose," Chavan said.
There has been no response so far from the Chief Minister's Office to Chavan's claims.
India
Speaking on the occasion, Malvika Sood said she has taken the political plunge to dedicate herself to serve the people
Politics
The Karnataka government has imposed curfew on weekends and has prohibited all rallies, dharnas, protests and public gatherings to fight the third wave of COVID-19, till 19 January 19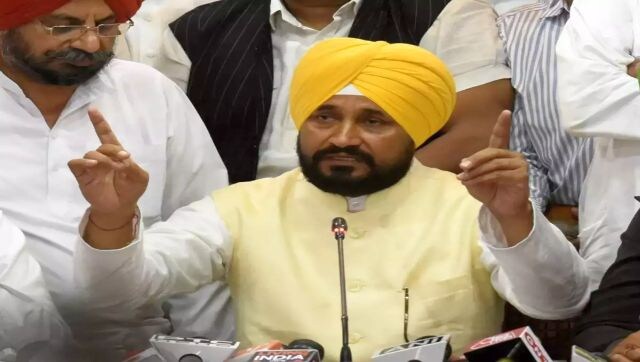 Politics
The Union home ministry has sought a report from the Punjab Government on the security breach during the Prime Minister's visit to Punjab on 5 January, 2022