Presidential Election 2017: Ram Nath Kovind to meet Mehbooba Mufti and seek support on 28 June
NDA presidential candidate Ram Nath Kovind will meet Jammu and Kashmir chief minister Mehbooba Mufti in Srinagar on Wednesday to seek the support of lawmakers
New Delhi: NDA presidential candidate Ram Nath Kovind will meet Jammu and Kashmir chief minister Mehbooba Mufti in Srinagar on Wednesday to seek the support of lawmakers from the state for the 17 July election.
Mehbooba, who was not present when Kovind filed his nomination papers, will convene a meeting of MPs and MLAs from the state at her residence, which will be addressed by the former Bihar governor and Dalit activist, BJP sources said.
Her party, the PDP, has assured the BJP, with which it shares power in the state, of its support.
Kovind will be accompanied by union minister M Venkaiah Naidu and the party's general secretary, Ram Madhav.
The ex-Rajya Sabha member will meet NDA MPs and MLAs from Haryana and Punjab in Panchkula, Haryana, on Thursday.
External affairs Minister Sushma Swaraj and BJP's general secretary Anil Jain will be among the leaders who will be with Kovind in the Haryana town, the sources added.
The BJP hopes that the INLD, led by former Haryana chief minister OP Chautala, will extend its support to him, the sources said.
Later this week, Kovind will visit Tamil Nadu, Kerala and Puducherry in the south.
So far 28 parties have extended their support to the NDA's presidential candidate.
"We are expecting that in next few days, two or three more parties will come forward to support him," a BJP leader said.
Though he will meet only MPs and MLAs from supporting parties, the NDA's presidential pick will urge other members of the electoral college to back him, the sources said.
With over 62 percent of the votes firmly behind him, Kovind's election as the next president is almost certain. Besides the BJP and its NDA allies, the TRS, YSRCP, AIADMK, BJD and the JD(U) have also announced their support to him.
Kovind filed his nomination in the presence of prime minister Narendra Modi in New Delhi on 23 June. His opponent, former Lok Sabha Speaker Meira Kumar, is yet to file her papers.
The votes will be counted on 20 July.
If elected, Kovind will be the second Dalit president after KR Narayanan.
India
These exchanges took place at Punjab's Attari, along the Rajasthan front and in Jammu, and with the BGB along the border with Bangladesh
India
An official statement said that a blinking red light was observed by the troops at a height of 200 metres but the object went back across the border after personnel fired at it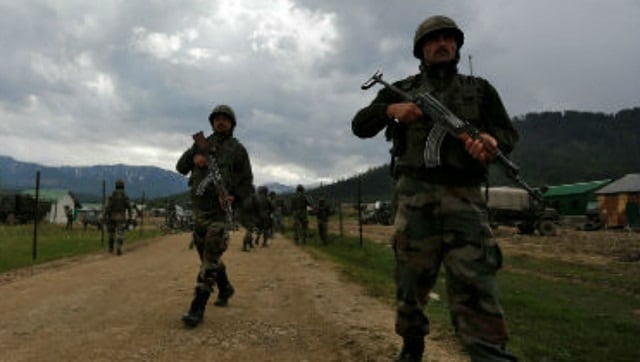 India
The police said that one of the militants, identified as Fayaz War, was involved in several attacks and killings of civilians and security personnel. He was the last perpetrator of violence in north Kashmir