Preparing meat-based food without animal slaughter may be next big breakthrough to avoid cruelty, environmental degradation
Cultured meat will change all that, freeing up grain and making it cheaper, making water available, making land available for the poorest.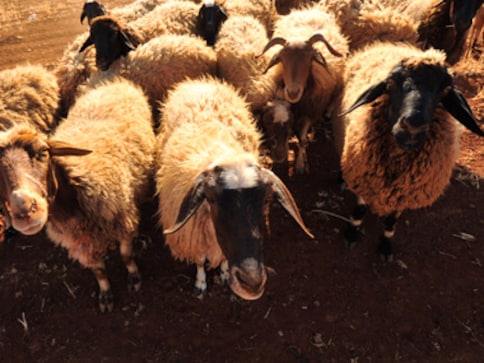 A long time ago, I realised what McDonald's and KFC had understood quite a while back that for an average person, the gratification of his taste buds – if only for ten minutes — was more important than saving the world, being compassionate, stopping global warming or even looking after his own health.
So, I mentally gave up on trying to make everyone vegetarian – even though I point out the health hazards, week after week.
Thank God, I saved my mind from despair. Instead of diminishing, FAO has estimated that the worldwide demand for meat will rise and rise — an increase of 76 percent by 2050. Here, 76 percent more animals taking up 76 percent more space, more water, more grain, more dredging of an already over-fished ocean and finding more species to eat – like insects. A world of pain and hunger, on the brink of destruction.
About 20 years ago, Linda McCartney tried to change the world by inventing and promoting simulated meat by making plants taste like it. It had no effect. It remained a charming curiosity and it was eaten by vegetarians, who wanted to explore the world of meat.
Even though companies, like Impossible Foods and Beyond Meat, have used biology to identify the molecules that give meats their flavours and textures (for example: protein myoglobin, which gives meat its colour) and reproduced them exactly using non-animals, this becomes just another dish on the table.
So, nothing has excited me more in the last five years than the knowledge that real meat is being made by scientists and entrepreneurs without using animals.
The first disruption of the world, as we knew it, came with the computer, the email, all the artificial intelligence gadgets. I cannot even remember the world without the cell phone. This changing of the world was due to just a handful of dreamers who went on to become billionaires – though that was never their intention.
The second disruption will come with the replacing of animals for meat with clean meat. Meat made from the multiplication of meat cells in meat serum.
And, wonderfully enough, the giants of the First Disruption have invested their billions into creating this Second Disruption. Microsoft, Virgin, Google, Facebook… are some of the companies. And even more importantly, millions are being poured in by the largest meat selling companies in the world, Tyson Foods and Cargill, which see this as an inevitable future and want to get into it in the beginning.
Imagine, a world without violence. A study conducted in America on which were the most violent and unsafe areas in the county, showed that these were the places around slaughterhouses.
In India a survey done last month showed that the least liveable city in India is Rampur, the city of slaughterhouses and knives. Imagine, a world without slaughterhouses, with no animals grown forcibly and killed viciously.
Imagine, a world where animals are out of animal husbandry and yet there is meat for all. The answer is cultured meat. No waste, no disposal of offal, no sickening smells and terrifying screams, no overloaded trucks carrying dying animals, no calves being separated from their crying mothers, no mafia of butchers.
Imagine, a world where you could eat all the meat you wanted without getting sick of all the diseases that the body carried, the antibiotics, the hormones.
Imagine, blue skies and fresh breezes besides no water shortage and plenty of forests to bring the rains on time. Imagine, a world that was not heating up at this pace, bringing drought, floods and tsunamis with it.
How far away is this dreamlike future? It is upon us: I will see it in my time. It is called the clean meat future.
In 2013, the first meatless burger was made (paid for by Google cofounder Sergey Brin). In 2018, hundreds of start-up companies have been able to make this cellular multiplication, and companies like Memphis Meats have been able to make varieties of duck and chicken that are the real thing.
Now, the only problem is of economics and scale. But that will also happen. After all, the first laptop probably cost a million dollars. As did the light bulb.
Why do I say that the future is upon us? Because the US Food and Drug Administration has decided to make rules and standards for companies growing meat in labs, not in farm factories. No hooves, fins or feathers. No anuses and eyes to throw away. Just edible meat.
In Maryland, in July 2018, the FDA and Department of Agriculture convened the first public hearing to discuss the regulation of food grown. Hundreds of people attended. The World Bank has convened a meeting of clean meat entrepreneurs to explain their vision at a meeting of international economists at the headquarters of the World Bank.
When we used horses for transport, we didn't love the horse. We simply wanted to get from one place to another quickly. And if we had to put up with feeding it and cleaning up the excrement and housing it, we resigned ourselves to doing it. But when the car came and manure and care was unnecessary, we switched quickly and horses are now kept for religious tourism.
Likewise, no one loves the slaughterhouse, the bloodied rivers, the greenhouses gases and the huge environmental damage. But they want the mutton, beef, pork, chicken, milk and eggs.
While everything has changed, including the way in which we irrigate and grow plants, meat production today is the same as it was 20,000 years ago.
How inefficient is the energy ratio: 11 kilogrammes of grain has to be fed to get one kilo of meat. About 60 ,000 litres of water is needed for one cow or buffalo. Thousands of people starve because there is no cheap grain. Every 7th kilogramme of meat in Europe is created from Indian grain.
Look at our own levels of malnutrition and water shortage. There can be no humanity, no good governance, while we continue to eat and export meat. It is the largest way in which we affect the lives of our people.
Cultured meat will change all that, freeing up grain and making it cheaper, making water available, making land available for the poorest.
One company called BlueNalu has started cellular aquaculture and, once it comes in the market, you can have fish without formalin, human faeces and chemical dyes that make it looks fresh. Modern Meadows is working on creating real leather without animal skin.
The tissue culture journey has been complicated.
Creating appropriate bio-reactors, which mimic the animal's Temperature
, so that meat growing can become a village industry. But top scientists and cell biologists have left their well-paid jobs and have applied their expertise in it. Many people involved are Indians.
Memphis Meats is founded and headed by Dr Uma Valeti, a heart surgeon. The key executives of milk-without-cows venture, Perfect Day Foods, are two Indians — Ryan Pandya and Perumal Gandhi.
Animals will not disappear. Cells will have to be collected from them and then put into a bio-reactor. Nutrient culture serum will have to be collected. But they will be a small fraction of what they are now.
It is time the Indian government has to get into this. If the process is patented, then it will not be economically viable.
So we need to have open source research that makes the science available to all. Big marketers in India, like Future Foods, have already shown huge interest, and many American companies are in India looking for partners.
But we need to have those Nehruvian "temples of science" under Indian Council of Agricultural Research (ICAR) and Centre for Cellular and Molecular Biology (CCMB) get off their hammocks, where they have been sleeping for many years, and actually do research that will change the face of the Indian economy.
I am going to write more on this. Watch this space. And imbibe my excitement!!
World
World Bee Day is celebrated on the birth anniversary Slovenian beekeeper Anton Janša- the pioneer of modern beekeeping. Born on 20 May 1734, he came from a long line of beekeepers and was the first beekeeping teacher at the Viennese imperial court.
India
PM Modi had given a call for every district to have 75 ponds (Amrit Sarovar) during the 75th anniversary of India's independence, described as 'Azadi Ka Amrit Kaal'
World
The fast food giant pointed to the humanitarian crisis caused by the war, saying holding on to its business in Russia 'is no longer tenable, nor is it consistent with McDonald's values'