Pramukh Swaminarayan Maharaj: Not just any godman, he fused modernity with spirituality
Pramukh Swaminarayan Maharaj, didn't have a dramatic turn to spiritualism as many godmen, claimed by folklore in India, have. Born on 7 December, 1921 as Shantilal Patel in Chaansad, Vadodara's Padra taluka, there was nothing out of the ordinary in this simple farmer's life.
Pramukh Swaminarayan Maharaj, unlike many godmen in India, didn't have a dramatic turn towards spiritualism.
Born on 7 December, 1921 as Shantilal Patel in Chaansad, Vadodara's Padra taluka, there was nothing out of the ordinary in this simple farmer's life. He lived with his father Motibhai and mother Diwaliba.
He started his schooling in 1929 in the village school and studied there till the fifth standard, to be later moved to a town school in Padra where he got admitted in the six standard. Known as a quiet, disciplined student, history and Math were Shantilal's favourites. One day, he was on his way to Vadodara city to buy a cricket kit when he bumped into Ravjibhai of village Bhayli, who was incidentally looking for him.
Guru Shastriji Maharaj had sent a note for him in a closed envelope. When the 18-year-old Shantilal opened it, it read: "Come over to become a sadhu." Instead of going to Vadodara he went back home and handed over the note to his parents. The religious family who believed in this sect, found it god-sent and readied the son to relinquish world pleasures. That day was 7 November, 1939.
He became the fifth scion of Lord Swaminarayan.
The very fact that just about anyone like Pramukh Swami or a grihasth (householder) could don the role of the sect's godman who can run and manage its temple properties across India and later the world, attracted hundreds and thousands of followers from virtually every section of life.
As political scientist Achyut Yagnik puts it: "If the Dwarka and Somnath temples are the traditional symbols of the Hindus, the Swaminarayan temples are the modern symbols." In another context, the Swaminarayan sect in Gujarat draws immense political patronage and power across the spectrum and also economic clout.
With lakhs of followers across the world and temples all over the US, the UK, South Africa and Kenya, the sect has a strong global presence. It also, of course, has temples across Gujarat and the rest of the country. It has a large following among the landed and cash-rich Patel community and upper-caste Vaishnavas.
Lord Swaminarayan, whose original name was Nilkanth, was a Brahmin from Chhapaiya near Ayodhya and became a sadhu at a very early age. He came to what is now Gujarat in 1801 and preached there till 1830.
Swaminarayan was always for social reforms — principles of non-violence, prohibition and peace. The backward communities of that time embraced his teachings to find a higher social status. That explains the sect's five major offshoots — two represented by grihasths and three by sadhus.
With time came prosperity. Many of Swaminarayan's followers migrated abroad, while others acquired wealth or set up successful businesses back home. Today, the sect has in its fold the various denominations of the powerful Patel community, a force to reckon with in Gujarat politics and business (though in a conflict these days with the state). This, perhaps, explains why successive state governments have leased out prime land to the sect — at a token rent of one rupee — to construct temple complexes and educational institutions.
It isn't without reason that it is said in Gujarat: "Sadhu thao tou Swaminarayan na (If you wish to be a sadhu, choose the Swaminarayan sect)."
The most powerful among the various offshoots of the sect are the Bochasanwasis, who built the Akshardham complex, whose Pramukh Swami, himself a Patel, who oversaw the community's growth and spread during for the larger part of the current modern times. Annointed the Pramukh Swami Maharaj in 1950, it was under him that many temples and properties came up in Gujarat and abroad.
This sect set up base in Bochasan, a village near Anand in central Gujarat, where the Patels are the most prosperous. There are entire villages where you find only elderly people staying, with the rest of the family members having set up businesses in the US or one of the African states. This is why the Bochasanwasi Swaminarayan sect is flush with NRI funds.
With thousands of followers, a good number of them foreigners, the sect fuses modernity with spiritualism and religion. Pramukh Swami was the representative of this and the guiding force of the Bochanasanvasi Akshar Puroshottam Sanstha (BAPS) present across 55 countries.
Most importantly, he also spearheaded the efforts of the charitable service organisation affiliated to BAPS. The volunteers of the organisation would be at the forefront of rescue and relief during every national and man-made calamity, from the earthquakes, to floods, cyclones and fires.
India
The prime minister has closely monitored the Kedarpuri reconstruction projects worth Rs 250 crore in Uttarakhand.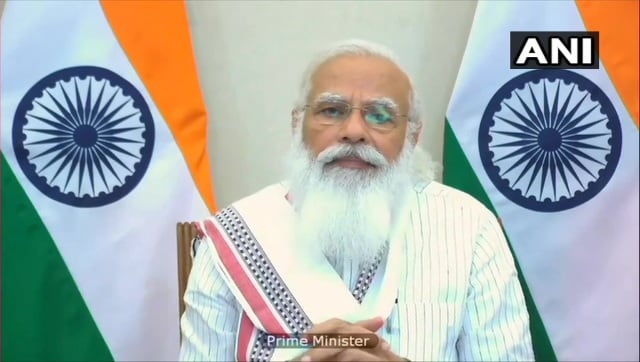 India
Modi cited the government's success in privatising loss-making public airline Air India to assert that this shows its commitment and seriousness.
India
Modi tweeted, "I pray for the good health and speedy recovery of Dr. Manmohan Singh Ji."