Power play: NSA Ajit Doval more powerful than predecessor Brajesh Mishra?
Doval is now being compared to his celebrity predecessor Brajesh Mishra. But is this comparison fair? Is Doval more powerful than Mishra?
Whenever a person acquires larger-than-life stature, like National Security Advisor Ajit Doval, people start comparing him to others, particularly his predecessors.
Doval is now being compared to his celebrity predecessor Brajesh Mishra. But is this comparison fair? Is Doval more powerful than Mishra?
Both are great strategic minds modern India has produced. But the comparison between Doval and Mishra is not correct.
Brajesh Mishra had an amazing chemistry with then Prime Minister Atal Bihari Vajpayee. The two had a very close friendship for decades when Vajpayee became PM and brought Mishra in the PMO as his Man Friday. Love for sher-o-shairi was the most defining part of the Vajpayee-Mishra friendship.
I have a small anecdote to share to put things in perspective. In February 2003, I was part of Vajpayee's media delegation on his trip to Malaysia where the PM had gone to attend the 13th NAM summit. India-Pakistan ties had hit a nadir. Vajpayee held a press conference for his accompanying media in Kuala Lumpur. Brajesh Mishra was seated by his side on the dais.
I asked: "Vajpayee ji, I have a question but before that I need to recite a couplet, if you allow." Vajpayee nodded while Mishra enthusiastically leaned forward and said "Irshaad!"
Then I said: "But before that here is a caveat. The lotus flower mentioned in the couplet does not pertain to the BJP's symbol." Vajpayee laughed boisterously and egged me on to complete my question. (By the way, you can take this kind of liberty with the Prime Minister only on foreign soil as he is comparatively far more relaxed and has ample time!)
Then finally I put my question thus: "Vajpayee ji, the following words of Dushyant Kumar ring true in context of NAM as well as India's Pakistan policy. Would you agree with this thought: Ab to is talaab ka paani badal do, ye kamal ke phool kumlhane lagein hain?" (Change the water of this pond. Even lotuses have started withering.)
This is a subtle couplet as it indicates the extent of the rot that has set in. Even lotus flowers, which blossom in the mud, have started withering!
Vajpayee did not come up with a direct answer and simply laughed his heart out. More on this can be read here.
But after the press conference, Brajesh Mishra walked up to me and patted my back saying "That was a good sher!"
Now let's get back to the Doval-Mishra comparison. Of course Doval is not much into sher-o-shairi, though he enjoys it.
The biggest difference between Doval, an IPS officer, and Brajesh Mishra, a career diplomat and IFS, is that Mishra wore two hats simultaneously – principal secretary to PM and NSA – whereas Doval is only the NSA.
Brajesh Mishra was extremely powerful but was never deemed as number two in the Vajpayee dispensation. The number two man was LK Advani who was the deputy prime minister and also the Union home minister.
There was a tacit understanding between the Mishra-Vajpayee combine and Advani that Mishra will completely stay away from Advani's turf – the home ministry – while Advani would not interfere with Mishra's work in the PMO. Thus, the Intelligence Bureau (IB), where Doval worked in a senior position, reported only to Advani and none else.
This is an important difference between Mishra and Doval. Mishra had to deal with a super strong and heavy weight home minister, while in the case of Doval the present Home Minister Rajnath Singh is comparatively far weaker.
Those familiar with the functioning of the Narendra Modi government know that while Rajnath Singh is the supreme boss of the IB, Doval continues to have direct and real time access to IB and its reports.
In many ways, Doval is the first NSA who has unbridled access to all dozen-odd Indian intelligence agencies – civil as well as military. He talks to chiefs of IB, RAW and MI ten times a day.
Though Doval does not enjoy the kind of warm and personal relationship with Modi which Brajesh Mishra had with Vajpayee, he enjoys supreme confidence of PM Modi. And that is what matters most.
There is another big difference between Brajesh Mishra and Doval. Mishra used to hold informal briefings regularly in his South Block where a handful of journalists from leading media outfits were called. Thus, he had developed his own coterie in the media.
In contrast, Doval completely shuns the media and does not brief the journalists, formally or informally.
Yet ironically, Doval, the Mr X in the Modi government, is getting thumbs-up from the media. I am not sure why. Perhaps it has got something to do with human psychology – somebody who consciously keeps himself away from the public eye and keeps a low-key profile whets people's curiosity.
The writer is Firstpost Consulting Editor and a strategic analyst who tweets @Kishkindha.
Find latest and upcoming tech gadgets online on Tech2 Gadgets. Get technology news, gadgets reviews & ratings. Popular gadgets including laptop, tablet and mobile specifications, features, prices, comparison.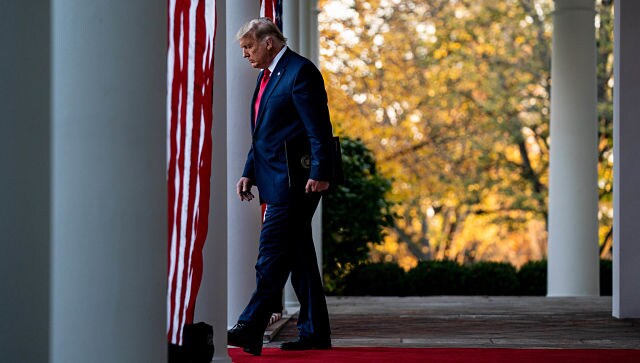 World
As expected, Republicans objected to a resolution calling on Mike Pence to invoke the 25th Amendment, meaning that the House would have to call a full vote on the measure
World
Donald Trump's flight into the ozone of crazy was as inevitable as the country's descent into anarchy — and almost certainly intertwined
World
In a scene of unrest seldom witnessed in the history of the US capital, hundreds of people in the mob barrelled past fence barricades outside the Capitol and clashed with officers