Portrait of a Nation, A Nation in Portraits: History of India, photography chronicled in new exhibition
Portrait of a Nation, A Nation in Portraits, tells multiple tales — tales that chronicle not only the history of a country but also the history of photography itself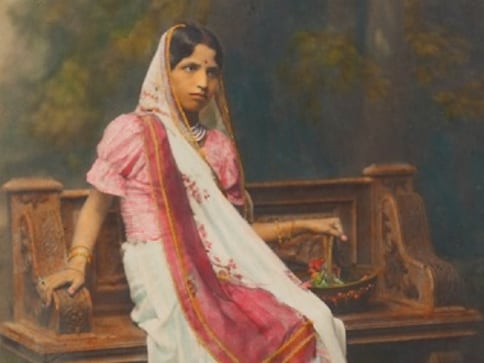 Curated by Madhavan Pillai, Sarmaya's first exhibition takes us on a journey across the Indian subcontinent through a selection of grandiose landscapes and majestic portraits.
Portrait of a Nation, A Nation in Portraits, tells multiple tales — tales that chronicle not only the history of a country but also the history of photography itself. The exhibition uses the socio-historical context of time to explore not just the subject of the image but the perspective of the photographer and the agenda of those who commissioned them.
The story begins with a landmark moment of Indian history — the Mutiny of 1857; and traverses well into the turn of the 20th century. Along the way, one learns about how a nation developed, the context in which it grew, and the history it created when it did.
On display at Pundole's in Ballard Estate Mumbai are the works of pioneering image-makers: Felice Beato, remembered in history as the world's first 'war photographer'; Samuel Bourne, the legendary travel photographer, who founded India's longest running photo studio, Bourne & Shepherd, and Raja Deen Dayal, India's very own royal photographer of sorts, among others.
"The exhibition seeks to redefine and diversify the meaning and relevance of portraits and nation apart from the classical connotations which existed in the 19th century and now," says Pillai.
Sarmaya also holds an impressive collection of photographic albums, six of which on display add further gravitas to the exhibition. Additionally, an interactive installation of "carte-de-visite" images, provide a contemporary reinterpretation of 19th century photographic enterprises.
The main Sarmaya collection — broadly divided into Numismatics, Photography, Folk & Tribal Art, Engravings/Etchings, Cartography, Rare Books and Modern and Contemporary Art — is driven, fed, and sustained by art enthusiast Paul Abraham.
Find out about the programme of free talks, walkthroughs and workshops here.
The exhibition is on display until 24 February at Pundole's, Hamilton House, 8 JN Heredia Marg, Ballard Estate, Fort, Mumbai. View gallery of select photos here.
World
Breastfeeding a baby is an overwhelming and emotional experience for new mothers. The act of breastfeeding holds equal importance in the lives of mothers and infants. Not only does it help in the all-around development of the newborn baby, but it also helps new mothers to connect with their babies
India
Those observing this day have to wake up early in the morning, take a bath and pray to Nag Devata (Snake God). Light a lamp in the puja area or temple and offer prayers. Offer a cup of milk and prasad to Lord Shiva, Goddess Parvati and Lord Ganesha. Then perform aarti and recite the Vrat Katha.
World
A 7.0-magnitude earthquake in northern Philippines has killed at least five people and destroyed buildings and injured more than a hundred people