The movie-style shoot-out that saw a controversial liquor baron and his brother killed in a blaze of bullets fired from sophisticated arms in broad daylight at a farmhouse in Delhi is a grim example, an extreme one no doubt, of a gun culture that has come to characterise crime in the Capital. It is equally a reflection of the use of guns as a statement of power and status by the rich.
On Saturday's shooting spree (17 November), forty rounds were unloaded and 20 bullets recovered from the bodies of the two brothers — Ponty and Hardeep Chadha. According to Mail Today, twelve weapons, which included an impressive collection of assault rifles (AK-47s), two licensed pistols (.32 and .30 bore), a 9mm carbine — were recovered from the scene of crime.
It is almost as if a small army was on the move.
"India is a land of rising gun violence. And this is especially true of a city like Delhi. Delhi/NCR has become a place where there is lot of black money and this is reflected in the rising property prices. Whether you buy a DDA flat in Vasant Kunj or a farmhouse in Chattarpur, the bulk of the payment is in black. This means a lot of ill-gotten money is changing hands. And it is people with black money who need the weapons. It is not people like you and me," says Binalakshmi Nepram, a leading anti-gun campaigner and secretary general of the Control Arms Foundation of India (CAFI).
Delhi's rude awakening to America-style gun violence came in 2007 when an eighth standard student was shot dead by his classmates at a school in Gurgaon. "Recently, I spoke at a Delhi University college. Teachers tell me that they are scared that students might be carrying weapons. It is that bad in today's world," say Nepram who in association with the Delhi Police carried out a series of workshops in schools following the Gurgaon school shooting incident.
Explaining the fascination with guns, Nepram says, "People in India use guns as a status symbol. It is fine if it is kept safe but the problem is when it is taken out to settle personal scores, when children take it from parents and shoot their classmates dead, when quarrels over parking lots end in gun fights."
As per a 2011 survey by CAFI, which was set up in New Delhi in 2004, 12 Indians are shot dead every day, taking the toll to almost 5000 a year.
Additional Commissioner of Police (Licensing) Madhup Tewari insists that when it comes to gun crimes licensed owners are not the main perpetrators."Very few licensed weapons are being used. The present case (Ponty Chadha) is a rare one. It is not an everyday case."
Surprisingly, Tewari questions premise that gun violence is on the rise. "You may think that there is an increase in gun violence." When asked if he doesn't he think so, he says,  "I don't know."
While the gun licensing regime in India (regulated by the Arms Act, 1959) is very stringent, a thriving illegal weapons market has meant (as per a widely quoted study by International Action Network on Small Arms), "India is home to roughly 40 million civilian-owned firearms…Of these only 6.3 million— just over 15 per cent—are licensed. Around 90 percent of firearm-related murders are committed using unlicensed guns."
This explains the disconnect between official gun license figures and number of civilian-owned fire-arms. Tewari says the demand for gun licenses has not seen a 'quantum jump' in recent years and that the number licenses issued every year has remained "static", averaging between 900-1000 per year. "I wouldn't say there is a quantum jump in number of licenses we issue. It is an almost static kind of figure."
In Delhi, 60, 314 people own arms licenses (as on November 20, 2012). Of these, 58,025 are held by men, 1385 by women and 904 others. Indeed the number of arms licenses issued over the last ten years has not dramatically changed.
In 2002, 1377 arms licenses were issued against 1129 in 2011.
But a poster at the CAFI office that lists the going rate of an assortment weapons in India's illegal weapons market says it all. A country made pistol (referred to as a 'katta') – Rs 200, a bullet – Rs 2, an AK 47 – Rs 40,000 (a price of a flat screen TV as Nepram puts it), a hand grenade- Rs 200.
Painting a dire picture of gun culture in Delhi, Nepram says: "Don't get into a fight on Delhi's streets, you never what the person is carrying…In a country where 37 per cent of the MPs have a criminal background, a gun is considered an integral part of life, like a mobile phone is."
While CAFI is in talks with Parliamentarians to introduce more safeguards for the licensing of guns, Tewari says the demand is greater for relaxing the gun license regime. "There is a demand that the regime should be made more liberal."
Pressure groups, says Tewari, are batting for the rules to be relaxed. "There is a lot of demand that there should be more freedom for people for right to life, that they should have the option to have guns for their own safety. There are pressure groups. And then there are sports persons who feel that they should be allowed to hold more licenses and more weapons for each license. There is a feeling that the regime is too tight," says Tewari.
One such pressure group is the National Association for Gun Rights India (NAGRI) which has none other than Congress MP Naveen Jindal leading their cause. As per the NAGRI site "On the 12th of Oct 2011 Mr. Naveen Jindal (MP Lok Sabha & NAGRI Patron) met the Prime Minister to remind him of the hardships being imposed upon all gun owners and arms license seekers."
Jindal who attended the inaugural session of the NAGRI is reported by the site as having "expressed his whole hearted solidarity and promised to do everything in his power towards helping protect the basic right of every Indian citizen to own arms…and also that while crimes are seldom committed using licensed arms, unfortunately arms licensees were being constantly harassed at every step."
Nepram, who is also founder of Manipur Women Gun Survivor's Network, rejects the notion of guns as source of a security. "I was born and raised in one of worst conflict zones of India. For me guns are crutches. They show your weakness, not your strength. Studies show that the chances of you or your loved one being shot dead is higher when you have a gun at home. The chances of your weapon being used against you are higher."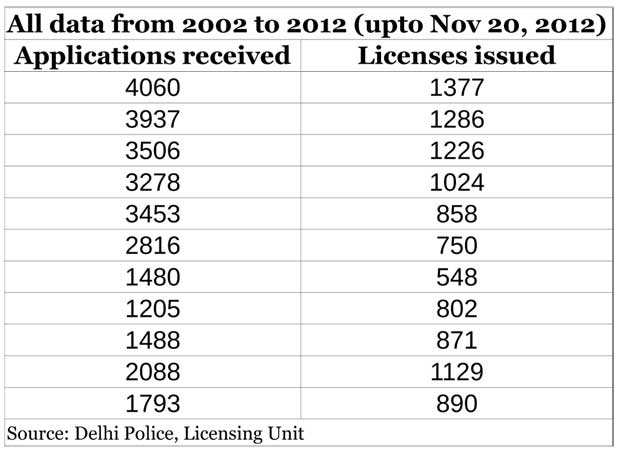 Updated Date: Nov 22, 2012 14:25 PM