Politicians like Akbar Lone fuel violence in Kashmir; Valley has history of leaders playing both mainstream, separatist
Mohammad Akbar Lone is one of the many Kashmiri leaders playing both separatist and a mainstream politician; doublespeaking is an integral part of Jammu and Kashmir politics and one of the main reason behind the never-ending cycle of violence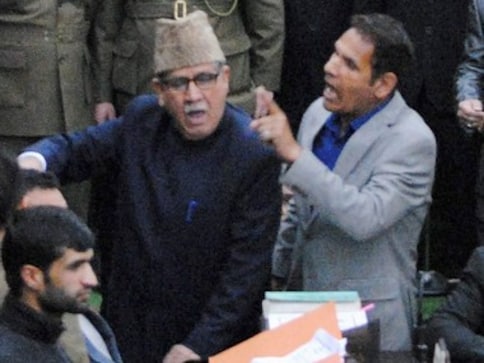 Pro-Pakistan slogans shouted in the Jammu and Kashmir Legislative Assembly on Saturday are only the latest indication of just how ephemeral the dividing line between the so-called 'mainstream' and 'separatist' politics is in Kashmir.
It also shows how inter-changeably religion becomes part of politics. Former house speaker Akbar Lone explained to reporters after shouting "Pakistan Zindabad" in the house that, "I am a Muslim first. My sentiments were hurt when they (BJP MLAs) were shouting 'Pakistan Murdabad' slogans. I couldn't control my emotions and raised Pakistan Zindabad slogans."
This sort of talk is condemnable, not just from a nationalist Indian perspective but also from the perspective of all those who value secular as well as inclusive society and politics in the contemporary world. It is a mirror image of the Hindutva-based rhetoric that has alienated so many.
Lone, who was nominated by his party, the Jammu and Kashmir National Conference, to be the Assembly speaker when they were in power, brought the chair into controversy by the sort of language, tone, and innuendo that he used on Saturday. But then the party had also made him the minister for higher education during their tenure.
A long tradition
Playing both sides is not new in Kashmir. For example, take the Plebiscite Front. It had backed Sheikh Abdullah even though he was never officially part of the organisation.
The 1977 elections in Jammu and Kashmir witnessed a battle of green. NC leader Afzal Beg went around showing rock salt, which used to come to Kashmir from Pakistan, and the green lining of his waistcoat. And the Janata Party's Mirwaiz Farooq presided over campaigns extolling Prime Minister Morarji Desai as a 'ghazi' (slayer of infidels) from Pakistan!
The continuation of this sort of humbug is particularly unsavoury at a time when there is a near-war along the Line of Control even more so on a day like Saturday when there was a lethal attack at an army camp in Jammu.
Yet, this trend has quickened over the past couple of years. Farooq Abdullah, president, National Conference, dissociated the party from Lone's statement (through a spokesperson), but Abdullah too played footsie with separatist politics in the run-up to the by-election last April through which he became a Member of the Parliament.
Abdullah enjoys the salary, perks, privileges, security, and freebies of an MP after eight persons were killed in violence around that by-election, in which large numbers of paramilitary and army men were put to extraordinary tests.
Accommodative rulers
The ruling People's Democratic Party (PDP) is no better. During the extended uprising that followed the killing of militant commander Burhan Wani, top-level activists arranged a job for the grandson of separatist leader Syed Ali Shah Geelani at a prestigious conference centre in Srinagar.
When a team of the National Investigating Agency (NIA) went to Srinagar last July to arrest several separatist leaders, including Geelani's son-in-law, a team of the state police tried to stop them from taking the arrested persons to Delhi. Such was the high drama at Srinagar airport that the home minister had to intervene.
The PDP has also drawn covert support from Jamaat-e-Islami, particularly in south Kashmir strongholds such as Pulwama and Kulgam, in several elections since the party was formed in 1999.
Geelani has had a long and deep association with the Jamaat-e-Islami, although he is not a part of the organisation now. He also played a key role in running the Hizb-ul Mujahideen from 1990 on, through his acolyte Syed Salahuddin. Hizb-ul Mujahideen was at the time seen as the militant wing of Jamaat-e-Islami.
Activists of the Jamaat-e-Islami are said to have played a key role in some areas during the uprising that followed Wani's killing in 2016.
Tragic consequences
The most tragic aspect of all this doublespeak is that it creates a miasma of uncertainty, layered with anguish and hope, in which poor young people beyond the network of power and influence get killed. No relative of any of the politicians on either side of the artificial mainstream-separatist divide ever gets killed.
More and more young people are dying in the vicious cycle of violence that has been going on over the past three years.
At least in this context, basic human decency demands that the entire range of politicians clear their positions. If they stand for separatism, let them take a resolute stand. But if they want to work within the Indian constitutional arrangement, let them stand firm on that.
World
Until 1971, Radio Free Europe was a covert US intelligence operation seeking to penetrate the Iron Curtain and foment anti-communist dissent. The Russia-Ukraine war has shaken up its operations and highlighted its importance
India
On Wednesday a massive avalanche hit Gulmarg leaving two foreign tourists dead and many trapped. 19 of the trapped tourists were later rescued by the police
Explainers
The engineer-innovator, who gained national fame after inspiring the lead character in the Bollywood movie 3 Idiots, is demanding an extension of the Constitution's Sixth Schedule for Ladakh and environmental protection from 'unchecked industrial and commercial expansion'